Berlin Station, More 4 review - spooks in Euroland |

reviews, news & interviews
Berlin Station, More 4 review - spooks in Euroland
Berlin Station, More 4 review - spooks in Euroland
Richard Armitage goes undercover in new CIA thriller
Looking for leakers: Richard Armitage as CIA man Daniel Miller
It's eight years since Richard Armitage's character Lucas North died in Spooks, but now Armitage is back undercover as CIA agent Daniel Miller in Berlin Station. Mind you, it's already been touch and go – Miller was shot in in Berlin's Potzdamer Platz in a flash-forward opening sequence, but apparently not fatally.
Miller has arrived in Berlin from his previous job in Panama, where his assiduous online detective work had unearthed telltale clues about the activities of Thomas Shaw, a Snowden-style whistle-blower who's been leaking CIA secrets to the German press. Miller reckoned he'd identified Shaw's courier in Berlin, so CIA big cheese Gemma Moore promptly ordered him off on a covert mission to the German capital to put his theory into practice and get to the root of Shaw's damaging revelations.
Though Berlin Station is an American production, it's rooted in authentically grimy Berlin locations and well stocked with German actors, not least Bernhard Schütz as the wily Hans Richter, a veteran spy from the German BfV intelligence service, and his not entirely trustworthy partner Dieter Klaus (Stephan Kampwirth). The local CIA crew seem equally devious, and everybody has murky secrets they're keen to protect. Using David Bowie's "I'm Afraid of Americans" as the title song doesn't really encourage us to give them the benefit of the doubt.
Sleazier than most is CIA man Hector DeJean, played with a persuasive air of moral corruption by Rhys Ifans (pictured above). You'll normally find Hector looking wasted and dishevelled in some debauched nightclub (although not exclusively by night), and he's suffering pangs of angst about his relationship with Faisal, an agent from the Saudi intelligence directorate who's been feeding him vital information about jihadist activities. However, Faisal has fallen in love with Hector, who now finds himself painfully impaled on the fence between the private and professional spheres.
Meanwhile Steven Frost (Richard Jenkins), boss of the Berlin station, has been carrying on a lugubrious affair with his secretary while his wife Kelly (Caroline Goodall) dreams of retiring with her husband to Provence (fat chance). Steven and his deputy chief Robert Kirsch (a snappy, caustic Leland Orser, pictured below with Jenkins) are regarding Mann's steady stream of disastrous disclosures with a particular kind of horror because it seems they may have been playing fast and loose with the Agency's funds.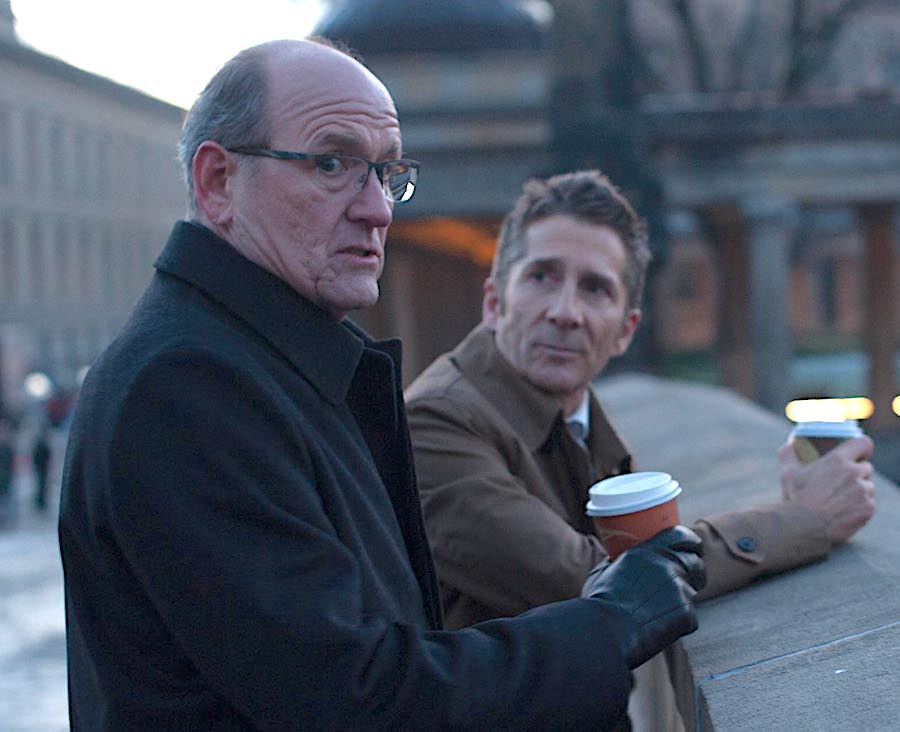 So far Miller, played with watchful determination by Armitage, is oblivious to most of this stuff and is keeping focused on his mission. It didn't take him long to find Claudia (Sylvia Hoeks), the go-between bringing Shaw's material to journalist Ingrid Hollenbeck (Victoria Mayer), but while Claudia proved amenable to his seductive overtures, the opposition spoiled it all by being one step ahead of him. And it seems Hector, an old friend of Miller, knows a lot more about this than he's letting on.
Berlin Station isn't fast or flashy, and it's not easy to keep track of its web of overlapping strands, not least because the dialogue sounds a bit muffled and thrown away. However, it does impart a sense of the paranoia and insecurity that must be inseparable from life in the spy game, and even though the old East-West Cold War is over, Berlin stills feels like a fertile incubator for secrets, lies and conspiracies on a global scale.