Britain's Lost Masterpieces, Episode Three, BBC Four review – more than a bit of Botticelli |

reviews, news & interviews
Britain's Lost Masterpieces, Episode Three, BBC Four review – more than a bit of Botticelli
Britain's Lost Masterpieces, Episode Three, BBC Four review – more than a bit of Botticelli
A hidden Renaissance gem in Cardiff Art Gallery
Thursday, 14 November 2019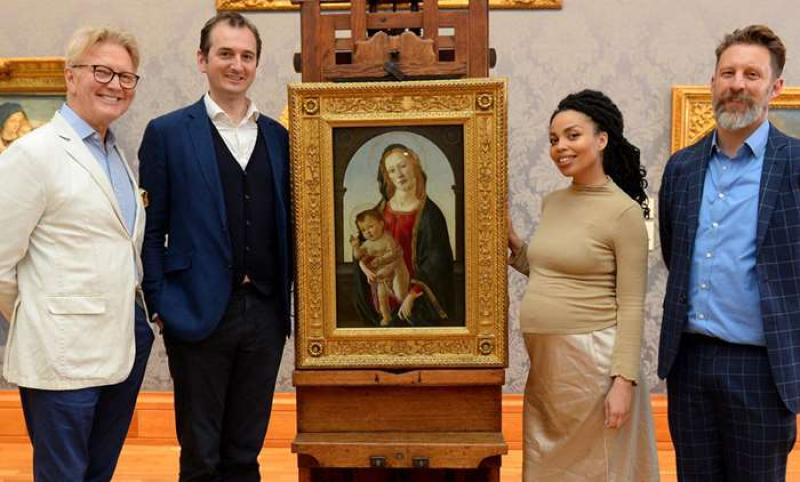 Hosts and guests present Botticelli's work inside the Cardiff Art Gallery
Once again the whodunit becomes the whoforgedit in the newest installment of the Britain's Lost Masterpieces series.
Host and
art historian
Bendor Grosvenor introduces us to what is one of the most beautiful he's ever seen: a Madonna and Child believed to have been done by Sandro
Botticelli
, one of the members of "painting's Premier League". Much sleuthing is needed to verify the work, and to satisfy Grosvenor's appetite.
Social historian Emma Dabiri delves into the background of the work's previous owner, the wealthy Gwendoline Davies, who bequeathed it to Cardiff Art Gallery in 1952. Davies believed the work to be an original Botticelli after their dealer had upgraded it from being merely "in the studio of Botticelli". The Gallery downgraded the work following the gifting, but questions always lingered.
To try and fill gaps, Grosvenor takes us to Florence to understand the shady deception of the Medici era. After the Pope tried to sabotage Medici rule, the young Botticelli was sent to Rome to work on, amongst other projects, the Sistene Chapel. Upon returning to Florence after many years, Botticelli founded his own studio. It was here that the Madonna with Child would have been painted.
Conservator Simon Gillespie is brought in to restore the painting. Along the way, he pries out details that widen the detective trail. Some of the cracks in the paint had been faked, suggesting a retouching by subsequent owners. This does not wholly discredit the work's authenticity. Infrared and X-ray photographs confirm that some of the paint was applied in the style of Botticelli's studio, and the poplar wood is the type that would have been used in Florence at the time.
This episode does well to introduce a touch of satire to the stupendous reverence. Grosvenor gushes endlessly over the beauty of the Madonna, only to have Dabiri accuse him of male voyeurism. Art dealers and connoisseurs – "sages" to some – are exposed as cunning status-hungry tricksters. One such, the American Bernard Berenson, would be heftily rewarded by his patron Joseph Duveen when a genuine original was found. This only incentivised Berenson to promote fakes as originals and to exaggerate their value. The Botticelli Madonna and Child came under his gaze. But Grosvenor sees this painting as an outlier for Berenson: "something about the quality of the face caught his eye". Berenson may have been seduced, but he also genuinely believed the work to be a Botticelli studio production.
Back in Cardiff the work is finally presented. A letter is produced from the Yale University Art Gallery's chief curator Laurence Kanter, a Botticelli expert: "Clearly this beautiful painting came from Botticelli's studio. Probably Botticelli himself is responsible for more than a bit of it." Not the glorious confirmation we might've wanted. But it seems just enough, at least for our host, who finally manages to tone down his enchantment: "We're quite pleased with that".