Dalgliesh, Series 2, Channel 5 review - more gory cases for PD James's brooding poet-detective |

reviews, news & interviews
Dalgliesh, Series 2, Channel 5 review - more gory cases for PD James's brooding poet-detective
Dalgliesh, Series 2, Channel 5 review - more gory cases for PD James's brooding poet-detective
Bertie Carvel's enigmatic Dalgliesh is too unknowable to be appealing
Not fascinating: Bertie Carvel as Adam Dalgliesh, with Carlyss Peer as DS Kate Miskin
When young Morse went speeding off in his Jag at the end of the Endeavour finale earlier this year, the road was left open for another, zootier Jag to zoom in, the racing green E-type belonging to DCI Adam Dalgliesh of Scotland Yard.
Channel 5 launched the latest incarnation of P D James's brooding detective-poet in 2021, basing season one on three books (Shroud for a Nightingale, The Black Tower, A Taste for Death) in two one-hour episodes each. Now a further three books have been adapted: Death of an Expert Witness, A Certain Justice, and The Murder Room. Behind the adaptations is the estimable Helen Edmundson, playwright and theatrical adapter, whose work with the Shared Experience company was such a pleasure to watch in the 1990s.
The Jaguar is not the only staple of the Morse format in James's books. Although Edmundson has retained DS Kate Miskin (Carlyss Peer) as a sympathetic – but here mixed-race – female sidekick for Dalgliesh (Bertie Carvel), she has left most of the dramatis personae James created as written, and they hail from the predominantly white middle to upper middle professional classes and above. They tend to be less exotic and intellectual than Morse's typical roster of arty types and academics, but still live in, or are employed by, scenic properties in the home counties. It's sometimes a shock to realise that the sizeable country houses in some Dalgliesh episodes are actually supposed to be in inner London. (As it's clear this project is aimed squarely at the American market, this lack of specificity probably isn't that surprising.)
There are no explicit clues to the exact years these two series are set in – the first Dalgliesh book appeared in 1962, the last in 2008 – but the early-1960s period details are fairly accurate and "the War" still looms large. And that E-type indicates it's post 1961. Not knowing exactly when series two is taking place adds to the feeling that it's been left in a TV-land limbo: later than most Agatha Christies but still showing signs of her MO, as does Morse, in the large, motley collection of suspects, some of whom invariably don't make it to the end credits, and in the often gruesome causes of their deaths. Here, Dalgliesh is closer to Inspector Morse than to Christie, who was a whizz at poisons, whereas James was a keen student of the impact of violence in all its forms.
What Dalgliesh doesn't have, sadly, is a fascinating central character. Whereas Morse's lovelessness and classical music-loving were focal, often structuring points in the drama, this Adam Dalgliesh is a closed book: borderline depressive verging on saturnine, briskly efficient but quick to snap back at people. Carvel's face is a mask, sometimes managing a faintly amused, quizzical look, but otherwise set in a frown, his mouth a straight line, fairly dead behind the eyes. His teacherly relationship with Miskin is about as affectionate as he gets, but his legendary psychological insights are less obviously projected.
Readers of the novels will know Dalgliesh is haunted by the trauma of losing his wife and baby son in childbirth. He's potentially a Mr Rochester type, nursing a terrible secret, but with the "tall, dark and handsome" looks of Mr Darcy. Carvel may have the right looks, but he's not an appealing enough enigma, with the vulnerability that would require hidden from view. Only in the final stretch of The Murder Room does he drop the mask and allow his disillusion and world-weariness to show, but then only briefly.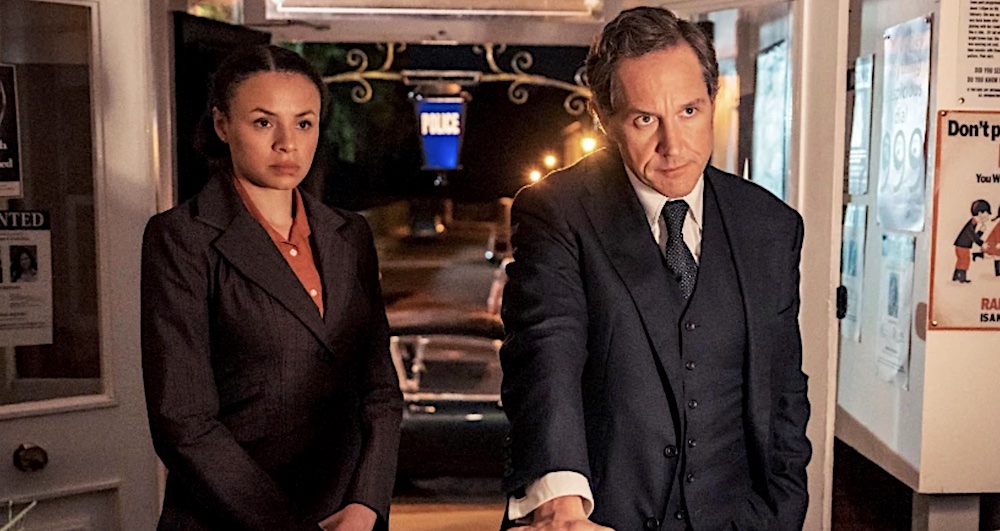 It's left to Peer's Miskin to inject some warmth into the proceedings. She too has a repressed emotional life, and Peer gives her a gentleness in private that's far removed from her tough-cop act on duty. A second young detective, DS Tarrant (Alistair Brammer), a cocky type who seems to threaten Miskin's status with Dalgliesh, joins the team in the second season, as per the books, though renamed Daniel.
Beyond that, it's down to the usual round of accomplished character actors to liven things up. There's the obligatory colourful police pathologist, here a dapper Irishman (David Pearse), with a delivery as neat and clipped as his beard; and then there are, um, all the usual suspects peopling the secondary roles. (If you don't know the books, you can pretty much guess that the best known member of the cast will be the guilty man/woman.) Especially impressive are Anastasia Hille and Sorcha Cusack in The Murder Room, who bring some actual pathos and tension into play.
If you like puzzle-policiers where a gory murder draws you into a protracted game of cat and mouse, this set will see you through nights when the TV schedules don't appeal. If you yearn for a new Endeavour, keep looking.
Dalgliesh series 2 and a box set of 1 & 2 are available on DVD