Endeavour: The Final Episode, ITV1 review - the final bow for Oxford's finest |

reviews, news & interviews
Endeavour: The Final Episode, ITV1 review - the final bow for Oxford's finest
Endeavour: The Final Episode, ITV1 review - the final bow for Oxford's finest
The curtain falls on a milestone in TV detection
Mind how you go: Roger Allam as Fred Thursday, Shaun Evans as Endeavour Morse
Endeavour first landed way back in 2012, and suddenly here we are, bidding it a final farewell after the end of its ninth series. Not everybody learned to love Shaun Evans as the pre-John Thaw Inspector Morse, but some of us may even have come to like the new boy better.
In this valedictory episode, Exeunt, creator Russell Lewis had crafted a fitting end to the pre-Morse saga, bringing us full circle with closure of sorts for the Blenheim Vale child abuse horror (which dated back to series 2) and dispatching all the main players into various different futures. We were left with Anton Lesser's Superintendent Bright sitting upon the ground, next to the grave of his daughter, and telling us sad stories. Though from The Tempest rather than Richard II – "Our revels now are ended…"
The mixture of slightly self-conscious high culture and the rather precious denizens of Oxford's academic elite, alongside lowlife scumbags and astonishingly brutal criminal gangs, has been the trademark of Endeavour, and Lewis (the screenwriter, not Morse's sidekick) wasn't going to stop now. Aside from all the legacy issues, this final episode concerned itself with the murders of several doctors and professors, whose deaths were pre-announced in the Oxford Mail complete with pithy epigraphs in Latin. One of them translated as "Death has come with a new terror."
It was a potentially nifty plot, though the revelation that the author of these killings and their classical catchlines was a painter and decorator called John Bingley felt somewhat out of joint. His motivation for the murders was, apparently, that the victims were "godless queers" wanting to create a world with "every man a pansy, every woman a painted whore". He also raged against Prime Minister Edward Heath's signing of the European Communities Act and how our once-great nation was being deluged with "dagoes, wops, frogs, the dregs of the Continent". Presumably the writer is not a fan of Brexit, but this was ridiculous.
This berserk interlude aside, there was much dramatic heavy lifting to be done. The Blenheim Vale theme brought us face to face with the immensely detestable DS Arthur Lott (Danny Webb, dialling up the malevolence with gusto), an old foe of Morse and Fred Thursday (Roger Allam) and up to his neck in corruption and perversion.
In many respects, Endeavour has been the long and tragic story of Thursday's efforts to stick by his "good cop" instincts while being inexorably dragged to the dark side by an ever-mounting sea of troubles. Indeed, there could have been an entire spin-off strand called Thursday.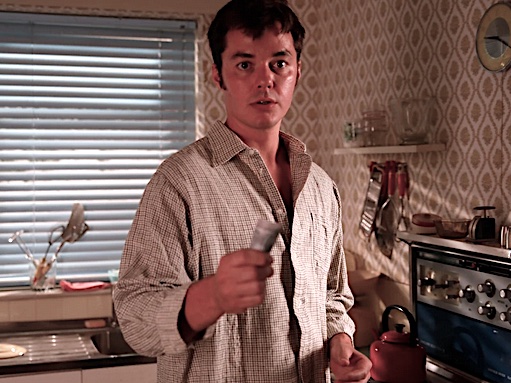 Here, we saw Fred's daughter Joan (Sara Vickers) tying the knot with Jim Strange (Sean Rigby), who's destined to become Morse's boss, but a last-minute sequence found Morse at last telling Joan he loved her… except it happened only in his mind. Meanwhile, Fred's drug-addled son Sam (Jack Bannon, pictured right) found himself on the wrong side of the Death Head biker gang (who seemed to have based themselves on the Oakland, California chapter of the Hell's Angels rather than anything home-grown), prompting his dear old dad to take extreme remedial action. It was Morse, his detective instincts tingling at maximum wattage, who put the pieces together and dragged Thursday from the wreckage, while sparing him the full appalling knowledge of what he'd done.
Not all the parts fitted perfectly, and we've grown accustomed to Oxford looking like something straight outta Compton, but the main characters are unforgettable and have a way of seeming to exist beyond their mere TV incarnations. A final, fleeting glimpse of John Thaw's eyes looking in the rear-view mirror of his maroon Jaguar as his younger self passed him delivered a poignant pang.