A Discovery of Witches, episode 2, Sky 1 review - when the sorceress met the vampire |

reviews, news & interviews
A Discovery of Witches, episode 2, Sky 1 review - when the sorceress met the vampire
A Discovery of Witches, episode 2, Sky 1 review - when the sorceress met the vampire
Supernatural chills and thrills in TV version of the 'All Souls Trilogy'
Saturday, 22 September 2018
It's witchcraft! Prof Matthew Clairmont (Matthew Goode) can't resist the spell of Diana Bishop (Teresa Palmer)
Witches, vampires and magicke of all descriptions continue to be big box office, so Sky 1's new dramatisation of the first book of Deborah Harkness's All Souls Trilogy should be finding a ready-made audience.
Anybody who's into this kind of stuff will be accomplished in the art of suspending their disbelief, a task made easier by the show's handsome production values and telegenic cast.
The groves of academe lend the proceedings a patina of gravitas, as we're immersed in the story of visiting American academic Diana Bishop (Teresa Palmer, who's actually Australian), who we first encounter delivering a lecture about alchemy to admiring students at Oxford University. This goes so well that Diana immediately finds herself being headhunted for a peachy academic job at Oxford.
It's all looking too easy, but not so fast. Diana has mysterious hidden powers, inherited from her dynasty of witches which stretches back to the Salem witch trials, but she has determinedly suppressed them. Doing a spot of research in the Bodleian library, she blithely calls up a book listed as Ashmole 782, not realising that the entire community of witches, daemons and vampires (who walk among us unseen) have been searching for this rare volume for centuries. It's known as the Book of Life, and, among other things, contains the witches' spells which allowed them to create vampires in the first place.
The news that Diana has the unique power to call up this otherwise invisible tome is big news in the supernatural and undead communities, and soon the library is thronged with inquisitive interlopers lurking among the book-stacks. Prominent among them is a tall dark stranger who turns out to be Professor Matthew Clairmont (Matthew Goode, never knowingly underemployed nowadays). Clairmont runs a high-tech biochemistry laboratory, but more to the point, he's one of history's leading vampires (his proper name is de Clermont), apt to name-drop acquaintances from the Italian Renaissance or to recall his conversations with Charles Darwin. The Book of Life is his Holy Grail.
The witch and the vampire strike up a flirtatious acquaintance, even though Clairmont (sleekly played with quite literal sang froid by Goode) has to struggle ferociously to resist sinking his bloodsucking fangs into her neck ("walk past me very slowly and don't make any sudden movements," he warns her, during a twilit rendezvous at the college boathouse). To stave off his cravings, he feels forced to leap into his car, drive off to his country seat on the Scottish moors and devour a stag.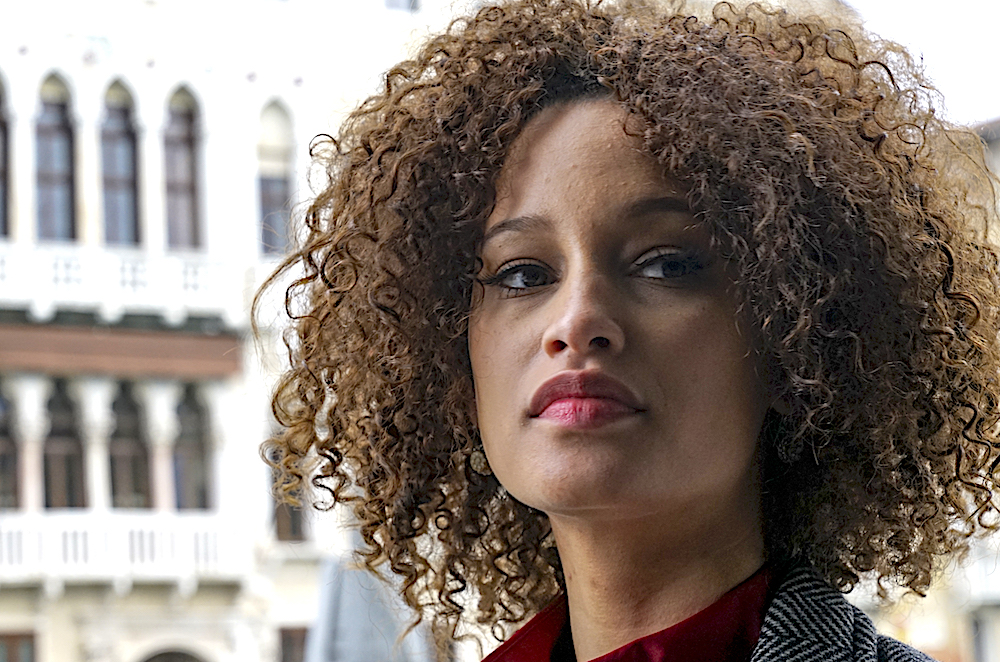 The pair's burgeoning relationship wasn't supposed to happen – there's even a kind of supernatural parliament of the shadowy "creatures" called The Congregation, designed to prevent cross-species miscegenation, but Diana and Matthew are about to experience a higher form of love which creates its own rules. Indeed, Matthew's genetic research is indicating that vampires, witches etc. are slowly dying out, so at a stretch you might say that Matthew and Diana represent enlightened ideas about tolerance and biodiversity. This sort of thing is already provoking the intense displeasure of Peter Knox (a fruitily-voiced Owen Teale, pictured top), a kind of witch-fundamentalist who'd love to uncreate the vampires.
There are aeons of fun in store (time-travel is routine for this bunch), much of it bound to involve the dark and growly vampire Gerbert d'Aurillac (Trevor Eve, loving every minute), who lives in a sumptuous palazzo on the Venice lagoon protected by a magic force field. He has a sort of ward, Juliette Durand (Elarica Johnson, pictured above), but her idea of a night out is draining the blood of handsome young men, so Gerbert has to chastise her by locking her in a half-submerged dungeon. Nobody said it would be easy.