Fauda, Season 4, Netflix review - Israeli terrorism thriller gets darker and dirtier |

reviews, news & interviews
Fauda, Season 4, Netflix review - Israeli terrorism thriller gets darker and dirtier
Fauda, Season 4, Netflix review - Israeli terrorism thriller gets darker and dirtier
Fourth time around, the human cost is becoming too much to bear
Saturday, 04 February 2023
Covert operations: Doron (Lior Raz) and Maya (Lucy Ayoub)
Bald, barrel-shaped and pugnacious, Doron Kavillio (Lior Raz) could have been conceived as the anti-Bond or the un-Ethan Hunt. But as action heroes go, Doron can mix it with the finest as he tracks down terrorists with his comrades in Israel's Mista'arvim Special Forces team.
Raz is the star – or one of them – of Fauda, as well as its co-creator (along with Avi Issacharoff). As a real-life veteran of an Israeli counter-terrorism unit operating in the Palestinian territories, he's been able to bring a raw edge of verisimilitude to the show, even if the action has obviously been shaped for a television audience. Since its launch in 2015, Fauda has become renowned for its ferocious action scenes and unsparing depiction of the struggle between Israel and its hostile neighbours. The recent round of killings in Jerusalem and the West Bank merely reinforces its relevance.
Though made in Israel and implicitly sympathetic to its homeland, Fauda doesn't shrink from spotlighting excesses and outrages by the Israeli state as it conducts its endless campaign against terrorists from Hezbollah, Hamas and other groups, and its international audience contains many fans in Arab countries. The price paid by participants in the struggle has always been spelled out, and in this fourth season the appalling human cost becomes almost impossible to bear.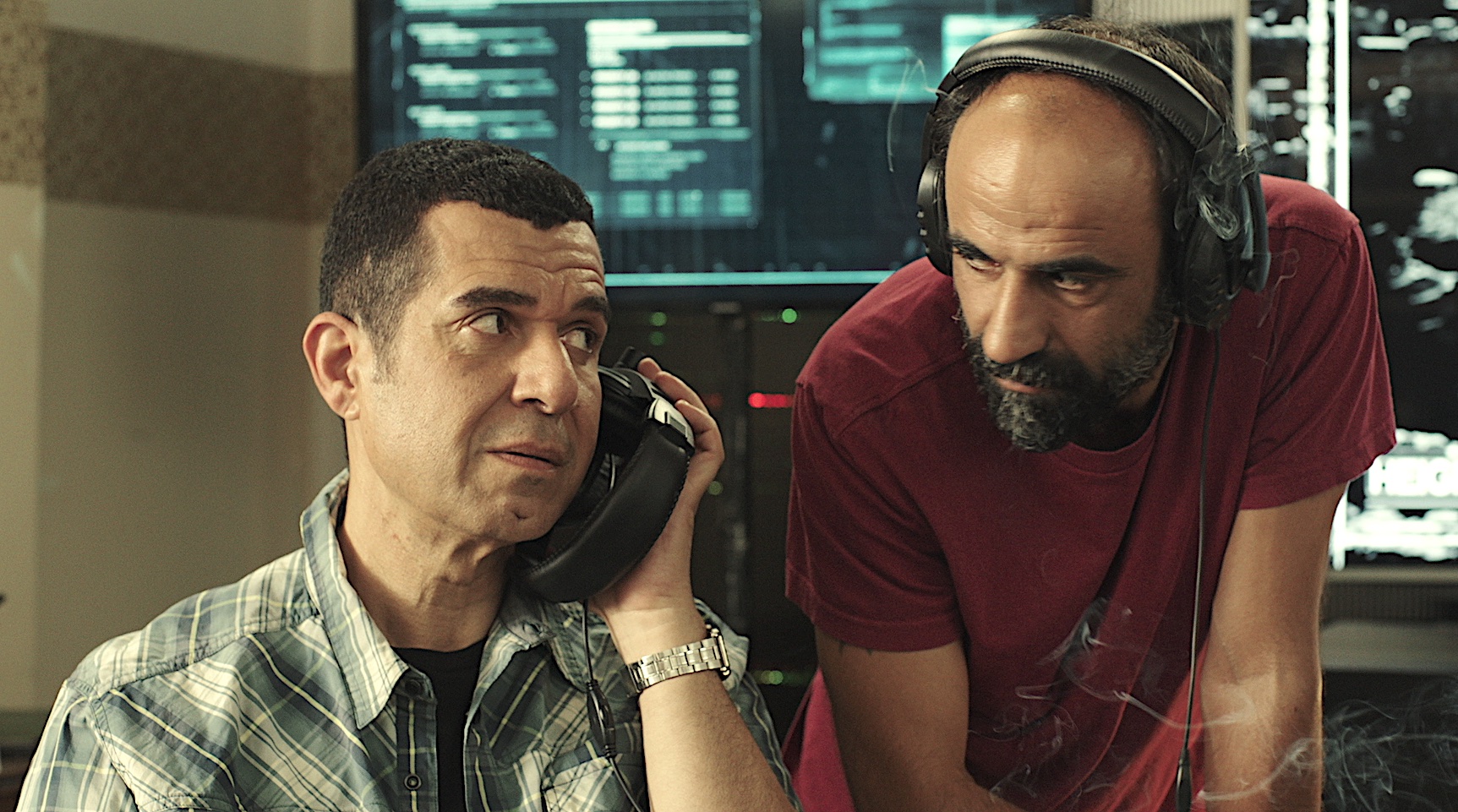 This time around, Doron and his increasingly war-weary team are propelled into action by the kidnapping of Gabi Ayub (Itzik Cohen, pictured left above with Yaakov Zada-Daniel), their boss from Israel's counter-terrorist agency Shin Bet. Gabi had invited Doron, who'd been dropped from the squad after the death of one of his comrades, to accompany him on a trip to Brussels where he was meeting an informant called Omar, but it was a trap – Omar is a double agent working for Hezbollah. The loss of Gabi to the enemy is a critical blow. Doron takes it personally, and is immediately back in the team and on the case.
The story that transpires is a complex and tortuous thriller, criss-crossing the Middle East and depicting a finely-drawn spectrum of personal and professional relationships. The bonds between Doron and his comrades are profound, the result of shared years of triumphs, disasters and agonising losses, but all of them have paid the price in their personal lives.
Doron, who now lives a solitary life on the farm he inherited from his father, has separated from his wife Gali (Netta Garti), though they maintain a sad, low-key friendship. Gali's brother Boaz, another member of Doron's team, was horrifically killed in an earlier series. If Doron seems able to keep throwing himself back into the fray with a kind of existential doggedness, his buddies are coming to the end of the line. Team leader Eli (Yaakov Zada-Daniel) seems bent double by his burden of disillusionment and vows that this mission will be his last (never a good sign), sentiments shared by Steve (Doron Ben-David). Nurit (Rona-Lee Shimon) has triggered a crisis in her relationship with Sagi (Idan Amedi) by going on a hazardous mission despite being pregnant, and almost loses her baby when she gets shot (pictured below, Ben-David, Shimon and Amedi).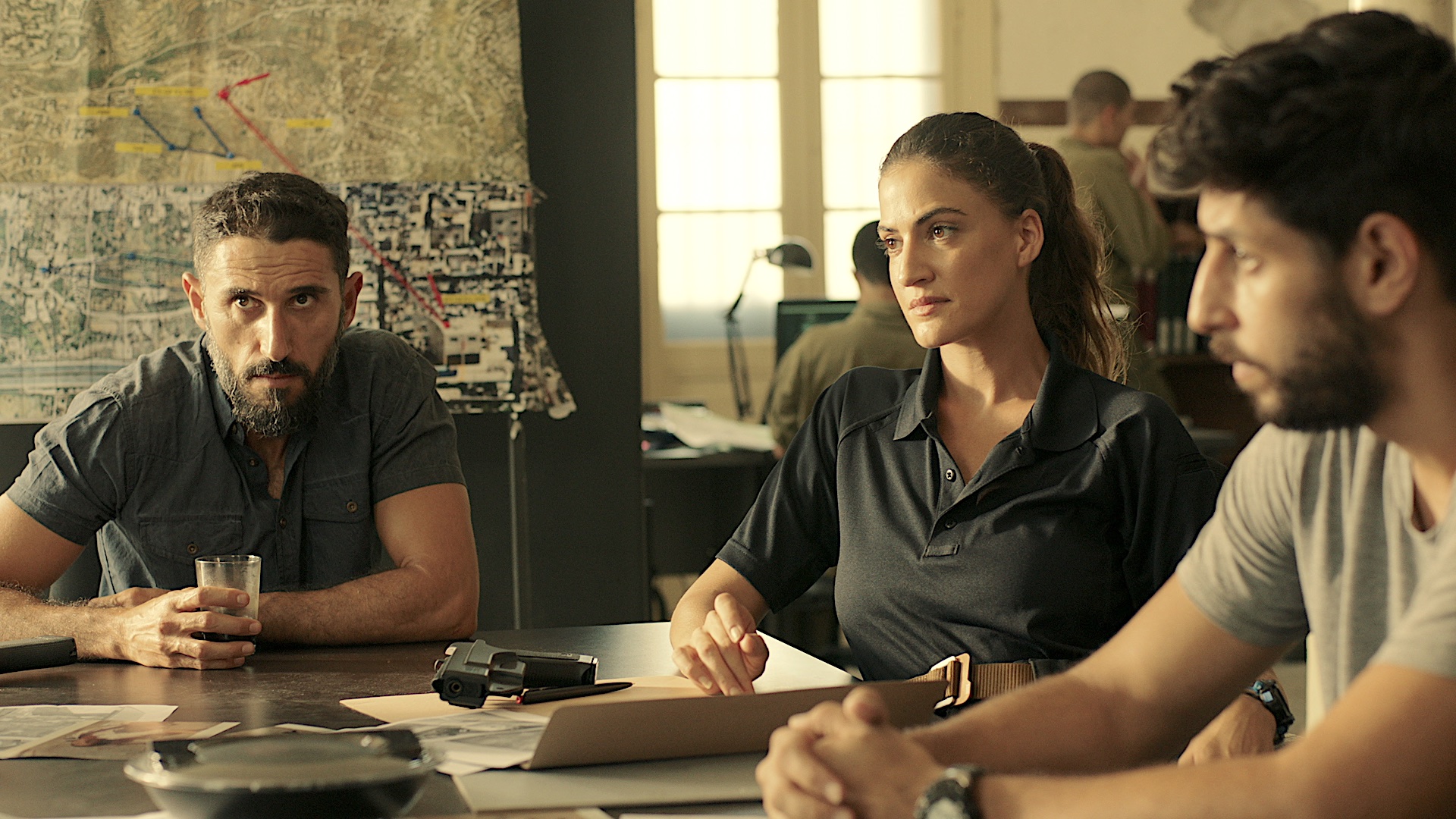 The themes of trust and betrayal cross all lines of nationality or allegiance, just as characters slip furtively between Lebanon, Syria, Belgium and the West Bank. Thrown unwittingly into the jaws of the Israeli covert operation is Maya Binyamin (Lucy Ayoub), who's from an Arab background but is pursuing a successful career in the Israeli police force. But Omar is her brother, so the revelation of his treachery immediately gets her blacklisted by the Israelis. She becomes the unwitting tool of Doron's plan to track down Omar and find out what's happened to the kidnapped Gabi.
The horrible fate of Gabi is where the knife is twisted most mercilessly. He has explained blithely to Doron how he regards Omar as a son, but now he's systematically tortured by Omar and his Hezbollah colleagues, since he's a mine of information about Israel's security operations. His sufferings are depicted by terrible screaming and shots of a bloodstained hammer and pliers. He ends up physically crippled and emotionally destroyed, since the information he couldn't stop himself giving up is used by the terrorists to carry out a string of bombings and murders in Israel. It's a very intimate kind of purgatory.
This is dark territory indeed, and you may have to steel yourself to get through the dozen episodes. Yet it's cathartic and cauterising too, if only because you crawl from the wreckage thinking thank God it's them and not me.