Flesh and Blood, ITV review - Vivien's new love affair throws a cat among the family pigeons |

reviews, news & interviews
Flesh and Blood, ITV review - Vivien's new love affair throws a cat among the family pigeons
Flesh and Blood, ITV review - Vivien's new love affair throws a cat among the family pigeons
Francesca Annis and Imelda Staunton in a twisty drama of secrets and lies
Tuesday, 25 February 2020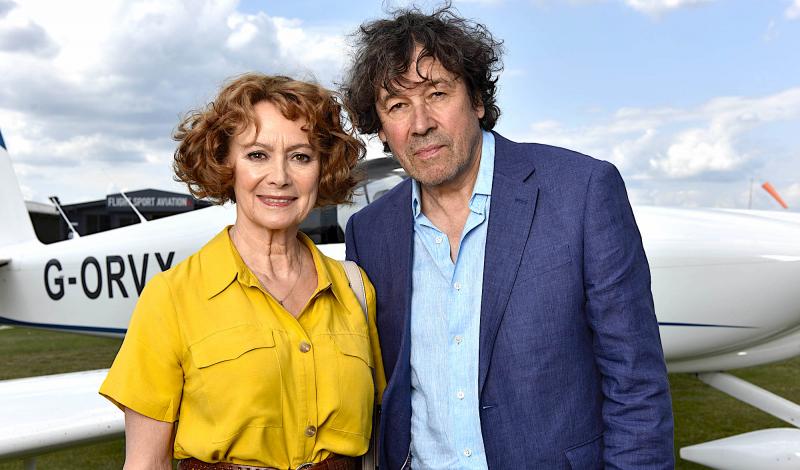 Francesca Annis as Vivien, Stephen Rea as Mark
"Everybody lies," says property developer Tony to his PA and secret lover Natalie. "Even your mum probably." And of course he's not wrong.
Sarah Williams's drama, showing over four consecutive nights on ITV, is an easy-to-digest and deftly-wrought piece of work, using an unspecified accident which has left somebody in hospital – Williams has bent over backwards to avoid revealing the victim's identity until the final episode – to prise open the secrets and lies of Vivien (Francesca Annis) and her family. Vivien, who's turning 70, has been living on the Sussex coast for the past 40 years, having moved out from London, but her husband Terry died 18 months ago. When she gathers her children at her delightful beach-side house and informs them she's met a man with whom she's started a relationship, they react with varying degrees of incredulity and outrage (Vivien with extended family, pictured below).
There are faint echoes of last year's BBC One drama Gold Digger, in which Julia Ormond's 60-year-old Julia fell into a passionate relationship with a man half her age. This one is superior though, because the family's interrelationships are more interesting and more persuasively drawn, and even when the characters behave stupidly or selfishly you can still feel some sympathy for them (Julia Ormond's children were mostly just repulsive).
Nonetheless, this still leaves the conundrum of what are the true motives of Vivien's new amour, Mark, a retired surgeon who's played with not especially appealing dishevelment by Stephen Rea. Viv's son Jake (Russell Tovey) is scandalised that his mother could contemplate such behaviour so (relatively) soon after his father's death, but daughters Natalie (Lydia Leonard) and Helen (Claudia Blakley), while taken aback, are less inclined to rush to judgment. Indeed, Helen is rather taken with the way that Mark is so attentive and affectionate to her mum.
As the story unravels, the message that begins to emerge is that nobody is in a position to pass judgment on anybody else. Natalie (who we last met at the top of the page) is embroiled in an affair with her boss Tony (a thoroughly disreputable Vincent Regan), who's cynically stringing her along with promises that he'll leave his wife and kids and buy a palatial new home where they'll both live. However, her revelation that she's pregnant with his child may be about to unleash seismic repercussions.
Meanwhile the reason Jake is so angry and pent-up is that his gambling debts have forced his wife Leila (Lara Ross) to chuck him out of the family home. It could be worse though, since he has had the great good fortune of having Stella (Sharon Small), one of his clients – he's a personal fitness trainer – take him under her wing and into her bed, and pay him for the privilege. She's even going to let him take over the tenancy of a swishy flat that she would normally rent out commercially. One suspects he may be due to reap an ironic harvest.
As for Helen, her stressful job as an NHS trouble shooter trying to turn round a failing trust is almost more than she can cope with, and the strain is ripping apart her marriage to George (Keir Charles), who has become the acme of passive aggression. But perhaps the biggest mystery is Vivien's next door neighbour and oldest friend Mary (played with sly ambivalence by Imelda Staunton). She's become so close to Vivien that she virtually reads her mind, and doesn't mind steaming open her mail and slipping into her house and snooping around while she's out. DI Lineham (David Bamber), investigating the accident, seems fascinated by Mary's account of what happened. What can he be thinking?