His Dark Materials, BBC One review - generic TV fantasy with ready-made twists |

reviews, news & interviews
His Dark Materials, BBC One review - generic TV fantasy with ready-made twists
His Dark Materials, BBC One review - generic TV fantasy with ready-made twists
High production values and the imagination of Philip Pullman carry a thin first episode
Dafne Keen as Lyra with her shape-changing dæmon Pantalaimon
The good news is that television's serial slow burn will allow for a lot more original Pullman to make its way to screen than was possible in the one and only instalment of the intended film trilogy, The Golden Compass. Its virtues were many, despite drastic late alterations, and in terms of casting and cinematography, this version doesn't look set to outstrip it.
But from one expository episode on BBC One in which we've only briefly left a parallel-world Oxford for the London nerve-centre of the controlling Magisterium – and that's the bad news, that the thrills aren't here yet – it isn't entirely fair to judge.
The production values by Line Cinema and Bad Wolf for the BBC and HBO are high, with handsomely-lit locations complemented by an extra layer of special effects – predictably good for the characters' dæmons, their animal spirit companions which fix shape only at puberty. This is the immediate strangeness which connects with the world of the books when much else seems too generic alongside Pullman's compelling prose.The furry ones' speaking back doesn't work quite well enough, but it's more worrying that many of the humans' lines are stilted in their delivery. James McAvoy's Lord Asriel (pictured below) has charisma but not as yet authority; the scene where he shows slides to raise college funds for his Svalbard expedition sees some uncertain intonation, not helped by two tacky images of "dust" and cities in the sky.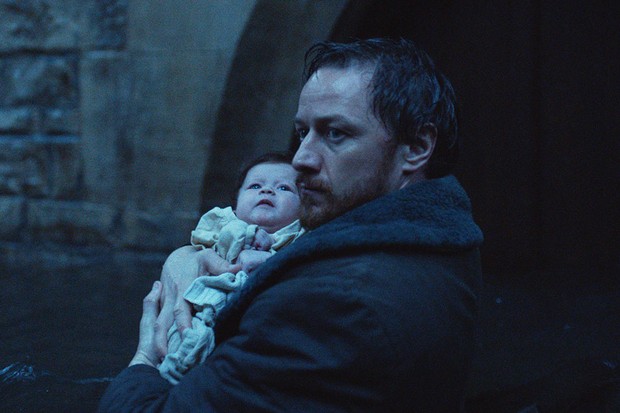 It's good that so far Ruth Wilson's already compelling Mrs Coulter (pictured below) doesn't show any hint of spite or malice; she has to be reassuringly normal and substitute-motherly to persuade our heroine, young Lyra Belacqua, to accompany her to London and then north. Pullman claimed that Nicole Kidman, an obvious choice for the film's Coulter, made him change his mind to seeing the lady as a blonde, but as one of eight (!) executive producers for this series he's presumably quite happy in going back to the dark side.
Dafne Keen's Lyra seems bright-eyed but not especially ingratiating. Maybe that's the point, though we're told this is no ordinary girl and, apart from a plucky spirit and some well-filmed college roof-leaping, that isn't borne out in the characterisation. Again, the caution has to be – so far. Other roles – Clarke Peters's Master of Jordan College and Anne-Marie Duff's bereft Ma Costa of the Gyptians or water-travellers, inhabiting a plausible world here – are sketchy in Episode One, but delivered with no false notes.
The all-pervasive music by Lorne Balfe is generic when it could have helped in setting up the necessary otherness. Clearly the very long "to come" trailer at the end of this first episode marks a realisation that despite the promise of other spheres and the handsome setting-apartness of the Gyptians' realm from college central, audiences may not yet be hooked. The millions who've read the books can afford to be patient, newcomers possibly less so. Or maybe the ingredients so many of us now take for granted are compelling enough in themselves. Time will tell.