Imagine… Antony Gormley: Being Human, BBC One |

reviews, news & interviews
Imagine… Antony Gormley: Being Human, BBC One
Imagine… Antony Gormley: Being Human, BBC One
Memorable encounter with sculptor Antony Gormley finds the 'Imagine...' strand in convincing form
Wednesday, 04 November 2015
Human forms: Antony Gormley in his studio
Metal figures on the foreshore of Crosby Beach, Liverpool, set against a sunset, signify the preoccupations of Antony Gormley. The sculptor has been concerned consistently with the human figure, manifested in metal – lead or iron – casts of his own body.
We were shown his career from work to work, interspersed with questions and answers between Gormley and Alan Yentob (pictured below, with Gormley), the presenter here diffident and attentive. Tim Marlowe, once connected with Gormley's gallery White Cube (not referred to – the business of art did not get a look in, although we were told that Gormley now has two massive studios and several assistants), said Gormley was the least complacent artist he knew. There was Jacky Klein, a curator of his 2007 Hayward show, Blind Light, and Nick Serota, too: the latter gave Gormley his first significant solo show at the Whitechapel in 1981. The Turner Prize came in 1994, and was another game-changer.
We were witnessing the journey of a substantial and original artist
Morag Tinto's film followed a small selection of Gormley's art-world peregrinations over the past year. The range was prodigious: the siting of a lead figure of you-know-who in sentinel mode on the edge of a vertiginous cliff on Lundy Island; and a huge commercial show, titled Second Body, in the vast Thaddaeus Ropac gallery in Paris. We saw the preparations for an impressive show of old and new work – processions of figures in various poses, simply called Human – in the Medici-built 16th century Forte de Belvedere on the edge of Florence, only once before given over to sculpture, for the unprecedented show of Henry Moore in 1972. And we saw the crowds flooding in on opening day there, touching the work, sitting on it, taking selfies, and looking at their phones, all too human.
Perhaps most touching were the perspectives on several of his best known works. We went back in time to the installation of Angel of the North (1998, pictured below) off the A1 near Gateshead, at the time the largest sculpture in Britain. Gormley's Angel has become almost a place of pilgrimage: its exoskeleton form and the method of its making refers to the industrial skills, and the industrial decline, of the north – its pose alluding to the crucifixion is no accident.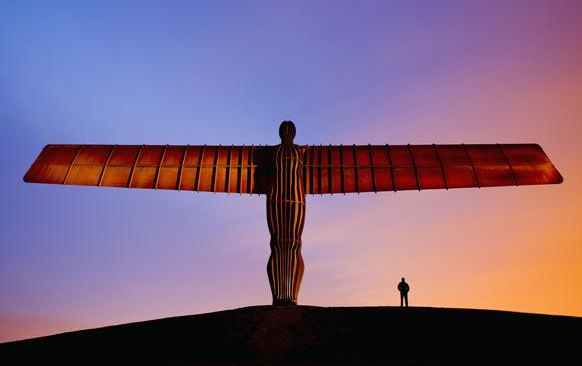 Most revelatory, perhaps, was Gormley's reference to his profoundly Catholic childhood. He was the seventh child of devout parents and went to Ampleforth College, taught there by Benedictines. His initials, he told us, are AMDG, which can be seen (and probably were by his parents) as ad maiorem Dei gloriam, "to the greater glory of God", the Latin motto of the Jesuits. Aged 17, he even spent several weeks volunteering at Lourdes, which opened the first chink in his Catholic armour as he worked amongst the most disabled, but witnessed no miracles.
His most vivid childhood memory, though, seems to be as a young child at home having a daily afternoon nap in a small, enclosed, hot and sunlit room, the light seeping through the windows. It seems to have made him aware from a very early age of our being enclosed in our bodies; that seems to have dominated his art ever since. He is alarmingly and extensively educated: history of art, archaeology and anthropology at Cambridge followed by his decision to travel for two years on the Indian subcontinent. Once, robbed of everything, he spent two weeks on the streets of Kolkata (Calcutta). He travelled the hippie trail, and he explored Buddhism as thoroughly as he could, losing his specific Catholic faith, but remaining, it seems, habituated to its rituals.
When he returned to England, and several years of art college, Gormley was to decide that the proper study of mankind was man – in his own case, his own body. That decision has led to his 40 years-plus of conveying what it feels like to inhabit a human body, closing your eyes and being inside yourself, which only you can be. As he remarked, he has used his own existence and his own body as the model, subject, tool and instrument of his art; moreover, he believes that sculpture is the art that touches us most, liberating feelings we did not know we had.
He became his own object. Archive film showed his artist wife Vicken Parsons carefully brushing plaster over her husband's film-wrapped body until only his mouth was still connected to the outside world. The 1970s plaster casts and moulds from the abstracted human body, and finally mazes and grids to walk through, were still related to human dimensions but came aided by the latest technology, including infra-red scanners and computers.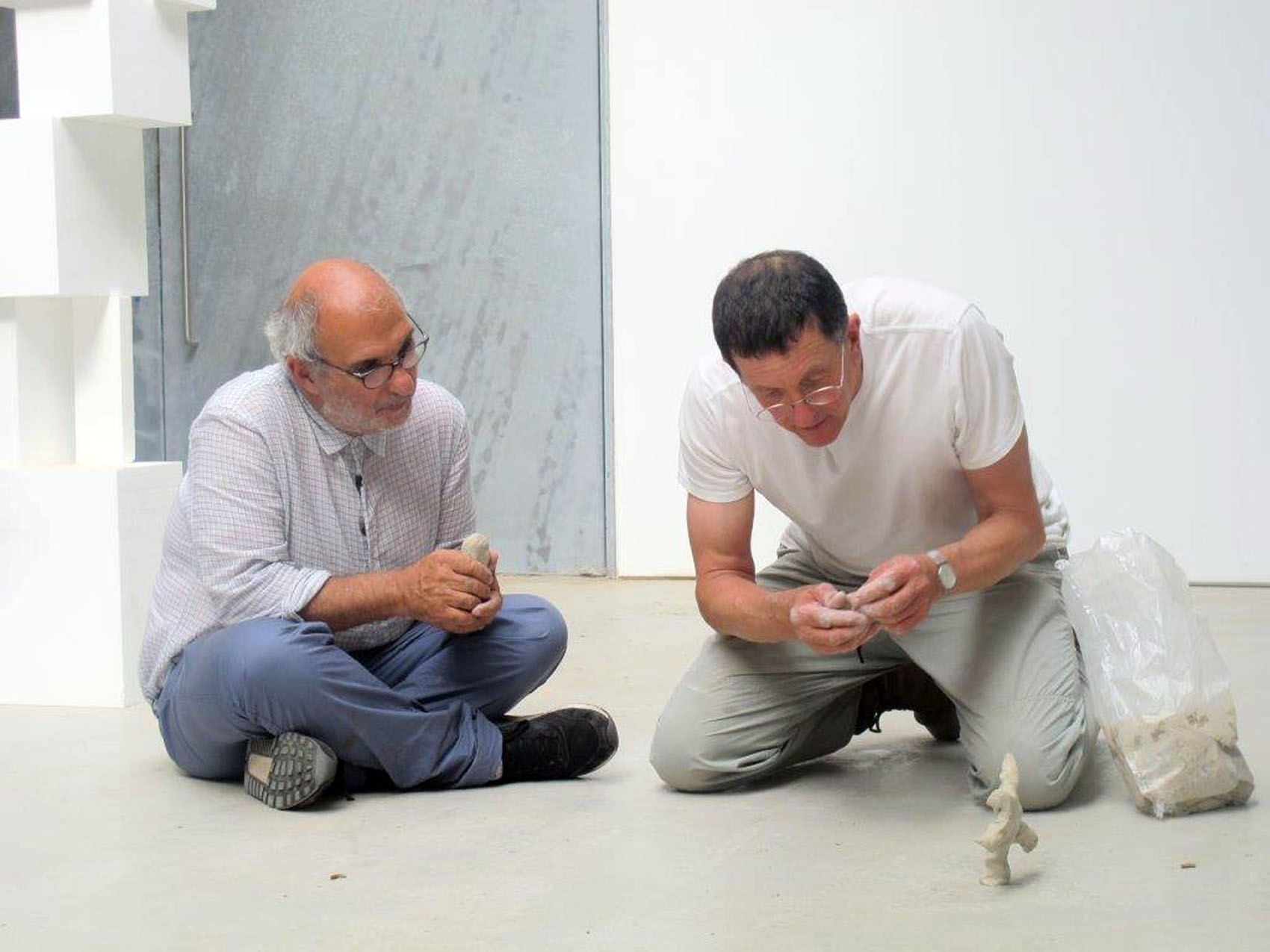 He looked outside himself as well. His most affecting work, seen here in various permutations, was Field: that started with small hand-held lumps of clay which many volunteers, notably primary school children, formed according to the artist's direction into tiny human figures with two holes for eyes. Each figure was touchingly different, and their variations quite extraordinary. The first Field was 1,000 tiny human lumps, the Field for the British Isles in 1993 totalled 40,000. The installations were temporary and completely covered the floors of several galleries, with no way in and no way out: a crowd, imploring and asking, onto which a huge variety of human expressions and emotions could be projected. Versions of Field have been created around the world, from Brazil to China and Japan.
His notable other collaboration has been with a series of outstanding choreographers, from Akram Khan to Hofesh Shechter, where the human body itself is the medium. And, of course, the Fourth Plinth in Trafalgar Square in 2009, where his One & Other offered the platform to individual members of the public to do as they willed. He reluctantly admitted that his favourite was a young crouching woman, an agoraphobic, who buried her head in her arms, only occasionally looking out. For an artist whose work is predicated on the outward shape of people, only the better to look inward, it was an appropriate living physical emblem of his goals.
Individual quotations from Gormley might qualify for inclusion in "Pseud's Corner". This film thoroughly and convincingly portrayed his conviction, determination, and skill; we were persuaded that we were witnessing the journey of a substantial and original artist, thoughtful and profound.
For an artist whose work is predicated on the outward shape of people, only the better to look inward, it was an appropriate living physical emblem of his goals
rating
Share this article