Invasion, Apple TV+ review - sci-fi epic or a pile of space junk? |

reviews, news & interviews
Invasion, Apple TV+ review - sci-fi epic or a pile of space junk?
Invasion, Apple TV+ review - sci-fi epic or a pile of space junk?
Grandiose space-invader series is dreary and uninvolving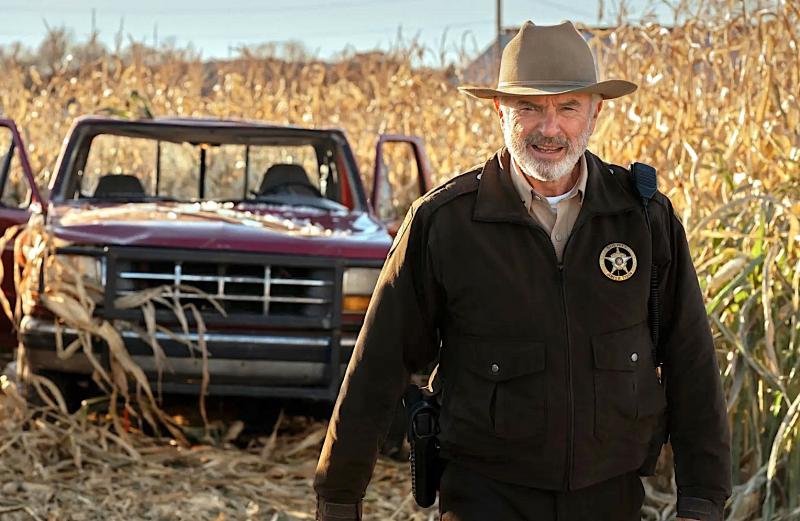 One last case for Sheriff Tyson (Sam Neill)
Conceived on a global scale to depict the enormity of an alien menace from outer space, Apple's new series Invasion has grand ambitions, but crash-lands like a pile of space junk. After a few hours of this, waiting for something to happen, you'll be yearning for a trawl through Netflix or Walter Presents.
Created by Simon Kinberg and Davis Weil, with a reported budget of $200m, Invasion seeks to depict the consequences of its unearthly incursion by showing the varying fates of a contrasting group of characters. In Afghanistan, we hook up with a squad of US soldiers led by bullish, rifle-waving Navy SEAL Travante Ward (Shamier Anderson), whose routine patrol is interrupted by a weird tripod-like structure that apparently swooshes Ward's comrades into oblivion.
In England, a group of irritatingly unsympathetic schoolchildren crash into a ravine in their minibus after something explodes on the road ahead of them. In Tokyo, JASA communications expert Mitsuki (Shioli Kutsuna, pictured below) is devastated after her female lover is on board a space shuttle hit by an unknown object, and is determined to analyse what happened.
Most cliché-tastic of all is Sam Neill's wizened sheriff, John Bell Tyson. Yes, he really is just one day away from retirement when he comes across a mysterious crater in an Oklahoma cornfield, and is rewarded with a turgid soliloquy about how he's spent his whole career in law enforcement waiting for some significant, defining event to bring meaning to his decades of service. Maybe this is the one…
Well if it is, he's going to have a long wait before he finds out. While the notion of building up characters and fleshing out their various worlds as a platform for the dramas to come – if they are to come, that is – is sound enough, Invasion seems to take a perverse delight in feeding the viewer some morsels of story before shooting off again across continents to drop in on one of the other protagonists. You never stay in one place long enough to feel an engagement with the characters or their predicaments, and the bite-sized approach doesn't lend itself to any virtuosic feats of screenwriting. Actual aliens don't put in an appearance until episode 6, and when they do you may not feel it was worth the wait.
Hence, everybody is diminished, especially as it starts to feel as though the characters and situations have been designed to box-tick as many social, racial or political considerations as possible. It feels agenda-led rather than organically-grown, so the story of upscale Long Island couple Aneesha and Ahmed is more about closeted racist attitudes and social climbing than it is about a terrifying cosmic catastrophe. It's reminiscent of that old satirical cartoon of the office worker wailing: "Nuclear war? There goes my career!"
Perhaps Invasion is a worthy and ingenious effort to subvert the conventions of apocalyptic sci-fi. Or maybe it's just a flop.