Liaison, Apple TV+ review - tangly Franglais thriller presses some hot buttons |

reviews, news & interviews
Liaison, Apple TV+ review - tangly Franglais thriller presses some hot buttons
Liaison, Apple TV+ review - tangly Franglais thriller presses some hot buttons
Great with a stiff drink and your brain parked in neutral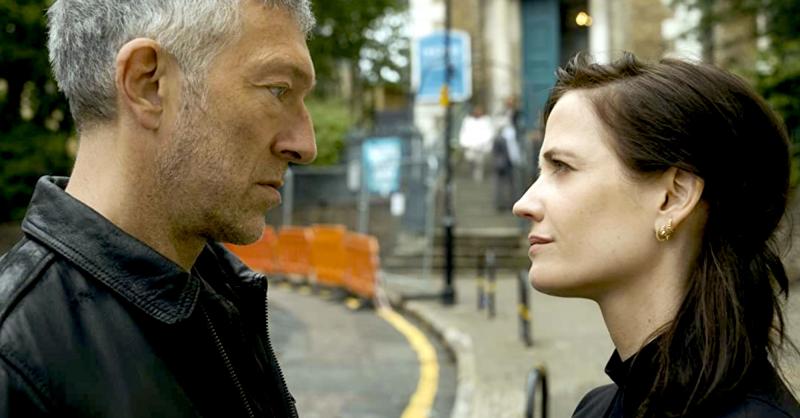 Maelstrom of deceit: Gabriel (Vincent Cassel) and Alison (Eva Green)
Vive l'entente cordiale! "Despite Brexit" (as the BBC likes to say), Apple TV+ has successfully bridged the Channel to create this lurid Anglo-French thriller, in which Euro-skulduggery rubs shoulders with bribery, corruption and high treason.
At centre stage in Westminster we find Alison Rowdy (Eva Green) – slightly confusingly, Green is French, but plays an English character with a dollop of French in her background. She's employed as a civil servant who answers to the British government's security minister, Richard Banks (a rough, gruff Peter Mullan). Rowdy will soon find herself entangled in a convoluted plot involving two Syrian computer-hackers on the run after busting into President Assad's police files, while rogue elements inside the Élysée Palace in Paris are working on a cunning plan to transform a company called Antropa into a vast, globe-swallowing weapons manufacturer.
Screenwriter Virginie Brac has had a bit of fun with the history, ancient and modern, between the French and the Brits. At one point she has French Euro-bureaucrat Sabine Louseau (Laëtitia Eïdo) warning the British contingent in Brussels that "they can't have their cake and eat it", while the sinister Didier Taraud (Stanislas Merhar) is adamant that the treacherous and untrustworthy British must at all costs be prevented from acquiring the Syrians' top-secret information. However, the fact that the Brits have Brexited is being exploited by Taraud (with the connivance of the French president) to try to sell them Antropa's military and surveillance products, which would be illegal if the British were still bound by EU regulations. A devious stratagem indeed.
Underpinning this maelstrom of deceit is the back story of Rowdy and Gabriel Delage (Vincent Cassel, familiar from La Haine, Oceans' Twelve, Jason Bourne etc). Formerly in French military intelligence, Delage had a previous entanglement with Ms Rowdy when she was involved – disastrously – in some kind of student radical group, though this plot-angle feels incongruously as if it's been dredged up from the faraway days of 1968. But never mind that now. Delage currently works as a mercenary for a private security company called Telkis and finds himself hired to rescue the fleeing Syrian hackers. This opens the door to a variety of hot-off-the-presses plot developments, as the fugitives scramble their way across Europe before ending up in a refugee camp in Dunkirk. From here, they hitch a ride on an inflatable dinghy and head for the Kent coast (there's no sign of Border Force, the RNLI or Nigel Farage, though).
It's all highly entertaining, especially aided by a stiff drink with your brain parked in neutral, and the opulently-mounted production extracts full value from locations in Paris, London and the Middle East. There are also some bravura sequences as the Brits themselves fall foul of fiendish computer-hacking, including a terrifying flood caused by manipulation of the Thames Barrier, and hair-raising 9/11-style scenes of an out-of-control airliner flying at rooftop height over the City of London. A second series must be well within the bounds of possibility, though perhaps not plausibility.