Messiah, Netflix review - con-artist or the Second Coming? |

reviews, news & interviews
Messiah, Netflix review - con-artist or the Second Coming?
Messiah, Netflix review - con-artist or the Second Coming?
It's sometimes sluggish, but it keeps asking provocative questions
Wednesday, 15 January 2020
Mehdi Dehbi as Al-Masih
It's an intriguing question. If a new Messiah appeared today, what kind of reception could he (if it was a he) expect? Possibly something similar to the one which greeted Jesus, according to Netflix's new series Messiah.
Created by Michael Petroni, it stars Mehdi Debhi in the role of Al-Masih, a man who never makes explicit claims for his divine powers, but who is accompanied by a trail of miraculous phenomena as he travels around the world. Al-Masih resembles a Christ-figure as imagined by a painter from the Italian Renaissance, and radiates a charismatic aura which compels people to follow him.
For his first beyond-human feat, he apparently called down a gargantuan sandstorm to overwhelm ISIS forces besieging Damascus, and then led 2,000 refugees across the desert to the Israeli border. The Israelis inevitably reacted with intense suspicion and arrested Al-Masih, taking him away for questioning by the cynical Shin Bet intelligence officer Aviram Dahan (Tomer Sisley). However, having displayed a beatific calm in the face of Dahan's threats, and wrong-footing his interrogator by knowing revealing personal details about him, Al-Masih suddenly vanished from Israeli custody. After saving a boy from a gunshot wound at Jerusalem's Al-Aqsa mosque, he disappeared again, only to turn up in Texas, just in time to rescue a teenaged girl from a tornado.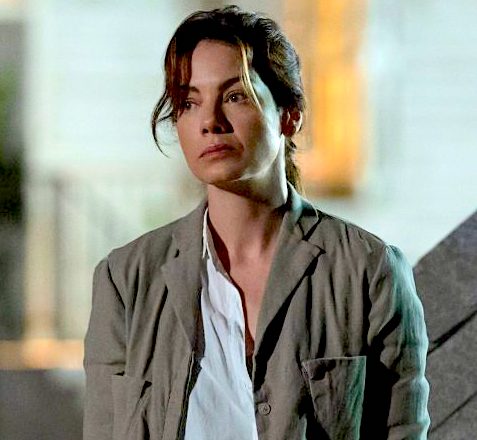 With global interest in him growing, and followers flocking to him in droves, he provokes as much suspicion as adoration. CIA officer Eva Geller (a grimly unsmiling Michelle Monaghan, pictured left) is convinced that he's some kind of agent being run by a hostile government, but then again she's a hard-line sceptic who considers that "Jesus was just a populist politician with a grudge against the Roman Empire". However, the CIA's thesis that Al-Masih is being manipulated by the notorious cyber-terrorist Oscar Wallace, who fled to Russia after hacking the Wall Street financial markets, is scuppered by the revelation that Wallace is the Messiah's disciple rather than the other way round. Yet news that Al-Masih and his brother were largely brought up by a professional con-man and illusionist fuels the suspicion that he's just a highly-accomplished fraudster. Another theory doing the rounds is that he isn't Christ, but the Antichrist.
Despite some sluggish episodes, Messiah is an absorbing watch, pushing numerous highly contemporary buttons as its protagonist makes his way to Washington and strikes up a secret rapport with President Young, a devout Mormon. Its structural problem is that it can't put its cards on the table and declare that Al-Masih really is the Messiah, or at any rate Messiah II, because that would mean no further series. Perhaps its most effective device is the way that Al-Masih's imperturbable certainty influences the people he comes into contact with, prompting a chain reaction of revelations and anguished self-examination.