The Outsider, Sky Atlantic review - double trouble in small-town Georgia |

reviews, news & interviews
The Outsider, Sky Atlantic review - double trouble in small-town Georgia
The Outsider, Sky Atlantic review - double trouble in small-town Georgia
The terror mounts in gripping Stephen King adaptation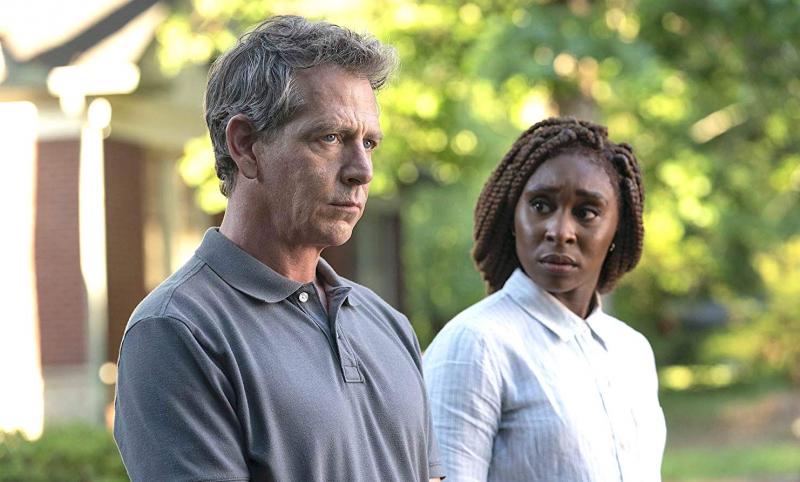 Ben Mendelsohn as Detective Ralph Anderson, Cynthia Erivo as Holly Gibney
Stephen King's novels have generated an impressive lineage of successful adaptations.
This HBO treatment (on
Sky Atlantic
) of his 2018 novel
The Outsider
, developed by Richard Price and featuring
screenwriting
input from Dennis Lehane, is shaping up as one of the best TV incarnations. If the first two episodes established an atmosphere of pervasive horror and dread, this third one began to lure the realistically-drawn world of Cherokee City, Georgia further into King's familiar supernatural territory.
It's a town metaphorically shot in black and white, where nothing cheerful ever looks likely to happen. The story so far is that the town's Little League baseball coach, Terry Maitland (Jason Bateman, pictured below), was arrested for the horrific murder of a young boy, Frank Peterson, thanks to forensic evidence of saliva and human bite marks on the body. Local detective Ralph Anderson (an abnormally subdued Ben Mendelsohn) took a vengeful pleasure in having Maitland arrested as publicly as possible, and his question to Maitland of whether he'd ever laid a hand on Anderson's own son hinted at an iceberg of back story yet to be revealed.
Then Terry was shot and killed by the murdered boy's brother on his way to his arraignment, protesting his innocence with his dying breath. The fact that he was clearly caught on video at an out-of-town business conference at the time when he was supposedly committing murder supported his protests fairly convincingly, and other clues emerged to cast doubt on his guilt. Episode three opened with the police investigating the discovery in a barn of what look like Maitland's clothes, along with a mysterious substance at first thought to be semen, but which forensic scientists couldn't subsequently identify. Maitland's fingerprints were also found, but in a faint and degraded version, as though left by a much older Terry Maitland.
Should the word "doppelgänger" have sprung into your mind, you would feel vindicated by the arrival at centre stage of Holly Gibney, a rather unusual investigator equipped with the proverbial "very particular set of skills". Mesmerisingly played by Cynthia Erivo (from Widows and Harriet), Gibney is apparently on the autistic spectrum. In social encounters she's gauche and graceless, but she has a savant's ability to identify days and dates from any point in past or present, along with a memory bigger than Wikipedia. It seems it may take another inexplicable phenomenon to catch the one already on the loose, and it's she who posits the existence of a murderous, perhaps unearthly double. Evidence of another similarly logic-defying murder gives this theory the green light.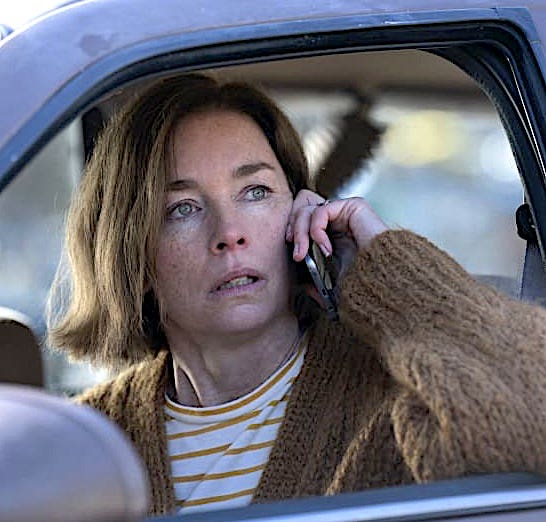 The story's remorselessly tightening grip is underpinned by the way the unfolding weirdness is kept firmly anchored in daily lives and humdrum detail. The private grief being borne by Anderson and his wife Jeannie (Mare Winningham) will exert a growing influence on the narrative, and Jeannie's developing relationship with Maitland's widow Glory (Julianne Nicholson, pictured left) looks like a kind of compensation for the bad blood between the respective husbands. At the same time, the unseen threat – actually not quite unseen, since we've had glimpses of a horribly misshapen figure wearing a hoodie, lurking ominously – is creeping closer to the protagonists. A favourite King theme is the sensitivity and perceptiveness of children, and it's Glory's young daughter Jessa who's apparently the vessel for the unknown entity. She calls it merely "the man", it visits her in her dreams, and it wants her to give Ralph Anderson a message to stop his investigation. Otherwise something bad will happen. More than likely, you'd have to say.