Reckoning with the Jimmy Savile legacy - Steve Coogan stars in BBC One's four-part 'factual drama' |

reviews, news & interviews
Reckoning with the Jimmy Savile legacy - Steve Coogan stars in BBC One's four-part 'factual drama'
Reckoning with the Jimmy Savile legacy - Steve Coogan stars in BBC One's four-part 'factual drama'
Is Savile's career of evil suitable for prime-time entertainment?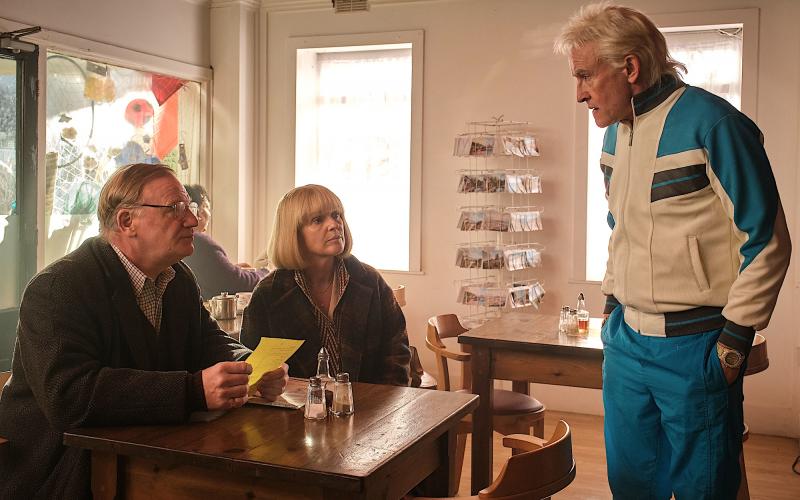 Steve Coogan as Jimmy Savile, with Siobhan Finneran and Mark Lewis Jones
Dramatisations of real-life crime have become all the rage on TV, as screenwriter Neil McKay and producer Jeff Pope are well aware. Their history of morbid collaborations includes See No Evil: The Moors Murders, the saga of serial killers Fred and Rosemary West in Appropriate Adult, and, in Four Lives, the story of serial killer Stephen Port.
Now, in The Reckoning, they've focused their energies on Jimmy Savile. It arrives on BBC One and iPlayer on Monday (9 October) with Steve Coogan in the leading role. The series was first announced by the BBC three years ago, but its long gestation has prompted suspicions that the broadcaster might have been having second thoughts about a project starring the notorious sexual abuser and paedophile who was once one of their most high-profile names. The way the Corporation carefully kept the press at arm's length in the run-up to the launch was indicative of the sensitivity surrounding the piece.
The question is, should this revolting litany of sexual abuse and paedophilia have been turned into prime-time TV drama at all? But if nothing else, The Reckoning is a triumph for Coogan. He pulls off the Savile role with nerveless panache as he progresses across the decades, getting crankier and more decrepit and paranoid about being exposed by suspicious journalists. The series includes archive clips of the real Savile, and Coogan's impression of him is convincing enough that sometimes you're not certain which is which. Yet how anybody ever found Savile's gruesome tracksuits, flashy gold jewellery and sideshow-freak appearance alluring or persuasive must remain one of posterity's great mysteries.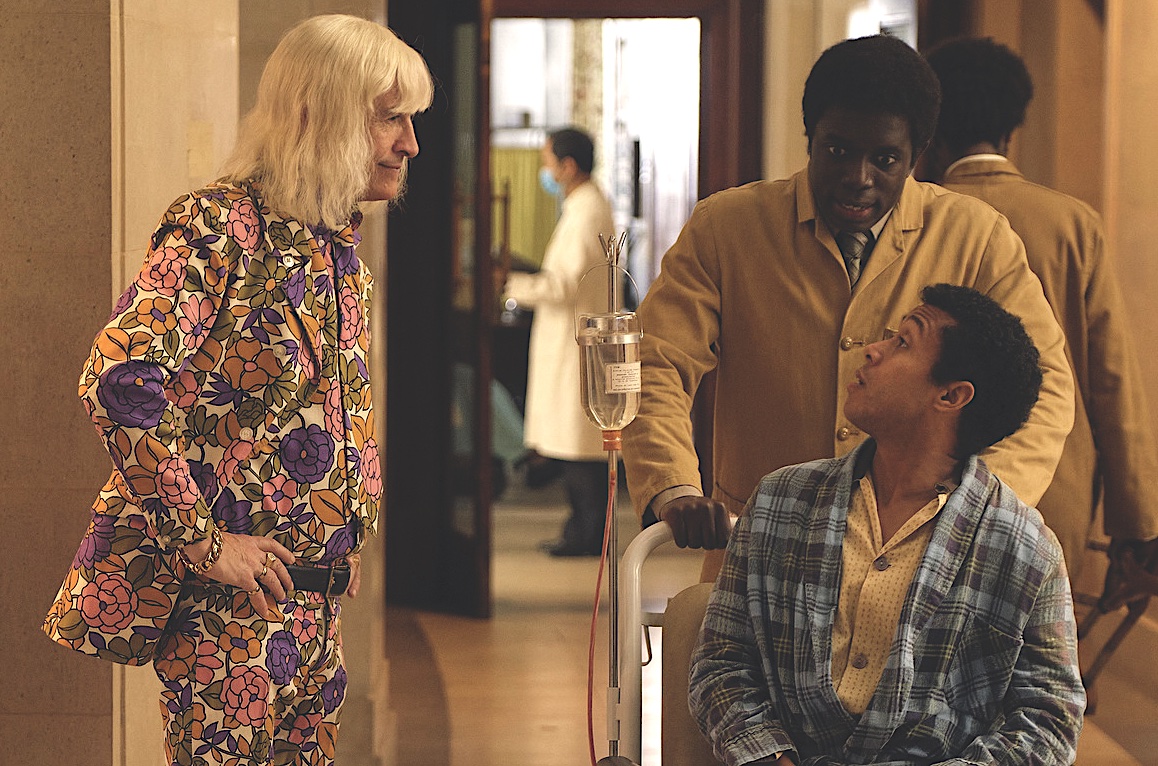 At a media screening at New Broadcasting House, Coogan, who used to do comic impersonations of Savile 30 years ago, talked about his reasons for taking it on. "I think I've got enough under my belt now, it felt like there's probably a handful of people in the country who could play the part and I did consider myself one of them," he said. "I knew there was the potential for catastrophic failure if you get it wrong, but that's not a reason not to do it. I've got quite a good ear, and as an actor I didn't really treat Jimmy Savile any differently than any other role. Insofar as I'm a professional, I'm being hired to do a job, or try and do the job as professionally as possible. That means both not to do any kind of caricature or comedic content, but neither to render him as some sort of pantomime villain. That would be a disservice to the survivors and victims of Savile."
Coogan reckons the value of treating the story as drama rather than a documentary is that "the kind of scrutiny you get with drama you don't get with a documentary. It meant that I could get under the skin of Jimmy Savile, and the reason that it's a good thing to bring him to life again is to learn about how these things happen and to stop them happening again."
That sounds like a very long shot, but we can only hope Coogan might be right. Meanwhile, more than one journalist at the screening was of the view that with The Reckoning, the BBC is trying to shrug off responsibility for having nurtured the monstrous Savile under its own roof, from his role as the inaugural presenter of Top of the Pops to Jim'll Fix It and Radio One's Savile's Travels. The way a Newsnight investigation of Savile's abusive behaviour was withdrawn from the schedules in December 2011 (he died in October that year) but admiring eulogies to him were broadcast that Christmas was an editorial decision that cast nobody in a flattering light. Except Savile, obviously.
The dropping of the Newsnight programme is mentioned in an on-screen caption at the end of The Reckoning, though it doesn't figure in the drama itself. "We did deal with what happened after his death, but the whole point of the story is that Savile dies without what he'd done being brought to light," argued Jeff Pope. "That was the story we wanted to tell, and how during those decades he'd progressed and been knighted and been a friend of Prime Ministers and royalty… We didn't try and ignore that the BBC dropped Newsnight and put out a glowing tribute instead, but we felt the way we dealt with it was the right way. No-one would think that the BBC comes out of this smelling of roses."
Charlotte Moore, BBC Chief Content Officer, added: "All four episodes [of The Reckoning] trace the moments when the BBC could have done something to stop this man and didn't. No-one is shying away from those moments when something could have been done."
People who could have taken action included BBC executive Bill Cotton (played here by Michael Jibson) and Top of the Pops producer Johnnie Stewart (Julian Rhind-Tutt), but in this telling, the BBC hierarchy had succumbed to a collective rapture in which Savile, a former club DJ and broadcaster on Radio Luxembourg, was their priceless ticket to the elusive but hugely dynamic youth market. Even though at the time, in the mid-Sixties, Savile was already nearly 40. Although there were suspicions about Savile's behaviour around teenage girls, in particular one who committed suicide after claiming she'd been assaulted by a DJ, an investigation could find no conclusive evidence. On the other hand the programme shows Anna Instone (Barbara Wilshere), from the BBC's music department, bluntly telling Cotton he shouldn't touch Savile with a bargepole because he's so obviously a wrong 'un (pictured above, Michael Jibson and Barbara Wilshere). Another character in the drama, Beryl Hullighan (Siobhan Finneran), had similarly sensed the evil lurking behind Savile's fake bonhomie and crass catch-phrases. "Only the women see it," she says.
Since it seems Savile's whole persona was bogus, unpicking his motivations or deconstructing his psyche is scarcely possible putside a psychiatrist's consulting room, though Neil McKay ventures that "I think he was primarily a con-man… he had no idea that he would end up being sent by Prime Ministers to do this and that, or become an unofficial emissary to the Pope, and become a national institution. Each one was a kind of con in my opinion."
"Often people who have been exposed for committing multiple, heinous crimes were invisible to society when they were committing them, but Savile couldn't have been more visible," says McKay. "He did these terrible things as one of the most famous men in the country… That's something worth looking at in greater detail, to ask how and why. This series is a cautionary tale. A massive cautionary tale."
The Reckoning begins at 9pm on BBC One on 9 October. Also on iPlayer