Sex and the Church, BBC Two |

reviews, news & interviews
Sex and the Church, BBC Two
Sex and the Church, BBC Two
Erudition and humour, pleasure and sin jostle in unashamedly intelligent television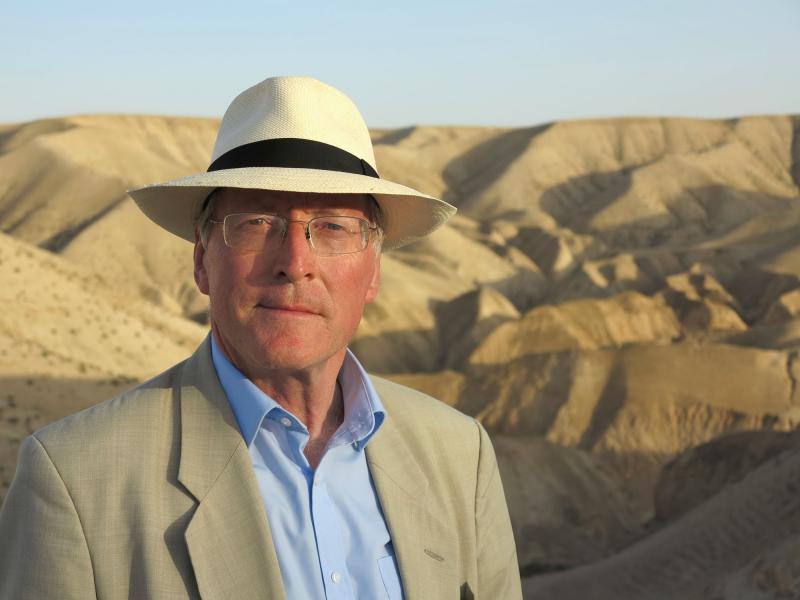 Among the dunes: Professor Diarmaid MacCulloch in the Negev Desert
I've got no idea what the opposite of dumbing down might be. Swatting up? Whatever it is, it's surely going to set the tone for the next couple of Friday nights on BBC Two, where Sex and the Church is as erudite a piece of television as we're going to get in a long time. The fact that it's on Two, which was home to presenter Diarmaid MacCulloch's previous series A History of Christianity and How God Made the English, further encourages: this new one would certainly have fitted in on BBC Four, so it must have been past ratings that have kept MacCulloch on the senior channel.
I confess I'd never seen the presenter before, and he proved an absolute treat. That sheer enjoyment of imparting knowledge is infectious, and it's combined with a wickedly ironic ability to find the bon mot for the moment. Professor of the History of the Church at Oxford, MacCulloch must be as familiar with his subject as anyone, but it's the ability to convey complexity to camera, clearly without autocue, that counts. If we're looking for comparisons, that skill put me in mind rather of Andrew Marr's Great Scots. On the sartorial front, MacCulloch with his white panama follows in the tradition of Simon Sebag Montefiore (if the debt doesn't run in the other direction), while there's a hint of the dry humour of AN Wilson, high-mindedly and occasionally primly savouring fact or allusion, in the voice.
A mean parody could be done of the presenter's delight when delivering his aperçus
MacCulloch has certainly taken on a grand subject: Sex and the Church was clearly chosen as the title at the eleventh hour, given that the preview version still had it down as "Sex and the West". That certainly conveys the monumentality of theme, which touched, naturally, on the role of women and the place of homosexuality over the ages – subjects which are as much on the Church agenda today as they have ever been. Whether that latter title might have worked better for this first episode, "From Pleasure to Sin", is a moot point, given that the history it covered predated the arrival of Christianity as we know it, starting with Judaism and moving into the classical world, following precepts born in Greece that were later reformed in the Roman Empire.
Loosely, MacCulloch began in Jerusalem, where sex was to be enjoyed, rabbis had a duty of marriage, and polygamy went on for ages. Then it was off to Athens, where pleasure and physical beauty were appreciated, the latter not least in the almost tutelary relations between older and younger men, while wives were kept for progeny and housekeeping (as opposed to courtesans and prostitutes). But the legacy of Aristotle would prove crucial in later generations, with its division between natural and unnatural practices. Then along came Jesus, the social radical who brought women to the centre of his world, and said nothing of a sexually repressive character.
But the tendency that seemed to captivate MacCulloch most was just that, the repressive one that came later, following on in the second century with the arrival of the idea of monasticism from the Eastern branches of the Church (MacCulloch iin the desert, main picture), accompanied by the eventual removal of any hint of sexuality from the birth of Christ, and the appearance of chastity as one of the highest virtues. That advance towards the idea of sex as sin took in, of course, Augustine's classic "grant me… but not yet" let-out formula, and climaxed with the penitentials of Seventh-century Ireland with which this first episode closed, By then the advent of prohibitions meant that you could only have sex on around 100 days a year, so there was no doubt much to be penitent about.
MacCulloch surely relished these later directions, not least because their complications – and contrariness – gave him some of his best lines. For those of us who thought anti-sex was something you gave to cats, what a revelation to know that it was at the heart of the agenda of Clement of Alexandria, via Aristotle (of course!), that took asceticism and self-denial, among his disciples, to the extreme of self-castration ("full marks for dedication, Origen!"). A mean parody could be done of the presenter's delight when delivering such aperçus, and you'd do well to have Wikipedia at hand to keep up with many of MacCulloch's cast, but Sex and the Church definitely errs on the side of pleasure. I'm hooked.
MacCulloch surely relished these later directions, not least because their complications – and contrariness – gave him some of his best lines
rating
Share this article
Subscribe to theartsdesk.com
Thank you for continuing to read our work on theartsdesk.com. For unlimited access to every article in its entirety, including our archive of more than 10,000 pieces, we're asking for £3.95 per month or £30 per year. We feel it's a very good deal, and hope you do too.
To take an annual subscription now simply click here.
And if you're looking for that extra gift for a friend or family member, why not treat them to a theartsdesk.com gift subscription?