Sex Story: Fifty Shades of Grey, Channel 4 |

reviews, news & interviews
Sex Story: Fifty Shades of Grey, Channel 4
Sex Story: Fifty Shades of Grey, Channel 4
How the mummy porn bonkbuster made bondage bankable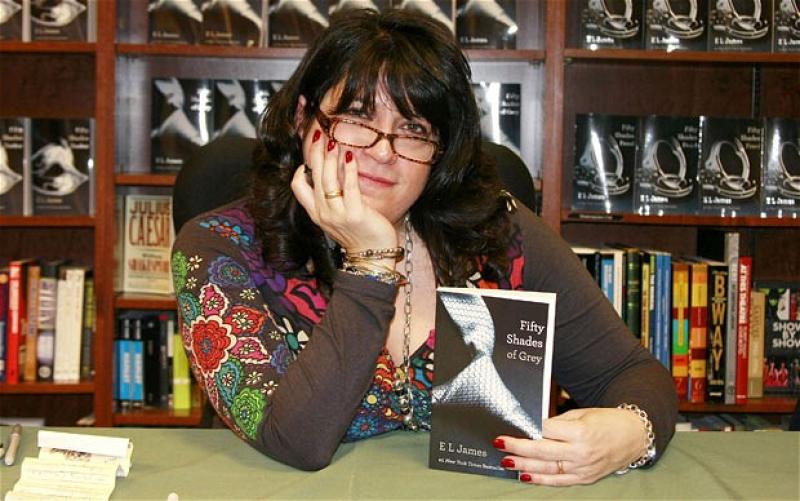 Is Fifty Shades author EL James giving women what they want?
Having begun as a piece of fan fiction derived from the Twilight movie series, EL James's Fifty Shades of Grey has blown up into the publishing phenomenon du jour. It's supposedly the UK's fastest-selling book of all time, and has sold nearly 50 million copies worldwide.
In the process, with its copious descriptions of BDSM (or bondage, discipline and sado-masochism), it has gathered a vast mostly-female fanbase and fostered the creation of the term "mummy porn".
It has also become a giant canvas for pundits, fans, critics and "experts" of every hue to spray graffiti on, a fact which this documentary shamelessly exploited. The Fifty Shades story is vintage Channel 4 territory, offering plenty of rope (if you will) for a mixture of titillation and what shrinks call "paraphilia" with pop psychology, sexual politics, and a squirt of tabloid-esque prurience. "This documentary will uncover what the Fifty Shades of Grey craze tells us about 21st-century Britain," ran the C4 press blurb, "as well as making us wonder what everyone else is really getting up to in the bedroom."
We visited a marketing meeting at Ann Summers, where they suddenly can't get enough supplies of bondage gear, and met a dominatrix called Mistress Morrigan. There were, at least, some sizzling soundbites. Kathy Lette was scathing about Fifty Shades' heroine, Ana. "Ana is perfect. She's a 22-year-old virgin, which is vergin' on the ridiculous. She has no gag reflex, and never gets cystitis no matter how much fornication and friction. So yeah, a real woman - not."
Rachel Johnson (winner of the Bad Sex in Fiction Award in 2008) was sceptical about some of the practices detailed in the book. "Call me old-fashioned, but I don't know any women who want anal fisting of a Friday night," she declared. And not only that, but the book "just panders to a woman's desire to be looked after by a rich man, which I think is regrettable on every level."
Fifty Shades has sown a degree of discord in feminist circles. Some argue that Ana's submission to the extreme sexual demands of wealthy young entrepreneur Christian Grey is a deplorable abdication of female self-determination. One contributor contended that Grey's use of spanking, bondage, nipple clamps, hot wax et al amounted to assault, while another reckoned that the way he follows and observes Ana ought to have got him arrested for stalking.
On the other hand, maybe it's a free expression of women's desires. "It's about a lot of women's need to be involved in non-consensual sex," Bonnie Greer postulated. Pamela Stephenson expressed something similar, a little more cagily: "I think a lot of women secretly would like men to be a little more dominant than they very often are."
There's a new technology angle, too. The theory goes that the arrival of the e-book, and the anonymity afforded by Kindles and other gadgets where nobody can tell what you're reading, has helped push Fifty Shades over the embarrassment hurdle and made it a no-brainer commuter's choice.
Author EL James - in reality Erika Leonard, who bills herself as "TV executive, wife and mother-of-two" - must have been as amazed by all this as everybody else. Clips of her being quizzed by boggling interviewers on American TV showed a woman in the grip of acute embarrassment trying to make herself look as invisible as possible, which of course is only likely to produce the opposite effect. But other authors, however contemptuous of her literary style, were forced to confess that they'd kill for James's sales and media profile.
It just panders to a woman's desire to be looked after by a rich man, which I think is regrettable on every level
Share this article