Strike: The Cuckoo's Calling, BBC One review - JK Rowling's debut in crime bows most promisingly |

reviews, news & interviews
Strike: The Cuckoo's Calling, BBC One review - JK Rowling's debut in crime bows most promisingly
Strike: The Cuckoo's Calling, BBC One review - JK Rowling's debut in crime bows most promisingly
The death of a supermodel, a sardonic detective, and London in its grungy glory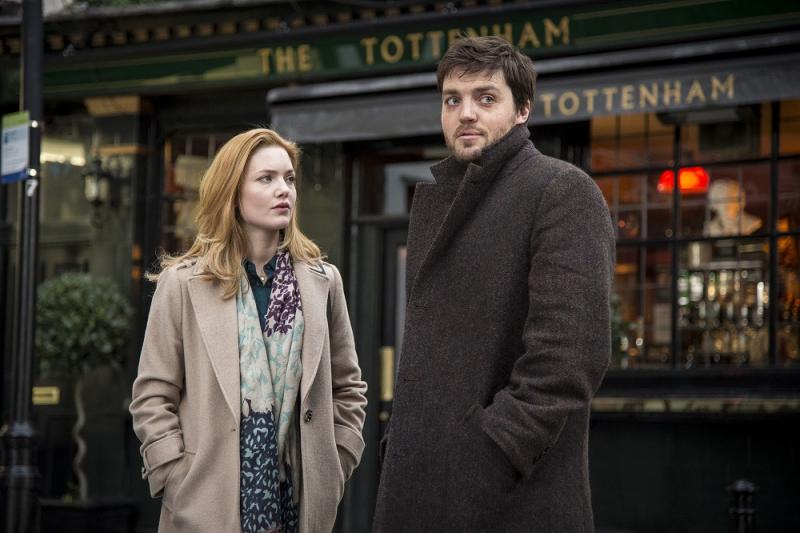 Detective double-act: Robin Ellacott (Holliday Grainger) and Cormoran Strike (Tom Burke)
There's a new 'tec in town. Cormoran Strike may look like one of life's losers – he's on the edge of bankruptcy, sleeps in the office, and what passes for a personal life is a right mess – but in Tom Burke's portrayal I suspect he's going to be winning audiences in a big way.
He's the creation, of course, of JK Rowling, writing as Robert Galbraith – the author's chosen anonymity lasted barely three months – and her debut in
crime
writing is now a satisfyingly stylish BBC adaptation. Following on directly from these
three episodes
of
The Cuckoo's Calling
come two based on its sequel,
The Silkworm
, with Rowling's third novel
Career of Evil
set to reach the screen next year.
Rowling may have created a distinctively London world – Strike's territory lies in the dowdier corners of Soho, his office a dingy top floor on Denmark Street – but her protagonist's prototypes are surely the classic noir detectives of Hammett or Chandler. Just as for the former's Sam Spade, the story starts when a new client walks in through the door, despatching Strike to investigate a world very different from the one that he inhabits.
Tom Burke is impressive as a bruised but fundamentally kind loner
Except Rowling has varied that element cleverly, making Strike's relation to privilege more complicated. Cormoran, we come to discover, has a rich back story: he's the son of a rock star father from whom he's estranged, and a mother about whose memory he is more than touchy. He dropped out of Oxford to join the army, and had a leg blown off during a tour in Afghanistan, an injury which has left him with pain, and unable to give chase when there's any pursuing to do (every now and then he talks to his prosthesis, too). It's given him a sardonic view on life – his tone of voice, with a characteristic falling intonation is mordancy personified – and when he's not holding meetings in a series of greasy spoons, his chief solace is the pub.
Emotional attachments? The Cuckoo's Calling opens with a ferocious row which makes it clear that his last relationship has just come to a stormy end. As Strike tries to follow, he very nearly sends Robin (Holliday Grainger, most assured), who's arriving as his temp secretary for a week, toppling over the bannisters. It's an appropriate baptism of fire for her: Robin is as capable as she is protective, another woman apparently ready to bear the tribulations of her misfit boss. But Rowling makes it more complex, giving Robin a genuine independence and a growing fascination with the world she has entered. It turns out she's a university drop-out too: we sense that her secure home life complete with eligible boyfriend is going to be tested.
The case Strike has taken on involves the death of a supermodel, Lula Landry (Elarica Johnson: barely seen on screen, but her presence hangs over the story), whom we witness in the opening scene leaving a fashion party (pictured above, Amber Anderson, left, with Johnson). London is under snow – nicely atmospheric, however infrequent it may be in real life – and the next thing Lula is sprawled dead on the street in front of the building where she had a luxury penthouse. The police investigation left it at suicide: Lula had a history of mental instability, as well as difficult involvements with two musician star boyfriends. But her brother – through an adoption which saw Lula, a mixed-race girl, raised in the top echelons of London society – thinks otherwise.
It happens to be a family whom Strike had encountered in his own, presumably rather gilded youth. That might seem a link rather too easy to make, but Rowling manages it, giving her outsider protagonist the confidence of having known that world from inside, and thus not surprised by what it can get up to. How Lulu, a kind-hearted innocent by all accounts, survived in the company of such hyenas looks a bit of a mystery. It's as unattractive a collection of obsessives as you could ever fear to find, ranging from the vanities of the fashion industry to the stupefying self-confidence of the moneyed classes: Martin Shaw plays a nasty aristo lawyer uncle who gives a new meaning to supercilious, and there's an egomaniac film producer with a distressed wife (Tara Fitzgerald) lurking in the wings into the bargain.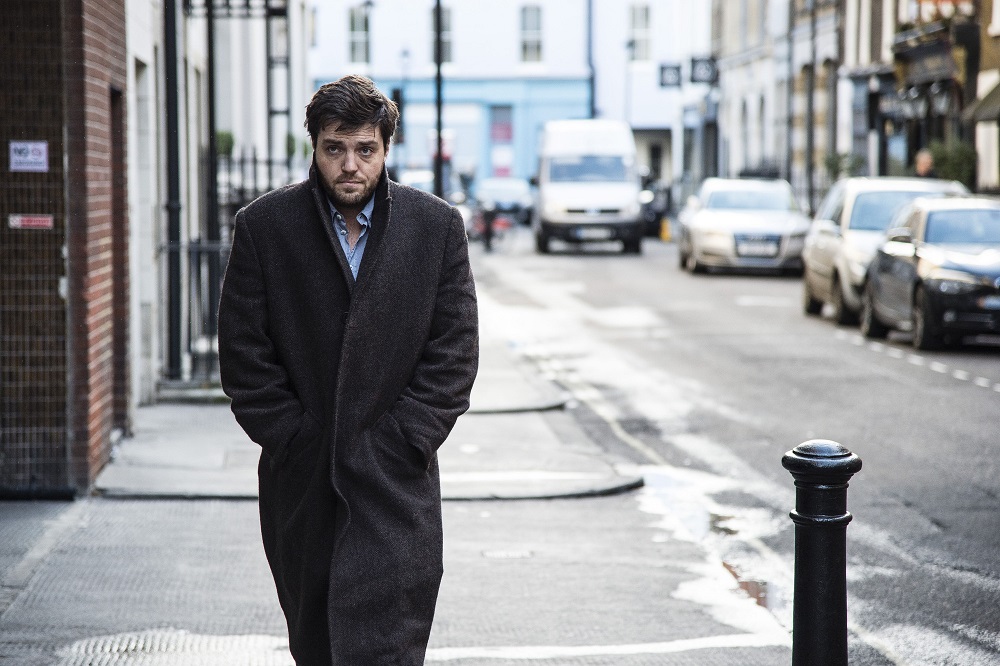 Whatever skulduggery there may be to come, the centre of The Cuckoo's Calling is going to be Strike himself (Tom Burke on London's mean streets, pictured above). Rowling's novel stressed his sheer size – he's named after a Cornish giant – and though Burke may not quite achieve that vast presence, he's most impressive indeed as a bruised but fundamentally kind loner, never seeming to take off the grubby overcoat that somehow defines him. His interaction with the much more proper Robin promises nice chemistry, already hinting at the kind of detective double-act that Erle Stanley Gardner made of his Perry Mason and Della Street. Rowling (who is an executive producer on the series), and Ben Richards, who adapted the novel, clearly know the nuances of the detective genre.
Its London exteriors may veer toward the grimy, but otherwise The Cuckoo's Calling looks slick in all departments. That starts with the main titles – from the same people who did them for The Night Manager, and no less original here – and encompasses Hubert Taczanowski's cinematography and a score by Adrian Johnston that keeps the action fairly licking along (with a nice Beth Rowley theme song, too). A very promising first instalment: if the rest of the Rowling adaptations remain as good, we have treats in store.
Its London exteriors may veer toward the grimy, but otherwise The Cuckoo's Calling looks slick in all departments
rating
Share this article