theartsdesk Q&A: Writer Bernard Cornwell |

reviews, news & interviews
theartsdesk Q&A: Writer Bernard Cornwell
theartsdesk Q&A: Writer Bernard Cornwell
As 'The Last Kingdom' starts on BBC Two, the 'Saxon Stories' author talks about shared history, discipline and putting doors in alleyways...
Wednesday, 21 October 2015
Still as sharp as ever: Bernard Cornwell
Bernard Cornwell's best-selling Sharpe series, set during the Napoleonic wars, transferred to television with huge success. This week, it's the turn of his Saxon Stories to make the jump, as the BBC airs its lavish, eight-part drama The Last Kingdom, based on Cornwell's novels.
Set against the backdrop of the Viking invasion of Britain and the birth of modern England, it follows the adventures of the impetuous, imperfect and complex hero Uhtred, born a Saxon, brought up a Dane.
However, it could so easily have been otherwise. After gaining a history degree, Cornwell initially began a career in teaching, before moving to television news, only making the switch to writing when faced with the need for a Green Card. "I met my wife, Judy, and couldn't get a work permit for America," he explains. "So I said, rather airily, that I'd write a book. And that was it, there was no other spur, simply the fact that this was the one job I could think of that didn't need the US government's permission."
BARNEY HARSENT: Before we get to The Last Kingdom, I'd like to ask whether there was a particular book or story that made you want to become a writer?
BERNARD CORNWELL: I'm sure that it was reading Hornblower as a teenager. I absolutely loved Hornblower, and Forester only wrote 11 of them – when you'd finished them there was nowhere left to go. So I became fascinated by the stories of Wellington and the Peninsular War. Of course that lay dormant for many, many years… When I started writing the Sharpe books (Sean Bean as Richard Sharpe, pictured below) of course, that's just Hornblower on land.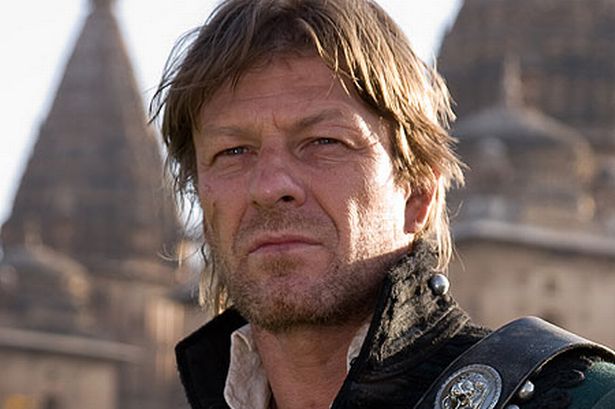 Given your television background, what made you decide on the novel as a form, rather than writing for screen?
Well you write what you want to read, don't you? It never occurred to me to write a screenplay. I had this rather fanciful idea of what a novelist's job was, and that was the ambition.
And what led you to the Warrior Chronicles/Saxon Stories?
The original spark of those in fact was a love affair with old English poetry. Poems like The Wanderer and The Seafarer. Much of that poetry is heroic, battle poetry… The Battle of Maldon, Beowulf or whatever. I got really interested, and through that read a lot about the history of the Saxons. It occurred to me that the one thing we English do not know is where England comes from, and I did, for a long time, want to tell that story.
Does that seem odd to you – that we, as a country, seem to know so little of our backstory compared to somewhere like America, where you now live?
Well, I'm not sure America does know its backstory to be honest – American history seems to begin on July 4 1776, or maybe at the Boston Tea Party. Ours begins at 1066. I suspect most Americans are woefully ignorant of the history of the Thirteen Colonies and King Philip's War and so on – it's almost as if there's an agreement that we'll start history at a certain date and the Norman conquest seems to be the agreed date in Britian. Of course, it goes a lot further back.
When you first begin a novel, do you have a clear idea of where it's going?
Oh I wish! [Laughs] That would be wonderful, oh God, I'd pray for that! Some people plan their novels – they plan the whole thing out ahead. Forester did that – he always claimed he'd write down what would be in each chapter. I think that would be great. I have no idea, absolutely no idea. I mean, I finished another of the Saxon books a little while ago and, literally, on the very last day – on the last chapter – I still didn't quite know how it was going to end.
So there were strong women there, and I think if you are a woman living in a violent society dominated by Alpha males like Uhtred, you're going to have to be very strong to survive yourself
So you're constantly surprising yourself?
Yes, well it's part of the joy of reading a good story, to find out what happens and, for me, that's part of the joy of writing it too… to find out what happened.
You have an extensive research library – do you see the internet as a vital research tool or a massive distraction?
I think it's a very dubious research tool to be honest. It's said that if you sat a million monkeys down with a million typewriters, they'd come up with Shakespeare. I think actually what they'd come up with is the internet. People with an axe to grind will grind it on the internet. Yes, it's reliable for some things, but on but the whole I'd be wary of relying on it, and have been misled by it.
Do you have a routine that helps you to focus?
You mean am I superstitious? No! [Laughs.] There can't be any excuses, it's a job – Monday to Friday, and sometimes Saturday and Sunday too. I more or less keep office hours generally, I probably start a bit earlier than most offices. You just have to sit down and work, there's no other way. There really isn't.
That's interesting – I read somewhere a quote in which you said that "writer's block is nature's way of telling you you're not a writer"…
[Laughs] Did I say that? I'm sure someone else said that, not me… If you're writing your first book, maybe your second, you don't know if anyone's going to read it and you don't know if it's any good – that's obviously a very nerve-racking process. So, yes, writer's block - which is "Am I wasting my time?" - is allowable. People should remember that everybody – absolutely everybody – starts off not knowing whether they can do it. After that, I think it's just a ridiculous excuse. All of us volunteer to do this job and once you start making a living at it, what possible excuse could you have for saying "It's too difficult," and "I can't do it"? In that case, go back to being a lawyer or a teacher or a truck-driver or whatever, but stop doing this job that makes you so unhappy.
Don't you ever find that you reach for a word and it's not there?
Oh that happens all the time – it's called old age [laughs]. I just use another one.
And once you've completed the first draft, do you relish the thought of going back and refining?
Oh I love it – it's absolutely the best bit of writing, that's where all the joy is. For me, 95 percent of writing a novel is finding out what happens, and that can be a frustrating experience. And then you have the first draft – you finally have the book finished – and it's just a pure joy from then on. I love the rewriting.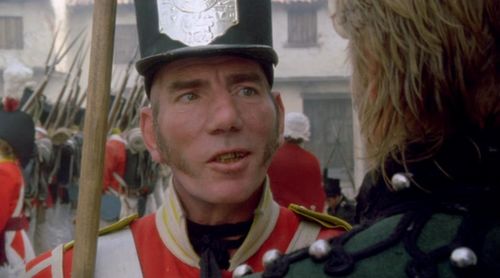 Your protagonists often find themselves in seemingly impossible situations, yet you manage to navigate these without resorting to "With one leap Jack was free" cheats. How easy do you find that to do?
Well, I don't really… I call it putting doors in alleyways. In every book, you'll have the hero down a blind alleyway, trapped by their enemies, and he or she has absolutely no chance of getting out alive. So what you have to do is go back five or six chapters and put a door in. If you introduce the door in chapter 12 then no reader will believe it, but if you establish the door early on, they'll think, "Oh, of course." They'll believe you.
The Last Kingdom is the latest of your books to make the jump to the small screen – what level of involvement have you had in the televised adaptation of your work?
None at all and I don't want any. Not because I don't care, or I don't like what they're doing, I adore what they're doing and I think they're wonderful people. I worked in television many, many years ago and the one thing I learned from that experience is that I know nothing whatsoever about making television drama. When you have an outfit with this track record, I'd much rather they brought their creativity and imagination to the project and added it to mine. I genuinely don't want to interfere, because I think that any suggestion from me is going to be an obstacle. Why put obstacles in their way?
When you see your work on screen, how do you feel seeing your characters with a different face?
It's fine. It doesn't alter the face I see when I write the books, but it adds to it. I thought Sean [Bean] was an absolutely terrific Sharpe, and whenever I wrote Sharpe thereafter, I used Sean's voice, because I heard him speaking. Sometimes you see things that they've improved. Pete Postlethwaite played a villain in the Sharpe series (Sergeant Obadiah Hakeswill, pictured above) that was much better than the villain I'd written, so from then on it was really the character that Pete Postlethwaite had created. One of the nice things about having your work put onto a TV series like this, is that you have these very imaginative, very creative people bringing their contribution to it. I'd be a fool if I didn't accept what they'd brought and think, "Gosh, that's better than anything I did, so let's use it." I'm just grateful, I love it.
I'm sure many writers wouldn't be so gracious…
I don't think it's anything to do with grace, it's to do with good common sense! When you have cinematographers, scriptwriters and actors of this stature, of course they're going to use their imagination. It would be stupid to think their contribution isn't going to be amazing – and it is.
Dealing with a time that appears – at first glance – to be dominated by male figures, how did you find the process of writing strong female characters?
Well, they existed then. The making of England was started by King Alfred and finished by his grandson Æthelstan, but in between is this towering figure of Æthelflæd, often called the Lady of Mercia, and she's a considerable heroine. She led armies against the Danes and she ruled Mercia [one of the four Saxon kingdoms]. So there were strong women there, and I think if you are a woman living in a violent society dominated by Alpha males like Uhtred (played by Alexander Dreymon, pictured below with Emily Cox as Brida), you're going to have to be very strong to survive yourself. I like the women in my novels to be strong.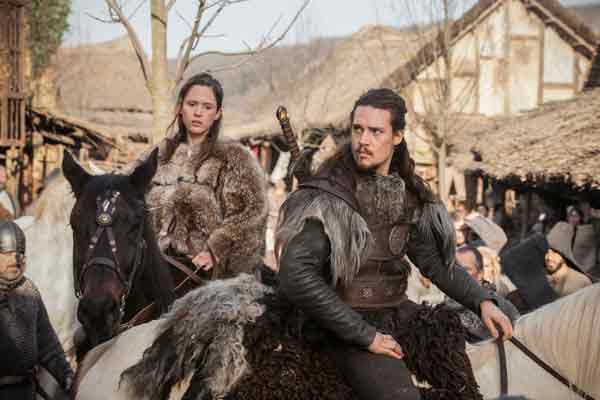 Have you seen any of the show yet?
I have and I'm in awe of it, it's just amazing.
Finally, you live in Cape Cod. What, if anything, do you miss about Britain?
Decent beer for a start [laughs]. Actually America's getting an awful lot better…
There's a craft beer boom in America at the moment, isn't there?
Yes, there's still a tendency to serve it too cold though [laughs]. There are an awful lot of things I miss, but I married an American and I've lived half my life there now, so it feels like home.
The Last Kingdom starts on BBC Two, Thursday 22 October at 9 pm
Part of the joy of reading a good story is to find out what happens and, for me, that's part of the joy of writing it too
Explore topics
Share this article