Tin Star: Liverpool, Sky Atlantic review - massed mayhem on Merseyside |

reviews, news & interviews
Tin Star: Liverpool, Sky Atlantic review - massed mayhem on Merseyside
Tin Star: Liverpool, Sky Atlantic review - massed mayhem on Merseyside
It's high noon as Jack Worth and family come looking for vengeance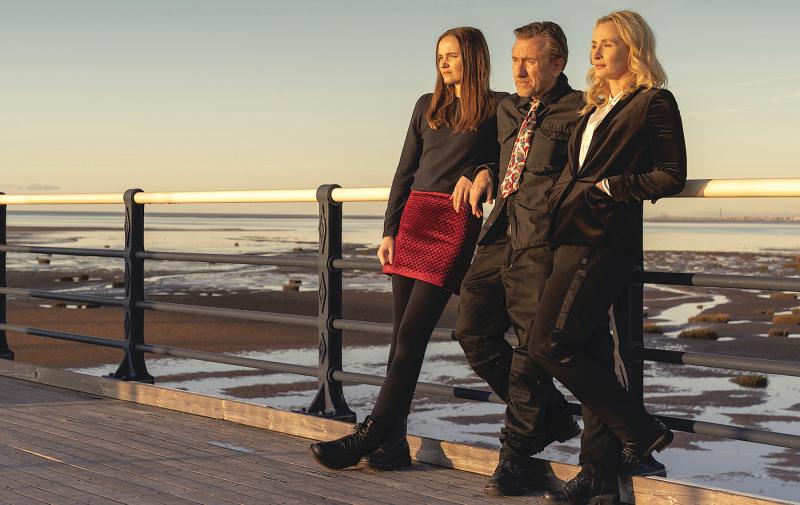 Meet the Worths: Anna (Abigail Lawrie), Jack (Tim Roth) and Angela (Genevieve O'Reilly)
Breaking away from the outlandish shenanigans in Little Big Bear in the Canadian wilds of its first two series, this third outing for Tin Star brings Jack Worth (Tim Roth), wife Angela (Genevieve O'Reilly) and daughter Anna (Abigail Lawrie) back across the Atlantic to Liverpool to confront dirty secrets they've b
een running away from for 20 years. As you might expect, power,
corruption
and oodles of bloody violence are the order of the day.
After the peculiar mixture of Ammonite preachers and Mexican drug cartels in series two, this return to basics could have proved to be a blessing, adding a bit of streetwise ballast, but reality is being carefully kept at arm's length. Jack's arrival on Merseyside via a ferry from Ireland had an almost poetic quality as the vessel eased up the Mersey and into port, and throughout these opening episodes we were treated to panoramic views which made Liverpool look strangely beautiful. The camera lingered adoringly over landscapes of the river, the docks and epic expanses of beach, as well as delivering a stream of portrait-like compositions of streets and choice specimens of the local architecture (notably antique pubs and hotels).
This all might be great for the tourist trade (lockdowns permitting), but we were bracingly reminded that this was not the Tin Star Holiday Special by the appearance of local businessman and crime boss Michael Ryan, played by Ian Hart (pictured below) as if he's been baked to tungsten-like hardness in a blast furnace. Ryan is undertaking a massive dockside development encompassing shops, restaurants, casinos and 700 luxury loft-style apartments, which he grandly presented to an audience of local grandees and power-brokers, but never far from his thoughts is the memory of his brother Danny. Back in the day, it transpired, Danny had been tasked with murdering Angela, but was flung off a high roof by Jack. His descent made a horrible mess all over Michael's car, parked below.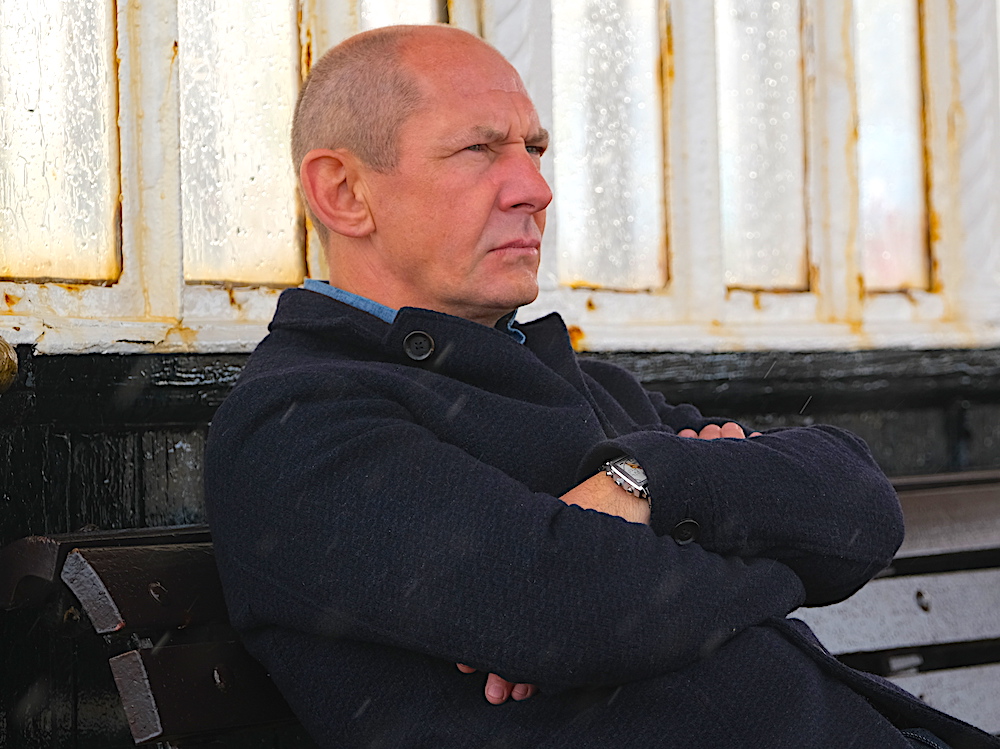 The stage is set for a revenger's tragedy, as Ryan stops at nothing to terminate Jack while the Worths work their way through their own hit-list of evil-doers. When Angela tracked down the guy who'd killed her brother, again at Ryan's behest, she gave him a double kneecapping and locked him in a chiller cabinet. The tattooed vicar who carried out a bizarre marriage ceremony for Jack and Angela was rewarded with a bullet in the head, before being dumped in a freshly-dug grave.
It certainly keeps your attention, though dramatic plausibility has been almost entirely abandoned. For instance, though Ryan and his networks of scumbags are fully aware of their presence in Liverpool, the Worths think little of going out clubbing for the night, and making such exhibitions of themselves that it's as if they're doing their best to be rounded up and shot. In daylight, they prowl the streets toting firearms like the Wild Bunch cleaning up Dodge City, while nobody seems to take any notice.
Not that you'd trust the police to do anything. Merseyside's Chief Constable is Catherine McKenzie (Tanya Moodie), who used to be Jack's handler at the Met. She now dismisses him as "a living relic of everything that was unacceptable", which is a bit rich coming from a corrupt cop up to her neck in Ryan's rackets. Her queenly presentation of Merseyside's anti-hate crime campaign was spoiled somewhat by Jack marching in and declaring to the TV cameras that "I'm coming for you and there's nothing you can do about it."
He's probably right, since he has powers of survival to rival Sherlock Holmes or Coronation Street. This was supposed to be Tin Star's final season, but already there are rumours of a fourth.