The Undeclared War, Channel 4 review - how would the UK cope with a devastating cyber-attack? |

reviews, news & interviews
The Undeclared War, Channel 4 review - how would the UK cope with a devastating cyber-attack?
The Undeclared War, Channel 4 review - how would the UK cope with a devastating cyber-attack?
Peter Kosminsky's drama probes the secret world of GCHQ's techno-spooks
Danny (Simon Pegg) and colleagues prepare for cyber-warfare
As the world lurches ever deeper into multiple manifestations of chaos, writer-director Peter Kosminsky's new drama about cyber-warfare taps into the prevailing climate of unease.
Based around the top secret operations of GCHQ at Cheltenham, it takes us backstage as the UK is struck by a crippling cyber attack which brings airports, cashpoint machines, email servers and online shopping to a screeching halt. However, it leaves social media intact, no doubt so the perpetrators can spread further panic and confusion with a barrage of spin and misinformation.
It could happen. It already has happened. It will happen again, more frequently. But how bad could it get, and are our massed spooks, geeks and tech-warriors able to repel the challenge?
Kosminsky has set his story in 2024, in the midst of an election campaign. Conservative Prime Minister Andrew Makinde (Adrian Lester, pictured below) – whom we learn from a helpful talking head on TV news replaced Boris Johnson "in a particularly bloody palace coup" some 15 months earlier – is battling to get re-elected in the middle of a punishing recession, so a high-tech onslaught from what looks very likely to be the Russians is the last thing he needs.
This time the GCHQ crew got lucky, and were able to unravel the pernicious malware before it unleashed a secondary and potentially far more crippling onslaught. However, it gives supremo Danny Patrick (a meticulously calm and unruffled Simon Pegg) much pause for thought that their fortuitous success only came about via their work experience student Saara Paryn (Hannah Khalique-Brown). Saara has won some kind of Young Digital Genius of the Year competition, and her prize is a one-year attachment to GCHQ before she goes to university.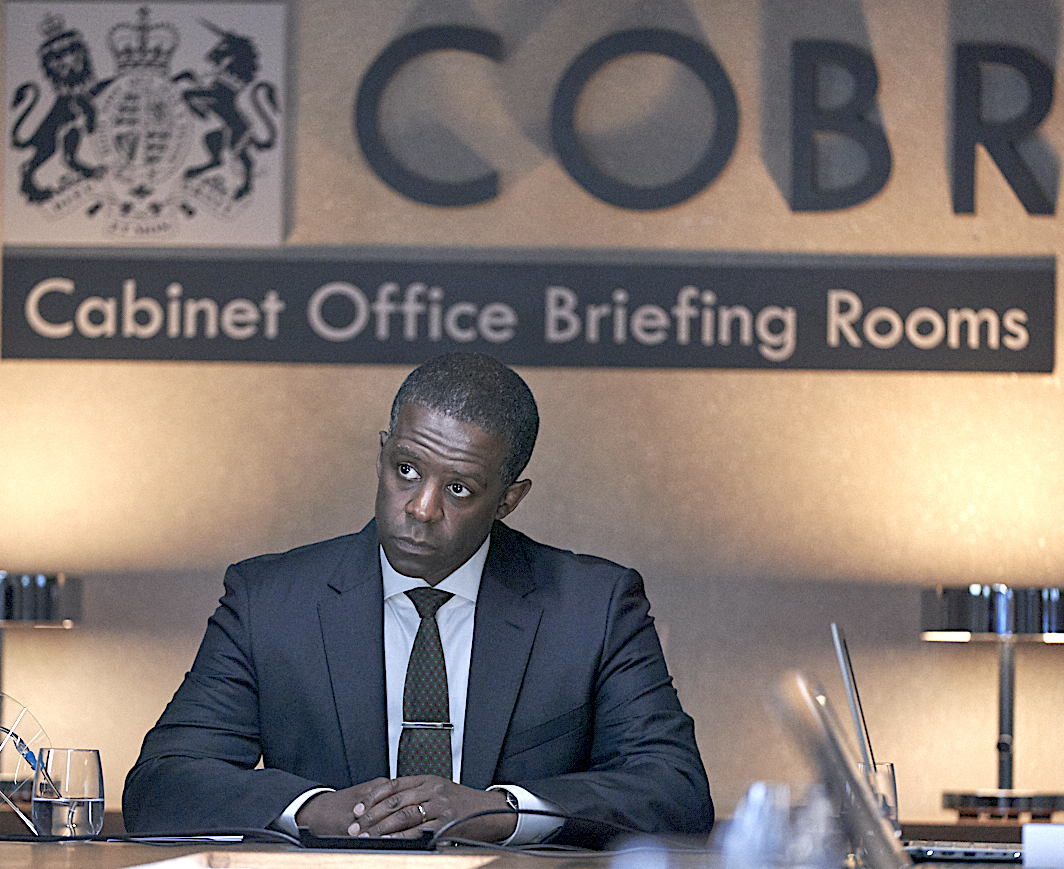 Though treated with thinly-veiled contempt by her mostly white workmates – "I hope that's not why you hired me, because I've got a brown face" she frowns – it is she who spots some hidden code in the rogue software, enabling them to nullify its malignant intentions. But after Danny makes a point of praising her efforts in a fraught COBRA meeting, chaired by an extremely unhappy Prime Minister, her co-workers react with rather unbecoming jealousy and spite.
Many a movie and TV series has come unstuck by relying too much on supposedly enthralling activities being carried out in cyberspace or on computer screens, and The Undeclared War has more than its fair share of scenes of perplexed-looking operatives peering at lines of incomprehensible code streaming across their desktop monitors. Kosminsky has made gallant attempts to render this stuff more user-comprehensible by supplying real-world analogues, by way of explanation.
Thus, when Saara is searching online for some telltale clue inside the malignant malware, we cut to a sequence of her in a red telephone box, rummaging through piles of old-fashioned telephone directories in pursuit of answers. On another search, we find Saara inside a huge storage warehouse where she finds her way blocked by a heap of old bicycles, chairs and assorted junk. This is supposed to represent chunks of garbage code which have been inserted into a program to confuse antivirus software.
It was a bold idea to try to dramatise the chilly and abstract universe of computer code, but the way it's done is confusing rather than informative. Also not conducive to lending dramatic pace to the proceedings is the dull, institutional appearance of the innards of GCHQ, which look remarkably similar to the hospital where Saara's much-loved dad is taken after he suffers a fatal accident.
But glancing ahead to episode two, it seems The Undeclared War's focus is going to shift away from the desk-bound warriors in Cheltenham to more personal themes and clashing political allegiances. There's the added bonus of an appearance by Mark Rylance. Let's hope it doesn't end up in the same kind of socio-political cul-de-sac as the BBC's nuclear submarine drama, Vigil.