Anish Kapoor, Lisson Gallery review - naïve vulgarity and otherworldly onyx |

reviews, news & interviews
Anish Kapoor, Lisson Gallery review - naïve vulgarity and otherworldly onyx
Anish Kapoor, Lisson Gallery review - naïve vulgarity and otherworldly onyx
Duds and gems in mixed show of paintings and sculptures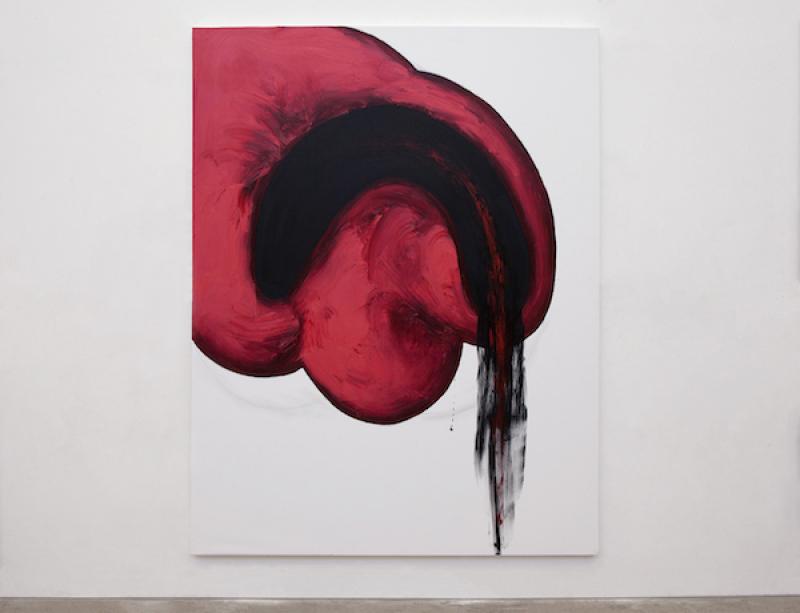 'Blood Solid', 2018 by Anish Kapoor
There are children screaming in a nearby playground. Their voices rise and fall, swell and drop. Interspersed silences fill with the sound of running, the movement and cacophony orchestrated by a boy who leads on the catch tone. It's simultaneously otherworldly and juvenile, adept and improvised – a fitting soundtrack to Anish Kapoor's latest exhibition at Lisson Gallery.
While Kapoor is best known for his perception-manipulating sculptures, his painting practice spans four decades and is the explicit focus of this exhibition. Three groups of paintings occupy three rooms; the first contains two sculptures and the third opens out into a courtyard where three further sculptures face each other like prehistoric monoliths. This exhibition showcases his work in both mediums, with some mixed results.
In the first room, six paintings drip, ooze and gush dark floods and sprays of red and black paint from pinkly tumescent forms which look like rubberised, cartoonishly diseased organs. Teeth, 2018, presents as a cannibalistic microbe, vomiting excremental strands of variegated crimson smeared across the canvas. Blood Solid, 2018, (main picture) looks like an anatomical section of a dinky penis gently ejaculating dark goop. Out of Me, 2018, suppurates red, New Blood, 2018, menstruates it. Kapoor's inspiration is "blood and organic matter" but in spite of the obvious artistry with which the paint is manipulated with hands and brush, and the assured combination of different tones, the overwhelming impression is of a kind of naïve vulgarity or performative angst.
These paintings present an artist wholly different from the authoritative sculptor who with assured anonymity manipulates perceptions – something more adeptly considered in the final room of paintings. Three face each other, each with a layer of net above the canvas which adheres in places to gouts of welling paint and trails in different configurations off the bottom strut. On the left is a welt-red canvas; directly opposite is one in turbulent black which appears to writhe like an oil slick as light falls on it. The central canvas's net is mostly white, which occludes everything beneath it, but through ox heart daubs of red and black, the black painted canvas beneath becomes visible. They both entice and resist scrutiny, offering glimpses beneath the surface as if to sacrosanct knowledge.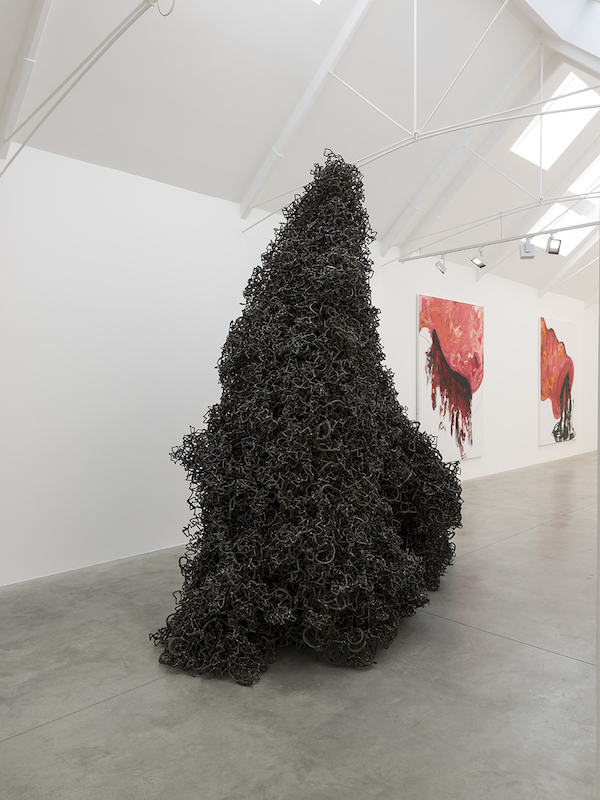 Unlike the first group, these paintings are intriguing – they speak back. Nevertheless, it's Kapoor's sculptures – variously enticing, menacing and puzzling – that furnish the visceral lift of the show.
A single block of pink onyx from Afghanistan (Untitled, 2018) carved into a tomb or font containing two ovoids is finished to tactile luminance. It's both unsettling and appealing, the forms utterly beautiful but totally trapped. The colour is otherworldly – the stone seemingly lit from within – and weirdly emotionally affecting. It's striated with seams of darker, grittier mineral which recall the earth from which it was cut. In the courtyard (pictured bottom) the granite Rectangle within a Rectangle, 2018 is even more explicit, its rough back and sides still ridged with the rows of drill holes necessary to prise the block from the body of the quarry. Nevertheless, its smooth front seems to exist in a parallel dimension, the inner rectangle appearing to slide forwards, bearing down like a machine. Rocky origin and futuristic threat co-exist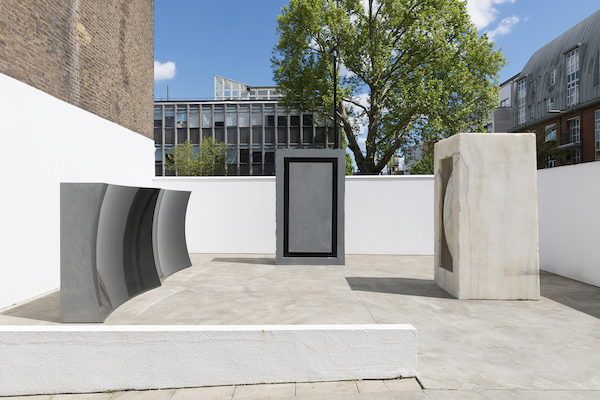 .
Inside, Shade, 2019 (pictured middle), a towering scraggle of concrete reinforcement steel, feels like it should be a hostile presence but is actually a kind of benign giant. Each steel grid point has been twisted, re-angled, and welded into a new position; there is no joint that is not out of place. Material and reception align: the viscera of a building has become functionally useless, but the spavined pile seems to bend over like a curious, broken presence. It may be I'm too much in thrall to my inner child to be convinced by the paintings – but when the desired effect is at the level of guts, it's worth paying attention.
In spite of the obvious artistry with which the paint is manipulated, the overwhelming impression is of a kind of naïve vulgarity or performative angst
rating
Explore topics
Share this article