Courtauld Impressionists: From Manet to Cézanne review - much loved treasures, seen afresh |

reviews, news & interviews
Courtauld Impressionists: From Manet to Cézanne review - much loved treasures, seen afresh
Courtauld Impressionists: From Manet to Cézanne review - much loved treasures, seen afresh
Favourite paintings from the Courtauld Gallery reveal the collector's eye
Monday, 24 September 2018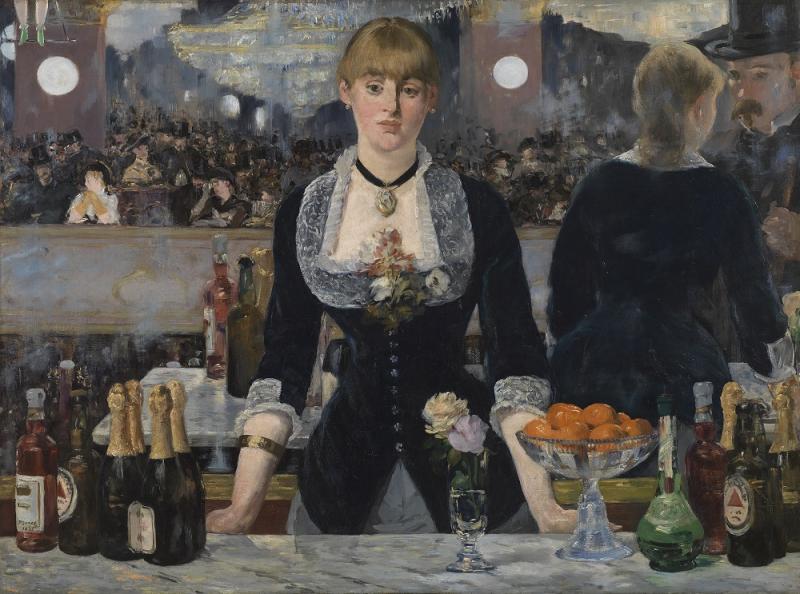 Edouard Manet, 'A Bar at the Folies-Bergère', 1882
Heir to one of this country's great textile manufacturing firms, Samuel Courtauld (1876-1947) – highly original in his then unfashionable fascination with the art of his own lifetime – bought some of the best known and best loved paintings now in the public domain.
Britain was late to embrace the art of the
impressionists
and post impressionists, so the collecting powers and inspirational acumen of
Courtauld
is of crucial importance. What was also crucial was his financial and intellectual backing of the first specialist academic institution in Britain for the study of art history. The Courtauld Institute opened in 1932 and was first housed in the Robert Adam-designed Home House (now a club) in the West End, which had been Courtauld's own residence.
The Courtauld's current home, the late 18th century Somerset House, has never been wholly comfortable with the physical adaptations needed to fit it for a 21st century teaching institution and art gallery. Currently undergoing its third renovation, the art gallery's closure has provided the excuse for this totally dazzling exhibition at the National Gallery, uniting the bequest of impressionist and post-impressionist art from Courtauld's own collection with a selection from those his financial bequest (£50,000) to the National Gallery itself helped towards purchasing.
All these masterpieces, large and small, are well known, so what is the purpose of bringing them together in this way? By making this excellent display, the viewer begins to understand the collector's eye, and the lasting consequences of enlightened philanthropy which ensures there is not a monopoly of taste: we think of the National Gallery as a government supported museum, of course, but its foundation was by gift and the highest part of its holdings are gifts and bequests.
By joining these two aspects of Courtauld's support for impressionist and post-impressionist painting only a handful of decades after its making, we have, displayed with heart-breaking clarity, a snapshot of the period. Courtauld did most of his collecting in only four years, between 1926-1930, but had earlier committed purchasing funds to the National Gallery. We are reminded that the National Gallery refused to buy a Monet as late as 1905. Moreover, a trustee refused the offer in 1915 by the enlightened collector Hugh Lane (whose bequest is now shared by Dublin and London) to show work from this period at the gallery, saying that he would as "soon expect to hear of a Mormon service being conducted in St Paul's Cathedral, as to see an exhibition of the modern French Art-rebels in the sacred precincts of Trafalgar Square."
Now masterpieces from the Hugh Lane bequest of 1917 are on show with the Courtauld impressionists, for example the highly complex and captivating crowd scene depicted in mesmerising miniature, Manet's Music in the Tuileries Gardens, 1862. Displayed next to it are Manet's smaller version of Déjeuner sur l'herbe, 1862-63, one of the most famous and notorious compositions in all art history, albeit based on a Raphael composition, and the astonishing Bar at the Folies-Bergère, 1882, (main picture) which convincingly breaks all the rules of perspective, teasing us with mirrored reflections.
The contents of this selective jewel box is almost overwhelming, so take your time to slowly savour. In the next gallery, take a breath for five small Degas, which show his humane range of poetic yet curiously realistic portraits; the monumental Seurat, Bathers at Asnières, 1884, factory chimneys belching smoke in the far distance, framing the working classes at leisure by the river. Toulouse-Lautrec and Renoir lead us on to perhaps the toughest room, the compositions still so unexpected and commanding, the colour so subtle, dark yet luminous. Nine Cézannes, feature some of his favourite subjects: card players, still lifes centred on studio objects and fruits, provençal landscapes, a self portrait.
And on to further revelations ending with a flourish: two Gauguins from his soujourn in the South Pacific, Nevermore, 1897, showing his Tahitian mistress, and his Te Rerioa, 1897 (Pictured above), with its mysterious figures of two women, a child – and a cat. These are set against a Gauguin at home done several years before, The Haystacks, 1889, depicting harvest in Brittany.
And of course there is also Daumier, Pissarro, Monet, Bonnard, not to mention the powerfully rhythmic Van Gogh's A Wheatfield, with Cypresses (Pictured above), painted in the summer of 1889, a scene from the landscape around Saint-Rémy, where he had voluntarily gone to live in an asylum in the penultimate year of his short life. It is a painting, seemingly pastoral, which somehow indicates perfectly the turbulent intelligence of this extraordinary group of intertwined artists, friends and rivals. It was bought by the National Gallery with the Courtauld Fund in 1923.
This selective sampling of over 40 paintings, with 26 coming from the Courtauld galleries, puts into sharp focus the astonishing achievement of these painters who somehow convinced us as well as themselves to see the observed world in new and enlightening ways.
The contents of this selective jewel box is almost overwhelming
rating
Explore topics
Share this article