Eco-Visionaries, Royal Academy review - wakey, wakey! |

reviews, news & interviews
Eco-Visionaries, Royal Academy review - wakey, wakey!
Eco-Visionaries, Royal Academy review - wakey, wakey!
Big issues raised, but not answered
Saturday, 23 November 2019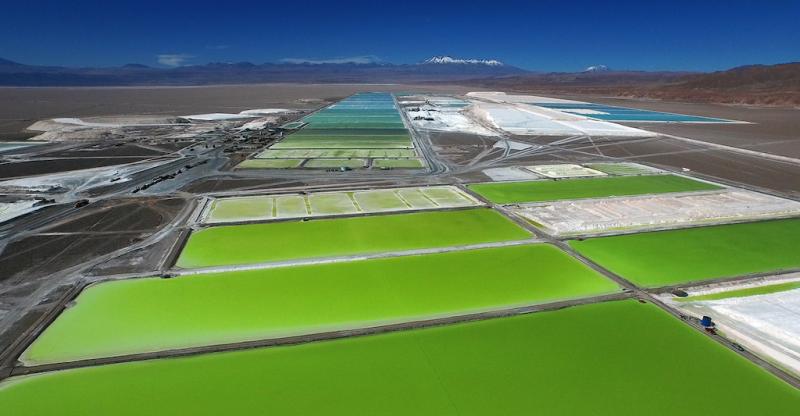 Video still from 'The Breast Milk of the Volcano', 2018, by Unknown Fields
As I write, I'm listening to Clara Rockmore intoning The Swan by Saint-Saëns. Her melancholy humming also welcomes you to Eco-Visionaries along with a globe suspended in the cloudy waters of a polluted fish tank. This simple installation by artist duo HeHe neatly pinpoints our predicament; our planet is suffocating.
In the Air by Nerea Calvillo reveals the pollution hovering over the rooftops of Madrid as a coloured veil, while cars cruise along the city streets below. Electric vehicles, we are told, will solve the problem of these dangerous emissions, yet they simply shift the pollution from streets to power stations and the batteries that store the energy they produce. In 2017, research studio Unknown Fields travelled to Bolivia to film the salt flats where the lithium in batteries for cars, mobiles and laptops is mined. The Breast Milk of the Volcano (main picture) records the livid green evaporation pools scarring the Salar de Uyuni, a pristine expanse of white salt containing the world's largest reserve of lithium, or "grey gold".
According to a United Nations report, we need to cut carbon emissions to ZERO by 2050, if we are to prevent the total collapse of the earth's ecosystem. But given the reluctance of governments to abandon fossil fuels for renewable energy, we have as much hope of achieving that goal as of flying to the moon on wings of desire.
"The absence of a future has already begun," declare Ana Vaz and Tristan Bera in A Film, Reclaimed 2015. We know this already, though, don't we? We've been given enough warning by the films of Al Gore and David Attenborough, not to mention the evidence of climate scientists and the prodding of Greta Thunberg and Extinction Rebellion; so what are we waiting for?
Vaz and Bera highlight the problem. The situation requires a wholesale change in attitude; minor tinkering can't solve it. We need to abandon the pursuit of growth that currently drives our economy in favour of "reciprocity with nature rather than domination…. we are nature." Like rabbits caught in the glare of headlights, we are mesmerised by events such as the Arctic on fire, Greenland's ice-cap melting and Venice drowning in five feet of sea water. The scale of the problem is so enormous that we feel we can only watch, "fascinated by the endless acceleration" of the crisis, and like the orchestra on the Titanic, carry on playing 'til the ship goes down.
The theatre collective Rimini Protokoll encourages us to confront our imminent extinction. On film we see a tank full of languidly floating jellyfish (pictured above right: win, win). They flourish in the warming seas and, with diminishing fish stocks, there's less competition for the plankton they feed on so their numbers are increasing dramatically. Humans are similarly multiplying – by 2050, according to the UN, there will be 9.7 billion of us – but unlike jellyfish, we require too much energy to adapt to climate change so, like the dinosaurs, our days are numbered. At the end of the presentation they invite us to quit the space with the words: "Your time is up; you will have to leave."
While the collective ponders what species might replace humans, the artist Pinar Yoldas anticipates the emergence of plastivores, organisms that feed on the plastic waste collecting in the vast Pacific Trash Vortex. In delicate 3D diagrams, she models the digestive tract and sensory organs of these imaginary creatures. Mordant humour clearly illuminates her sculptures, but it's difficult to gauge the seriousness of the fibreglass contraptions made by design duo Dunne and Raby to enable humans to eat tough roots and inedible berries.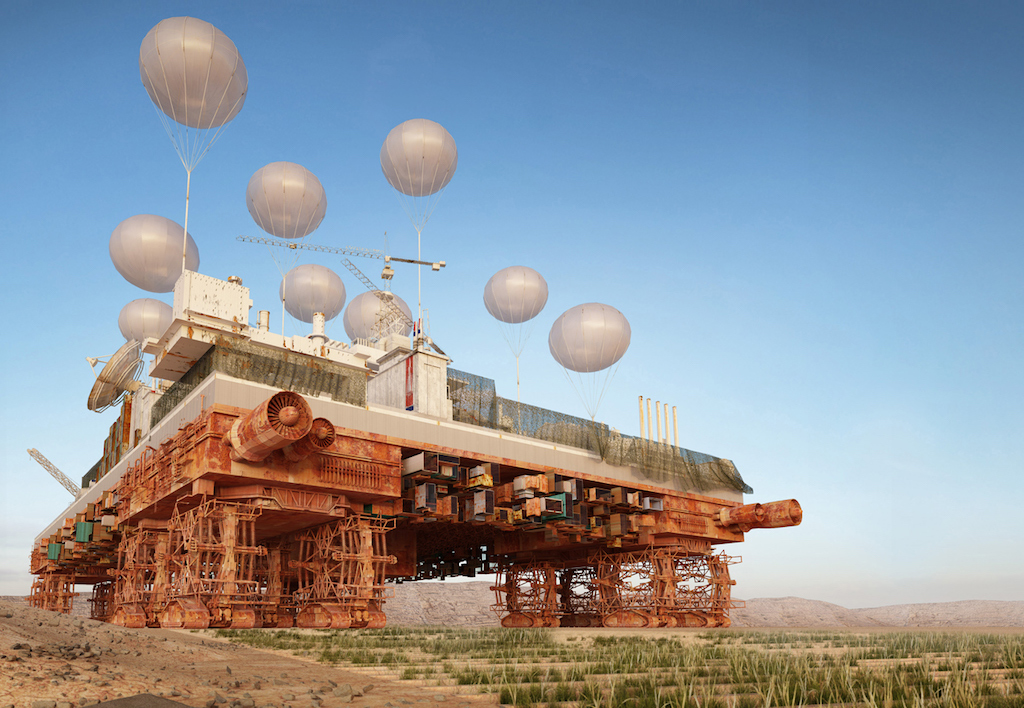 The Royal Academy is to be congratulated for hosting an exhibition that tackles urgent issues like these, but the show exemplifies a key aspect of the problem. The warnings are powerful and persuasive, but the solutions envisaged are pitifully inadequate. They are mainly by architects who don't even attempt to address the catastrophe itself but, instead, offer us post-apocalyptic follies. The Green Machine 2014 (pictured above) is Studio Malka's answer to desertification. Resembling a giant oil rig, this monstrosity trundles across the Sahara on caterpillar treads that plough the ground, then sew and water the seeds to produce 20 million tonnes of food per year. Solar towers, wind turbines and water capturing balloons create a "self-sufficient urban oasis" for those housed inside. What percentage of the 9.7 billion will they seek to accommodate, I wonder?
WORKac and ANT Farm offer a floating island with an inflatable cover coated in solar panels. Containing housing, a research lab, greenhouses, gardens and an algae farm for biofuel production, it also has an "interspecies congress hall" that allows the inhabitants to communicate with marine organisms, presumably the jellyfish that will be choking the warm seas along with our plastic waste.
Three cheers for the Portuguese design group, SKREI who have produced a Biogas power plant that transforms food waste into electricity. A year's worth of waste from a London borough would, they claim, generate enough electricity to power a primary school for 10 years. Their initiative may be a drop in the ocean, but at least they are confronting the problem head on; in the RA's Architecture Studio, meanwhile, Atelier Luma are busy developing substitute plastics from algae. And on the way home, I read that iZettle have produced a card reader made with plastic waste dredged from the North Sea and George Bailey, a 19-year-old student, is making spectacle frames from discarded fishing nets.
Its a shame that the exhibition doesn't feature more initiatives like these which might, just, delay the crisis long enough for people to wake up and pressure their governments into taking action before the eleventh hour.
They invite us to quit the space with the words: Your time is up; you will have to leave.
rating
Explore topics
Share this article
Subscribe to theartsdesk.com
Thank you for continuing to read our work on theartsdesk.com. For unlimited access to every article in its entirety, including our archive of more than 10,000 pieces, we're asking for £3.95 per month or £30 per year. We feel it's a very good deal, and hope you do too.
To take an annual subscription now simply click here.
And if you're looking for that extra gift for a friend or family member, why not treat them to a theartsdesk.com gift subscription?