Edward Burne-Jones, Tate Britain review - time for a rethink? |

reviews, news & interviews
Edward Burne-Jones, Tate Britain review - time for a rethink?
Edward Burne-Jones, Tate Britain review - time for a rethink?
Wide-ranging exhibition of idiosyncratic English artist, both loved and loathed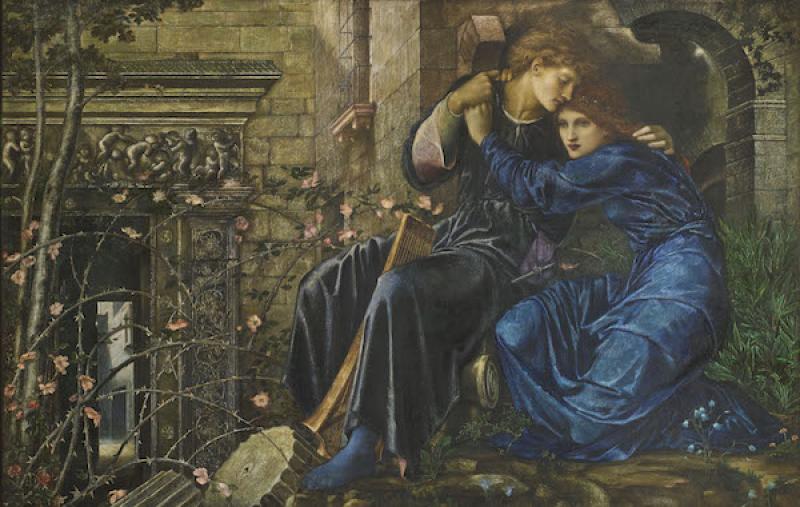 'Love Among the Ruins', 1873, Edward Burne-Jones
When, in 1853, Edward Burne-Jones (or Edward Jones as he then was) went up to Exeter College, Oxford, it could hardly have been expected that the course of his life would change so radically. His mother having died in childbirth, he was brought up by his father, a not particularly successful picture- and mirror-framer in the then mocked industrial city of Birmingham.
Early on at King Edward's School he was marked out as a pupil of promise and transferred to the classics department which enabled him to attend university and prepare for a career in the Church. Yet he never took his degree, instead deciding, along with his close college friend and lifelong collaborator, William Morris (
the two pictured together, below
) to dedicate himself to a different type of public service – through art.
Tate Britain holds an extensive collection of Burne-Jones's work; a number of his pieces have been on almost permanent view since they were first acquired. In private hands, Andrew Lloyd-Webber's collection is unrivalled. Yet for such an influential English artist, he has been quite neglected. This is the first large exhibition of his work in London since 1975 – his 1998 centenary was marked with an exhibition in Birmingham only. There's no hiding that he remains as divisive an artist now as during his lifetime – though perhaps the reasons for vehement admiration or vituperative dislike have shifted somewhat.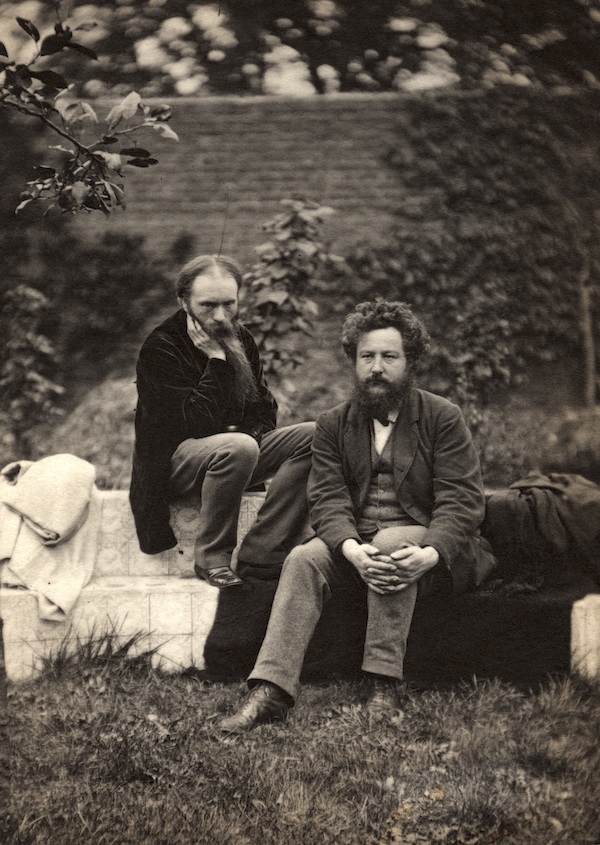 Tate Britain's exhibition focuses on his influences and developing craftsmanship in a show that ranges from his earliest illustrations through to his late tapestries. Two of Burne-Jones's cycles, The Briar Rose c. 1890, which draws on Charles Perrault's fairy tale of Sleeping Beauty, the panels of which depict a court frozen in time, and the unfinished Perseus (started 1875, commissioned by the young then-MP Arthur Balfour), occupy entire halls. Other rooms are dedicated to portraits, exhibition paintings, and sketches. The Wine of Circe, 1869, and Love Among the Ruins, 1873, both of which brought him to prominence in different ways, glimmer darkly.
After leaving Oxford, Burne-Jones apprenticed himself to Dante Gabriel Rosetti, who encouraged him to follow his own vision. As a largely self-taught artist unconstrained by the dictates of the Academy, Burne-Jones chose subjects of academic, but not at that time artistic interest. Early work he later repudiated included illustrations for Archibald Maclaren's The Fairy Family, which contained ballads and fairy tales from Europe. But he returned to related subjects - particularly mediaeval – time and again. Refrains intersperse the exhibition to surprising effect: tthe power dynamics of Merlin and Nimue, 1861, are reworked into The Beguiling of Merlin, 1877, while Phyllis and Demophoön, 1870, becomes The Tree of Forgiveness, 1882 – effectively the same painting but masking Demophoön's full-frontal nudity with a knot of fabric – a mark of how much the scandal surrounding the earlier version burned.
In keeping with his literary taste, he painted and repainted episodes from Arthurian myth and for inspiration drew on works by Geoffrey Chaucer, such as The Romaunt of the Rose and Assembly of Fowls. However, his studies bear the hallmarks of his great admiration for Dürer and his paintings frequently carry over this hallucinogenic crispness. Also apparent – and this is tracked beautifully through the exhibition – is the influence of his four trips to Italy, in the course of which he studied the work of Botticelli, Leonardo da Vinci and Michelangelo, in 1871 spending an entire day lying on his back staring at the Sistine Chapel ceiling through opera glasses.

It was not just his subject matter that was unconventional. He was a dedicated and experimental colourist. Again, this was by no means met with universal acclaim or acceptance. His rival Whistler quipped "Didn't I always say the man knew nothing about painting... They take his oils for water-colours and his water-colours for oils," and following a number of scraps, he resigned from the Watercolour Society in 1870. He eventually settled on a favoured combination of watercolour and gouache (oil left him feeling sick) which allowed him to work his paintings to a luminously spangled decorative flatness. The resulting chromatic richness shows in Love Among the Ruins, 1894, which, while being photographed for exhibition at the Société Nationale des Beaux-Artes in Paris, was ruinously treated with albumen for extra glaze on the assumption that it was oil (the painting was later restored with ox gall).
The technical chemical aspect of his paintings are equally remarkable. He sought out the newest pigments, including cobalt blue, green-blue ceruleum, Field's vermillion, and violet, which not only enhanced his paintings' lapidary gleam, but also kept them stable. He disparaged his erstwhile mentor Rosetti's conscious use of degradable paint and was fastidious in following the research conducted by chemist George Field into the newest, stablest and most durable pigments – The Golden Stairs, 1876-1880, for instance, has never required restoration.
Burne-Jones's reported remark, "a good artist ought to work only for public purposes; but no private person ought to own pictures," sits at odds with the fact that he painted the social set and was patronised by the great and good of his time. But on display, too, are examples of his stained glass which grace many churches around England (such as The Calling of St Peter, c. 1857, pictured right). He was alive at a time when industrialisation was bringing fine art and craftsmanship into closer relation – much in the way digitisation is reshaping those relations now – and was able to experiment and work between civic and private projects throughout his life. Love him or loathe him, Burne-Jones was an idiosyncratic artist whose place in the history of English fine and decorative art is brought to light in this wide-ranging and absorbing exhibition.
Tate Britain's exhibition focuses on his influences and developing craftsmanship in a show that ranges from his earliest illustrations through to his late tapestries
rating
Share this article