Isamu Noguchi, Barbican review – the most elegant exhibition in town |

reviews, news & interviews
Isamu Noguchi, Barbican review – the most elegant exhibition in town
Isamu Noguchi, Barbican review – the most elegant exhibition in town
A restless spirit who infiltrated many of our lives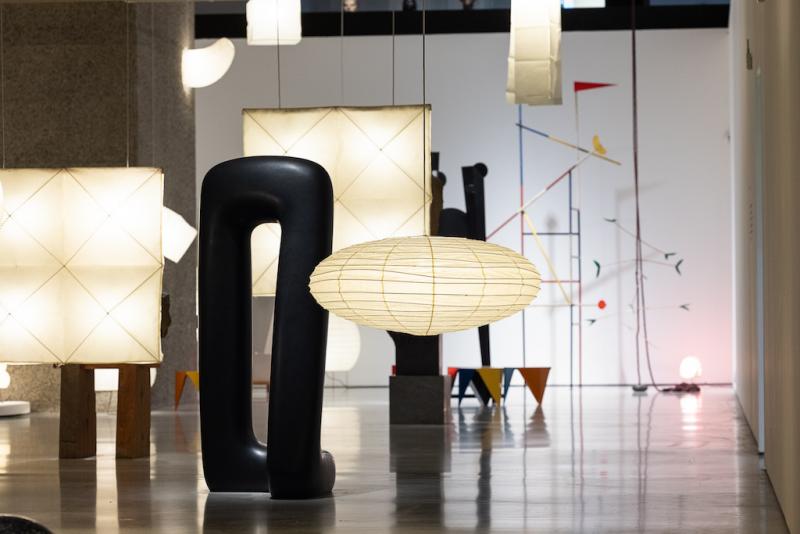 Installation view of Isamu Noguchi at the Barbican Art Gallery
Isamu Noguchi may not be a household name, yet one strand of his work is incredibly familiar. In 1951 he visited a lamp factory in Gifu, a Japanese city famous for its paper lanterns. This prompted him to design the lampshades that, for decades, have adorned nearly every student's bedsit.
Strips of fine white paper made from mulberry tree bark are glued onto bamboo ribs to create a design that is amazingly versatile and comes in all shapes and sizes. Spheres are the most popular, but Noguchi also designed rectangles, cubes, pyramids, ellipses and columns alongside forms resembling pumpkins, beehives, horns and others too complicated to name.
He hung them from the ceiling, put them on the floor and rested them on wire stands – treating them, in other words, like sculptural objects. And dotted around the exhibition to illuminate the sculptures, these delightful creatures help create the most beautiful installation the Barbican has ever mounted (main picture).
Noguchi wasn't interested in distinctions between art and design. He made sets for Martha Graham that were integral to the American dancer's choreography and, wanting to "bring sculpture into a more direct involvement with the common experience of living", designed a bakelite radio in the shape of a head, a chess set, a coffee table whose glass top rests on sleek black curves, and playgrounds with slides, helter skelters and climbing frames that are essentially outdoor sculptures. And when asked to design plazas for IBM and the Chase Manhattan Bank in New York, he gave them sculptural installations inspired by Japanese gardens.
The artist was born in Los Angeles in 1904 to an Irish American mother and Japanese father and spent his childhood in Japan, returning to the U.S at the age of 13. His dual identity left him feeling a stranger wherever he lived and this confusion is addressed in a comic self portrait (pictured above right). Bent over to peer between his legs, he exposes his arse to the world while seeing everything upside down through piercing blue eyes.
A series of wonderful portraits includes a tender likeness of his uncle, a forceful head of Mexican muralist José Clemente Orozco and a bronze mask of Japanese dancer Michio Ito designed for a No theatre production.
In 1927, he took off for Paris to work for Constantin Brancusi, the doyen of modernism. Heavily influenced by his mentor, he began making gleaming brass abstractions. On his return to the States, though, he met Buckminster Fuller and worked with him on the prototype for an amphibious vehicle. From then on, this dual orientation – towards pure abstraction, on the one hand, and functional design, on the other – continue side by side in his work.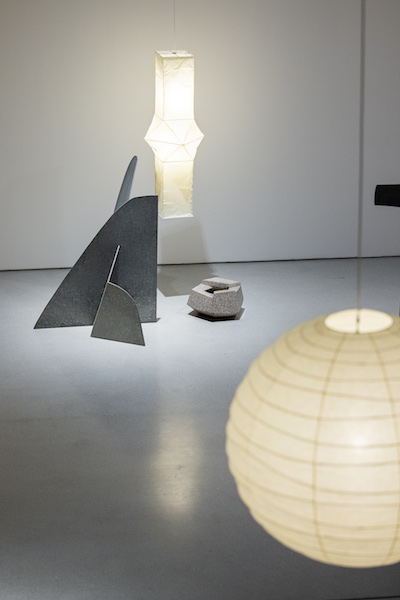 Noguchi is best known, though, for his abstract sculptures. They come In a wide variety of shapes, sizes and materials ranging from bones and plastic to wood, bronze, stone, ceramic, steel and sheet aluminium painted bright colours. Fascinated by contradictions, he made assemblages from slices of stone so thin they are extremely fragile and a weighty looking sculpture titled Mortality 1959 from balsa, a wood so light that kids use it for making model aircraft. Granite was his favourite stone because of its hardness, yet he burrowed through large blocks of it like a mole, opening up the interior to allow light in while also relishing the polished and rough surfaces of the outside.
Because of his Japanese heritage, he was interned during WW II in a camp in Arizona. Inevitably, his loyalties were split and his Monument to Heroes 1943, a plastic column pierced by bones, is dedicated to all the pilots he described as "blown by the wind". He visited Hiroshima in 1951 and, horrified by the devastation caused by the atomic bomb, designed several memorials including Mortality, none of which got built probably because he was an American citizen.
He described bomb sites as an "injury to the earth itself" yet fantasised creating large scale sculptures by dropping bombs. Had he been born later, he might have made earthworks on the scale of Michael Heizer's Double Negative 1969, a canyon created by moving 244,000 tons of rock. Instead, he contented himself with single pieces that are amazingly powerful. Okame (Atomic Head, Hiroshima Mask) 1954 resembles a face melted by extreme heat to leave a single eye as the only recognisable feature, while the memorial arch he carved in black granite in 1982 (pictured below) is very moving in its dumb solidity, even on this small scale.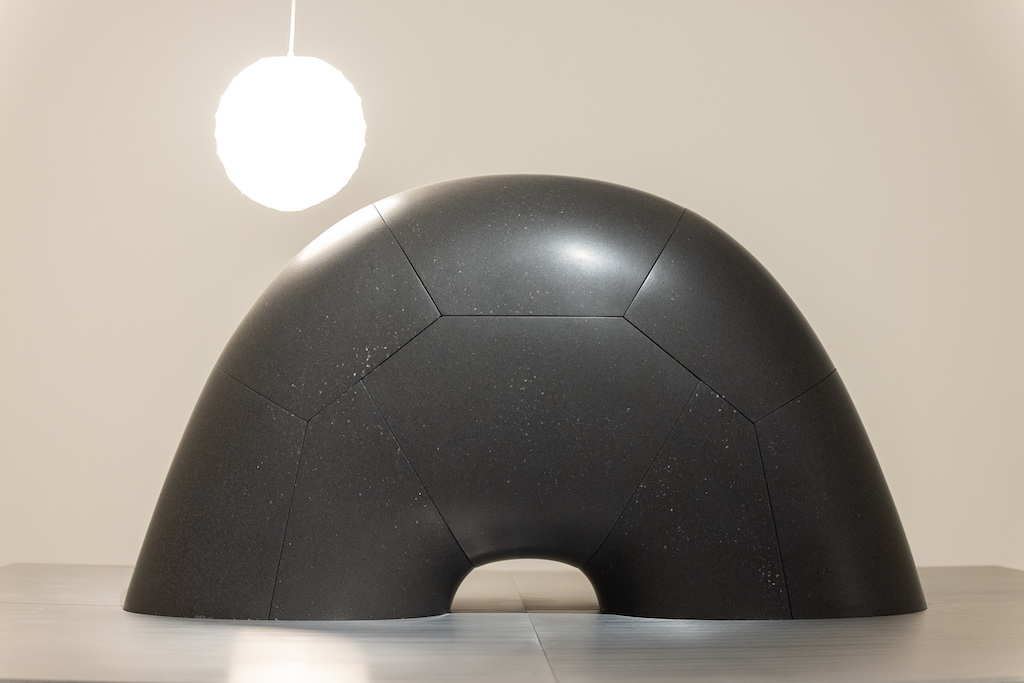 Noguchi died in 1988 having lived though turbulent times. His response was to keep on experimenting, endlessly exploring new materials like plastic, chrome and bakelite only to return to traditional ones like marble, wood, ceramic and bronze. The work keeps changing, he said, "because I change; time changes." This survey provides fascinating insights into the mind of a restless spirit who infiltrated many of our lives.
These delightful creatures help create the most beautiful installation the Barbican has ever mounted
rating
Share this article