Kiss My Genders, Hayward Gallery review – a shambles |

reviews, news & interviews
Kiss My Genders, Hayward Gallery review – a shambles
Kiss My Genders, Hayward Gallery review – a shambles
Important issues addressed in an exhibition that should have been so much better
Installation shot of Jenkin van Zyl's 'Looners' 2019
Kiss My Genders may not claim to be a survey, yet it seems perverse to mount an exhibition of work by LGBTQ artists who address issues of gender identity without including some of the best known names.
Particular emphasis is placed, says the press release, on works that revisit the tradition of photographic portraiture; so why no sign of Claude Cahun, Gilbert and George, Urs Lüthi, Robert Mapplethorpe or Pierre et Giles – all pioneers in using
photography
to explore gay sexual identity ?
They, or their representatives, may have declined to take part, of course – a decision that would have been wise, since the exhibition is a shambles. A lot of the work is bad and the rest is installed so confusingly and labelled so poorly that many good artists are seriously diminished.
Take, for example, American artist/poet Juliana Huxtable, who appears on the poster as a sci-fi shaman (pictured right) bewitching passers-by with her demonic stare. Her levitating dreadlocks seem charged with electricity, while her outstretched palms look set to steal your soul. What a contrast with her nude self-portrait, coloured green like a Tretchikoff painting. With blonde dreadlocks caressing her spine and a bracelet enfolding her ankle, she kneels as submissively as a slave girl. To appreciate the contrast between the two fantasies – of superwoman and exotic sex slave – one needs to see them side by side. Instead, her self-portraits are spread over two walls and it requires real detective work to discover they are by the same artist.
A similar fate is meted out to South African activist Zanele Muholi, who uses the pronoun "they". Muholi first came to global attention at Documenta in 2012 and has since been showered with honours like the Chevalier de Ordre des Arts et des Lettres and Fellowship of the Royal Photographic Society. No mention is made of these accolades, bestowed for photographing the victims of racist and homophobic attack which, as a lesbian, they have also suffered. Instead of these powerful portraits, we have three photographs of black corpses, partially hidden by plastic sheeting; as evocations of violence they are weakened partly by the fact that they are staged and partly by knowledge of Cindy Sherman's photographs of murdered women, which are similarly staged.

Muholi is also known for a series of stunning self-portraits in which they look to camera with an air of solemn defiance; majestic headdresses made from household items like clothes pegs, pan scourers, and vacuum cleaner hose refer to the lowly work offered black women in South Africa. In Phila 1, Parktown, 2016 (pictured left) the artist is festooned in black rubber gloves that read as dreadlocks or myriad fumbling hands. Its a powerful image, but to fully understand Maholi's intent – "For this black face to be recognised as belonging to a sensible, thinking being in their own right" – we need to see others in the series and the work all needs to be hung together, not spread over two floors.
What a difference it makes when someone's work is hung and labelled properly, so you can appreciate what they have to say. In the late 1960s, French artist Pierre Molinier donned a corset, stockings and wig to assume various erotic poses. The photographs he took were then cut up and reassembled into surreal montages that contrast orgiastic complexity with exquisite, gem-like symmetry.
Peter Hujar employed the humour and pathos of contrast, when photographing friends from the gay scene of downtown New York in the 1970s and '80s. Decked in Lana Turner's dinky fascinator, its feathers flopping over his ears, John Heys looks like a demented bird. Elsewhere he crouches on all fours, oranges stuck up his T shirt for tits (pictured below). The deliberately awkward pose seems to embody the tension faced by drag queens and trans men when preparing themselves to face the world.
American artist Martine Gutierrez photographs herself in the guise of various demons. Chin, Demon of Lust, 2018 fixes us with a glassy, green-eyed stare. Her hair braided into an elaborate crown adorned with feathers and leaves and her face, neck, arms and fingers bedecked in jewellery, she seems trapped by her image and the all-consuming desire it represents.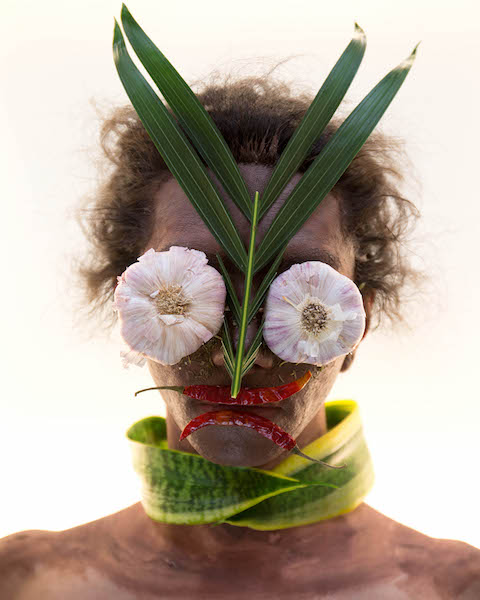 Masking 2018 is an equally compelling series, which sees the artist transformed, like Arcimboldo's portraits, into exotic creatures fashioned from foodstuffs. In Fish Mask she has seaweed brows, oyster shell eyes, caviar lips and a fish necklace. In Garlic Mask (pictured right), her eyes are garlic bulbs and her lips red peppers, while leaves cover her nose and neck. Identity is portrayed as a construct – partly self-inflicted, partly the result of viewers' projections. Whether we are imprisoned or empowered by "the labels, stereotypes and iconographies" that seek to define us or by "the masks we wear" is a question which the work leaves hanging.
Ajamu's photographs owe a lot to Mapplethorpe but are similarly powerful. A white bras worn by a black body builder is stretched to breaking point by his muscular back; a hand wearing a lacey glove clutches an erect penis; the wrinkled sole of a dancer's foot contrasts with the slippery white octopus clinging to his black flesh. The British artist argues that his work is political: "a photographer is an activist," he says. He's right of course, but to have impact, an image needs to be visually strong and too many of the works on show are feeble both as art and politics.
The exhibition is worth seeing, though, just for Looners (main picture), a film completed this year by 26 year old Jenkin van Zyl. Shot in the Atlas Mountains in a complex of derelict film sets, Looners is an absurdist orgy of mock violence enhanced by a superb array of cinematic sound effects. "Did it hurt when you fell from heaven, all the way to the bottom?" asks a caption as the camera propels us into a swirling red vortex. The two main protagonists wander "past Luxor and the Sanctuary of Dionysus to the Fortress", a mediaeval citadel within whose weather board walls most of the scenes were shot.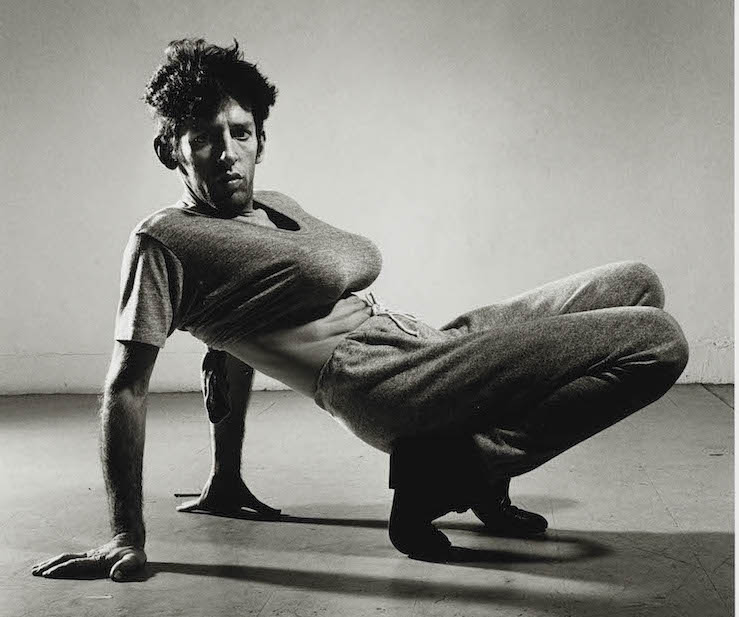 A cluster of disaffected queens have come to this desert stronghold "looking for the same thing… a kind of love as violence." A series of non-sensical snippets combines to create an atmosphere of pleasurably perverse derangement. An array of mediaeval weapons or "genital accessories" is shoved up willing arses; a man with a horse's head strapped to his chest pulls a make-believe carriage; bones fall from the sky onto the stoney desert, blue and white plastic suits are worn; a cake facsimile is dismembered and its jammy entrails smeared over a victim. Deliberately tacky make-believe illustrates Shakespeare's observation that "all the worlds a stage and all the men and women merely players…. And one man in his time plays many parts."
Playing your allotted or chosen parts becomes infinitely more complex, of course, if you are ill at ease with the gender assigned you. Important issues like these are addressed again and again in an exhibition that should have been so much better.
The exhibition is worth seeing just for 'Looners', an absurdist orgy of mock violence enhanced by superb sound effects
rating
Share this article