Léon Spilliaert, Royal Academy review - a maudlin exploration of solitude |

reviews, news & interviews
Léon Spilliaert, Royal Academy review - a maudlin exploration of solitude
Léon Spilliaert, Royal Academy review - a maudlin exploration of solitude
The world seen through the eyes of melancholy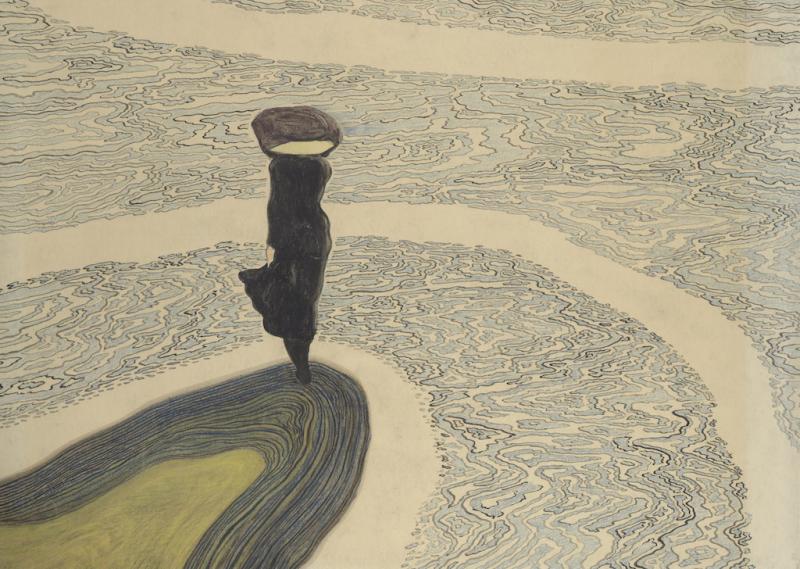 'Woman at the Shoreline', 1910 by Léon Spilliaert
What a spooky exhibition! Léon Spilliaert suffered from crippling insomnia and often spent the nocturnal hours in the conservatory of his parents' house in Ostend drawing his haggard features (pictured below right: Self-portrait, 1907).
His shock of blond hair catches the light as it billows in an agitated swirl above his head, as though expressing a turmoil of inner disquiet. Elsewhere, he stares down at us though dark rimmed eyes, his mouth drooping open like that of a corpse, as though he were an apparition come to visit this moonlit chamber. Echoes of Edvard Munch haunt these dramatisations of existential angst, which feel self-consciously staged.
The artist also roamed the deserted streets and recorded them in sombre pictures whose unusual viewpoints and exaggerated perspectives create a filmic sense of dread. With towering walls reflected in wet tarmac, Hofstraat, Ostend from 1908 becomes a bleak canyon illuminated by a single, distant light. The same dramatic perspective channels one's eye down Ostend's empty pier towards the lighthouse at the end and the waves beyond. Spilliaert rented a studio overlooking the busy port, but instead of recording this hive of activity, he preferred to capture empty, windswept beaches and looming clouds.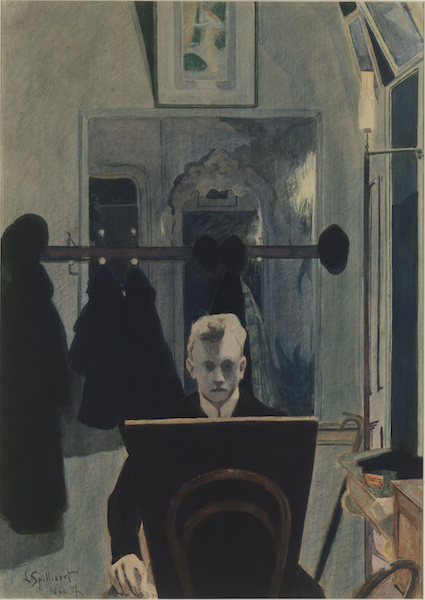 A sense of unreality – of a world seen through eyes robbed of sleep – permeates the work. A lone woman stands silhouetted against sand patterned with stagnant water left by the receding tide (main picture). She resembles a beacon, and the unidentifiable object on her head makes her presence the more enigmatic. Sometimes reality is abandoned altogether in favour of dreamlike visions. A row of slender mermaids balance in the shallows on their fishy tails, their hair streaming out behind them as they hold hands like a skittish chorus line.
Spilliaert married in 1917 and had a child, but only two drawings of his wife, Rachel, are on show. He was determined, it seems, to focus on the darker side of life. Misery, 1909 comprises a black garment hanging from a rope in a room empty save for a wooden trunk. Love, 1901 is an ink drawing of a scrawny little man clinging to a tall woman and gazing up at her with a mixture of devotion and despair. The couple are framed in a hoop of light that bleeds a sorrowful fringe of black ink from its lower edge.
Not surprisingly, Spilliaert was drawn to the dark fantasies of authors like Edgar Allan Poe and in 1902 he began illustrating the work of writers such as Maurice Maeterlinck and the Symbolist poet Emile Verhaeren, who shared his brooding intensity. All in all, this feels like a life lived in front of the mirror and the drawing board, rehearsing melancholy as well as experiencing its clutches.
A dream like sense of unreality - of a world seen through eyes robbed of sleep - permeates the work
rating
Explore topics
Share this article