The London Mastaba, Serpentine Galleries review - good news for ducks? |

reviews, news & interviews
The London Mastaba, Serpentine Galleries review - good news for ducks?
The London Mastaba, Serpentine Galleries review - good news for ducks?
Rockstar artist's floating oil drums provoke questions around the purpose of public art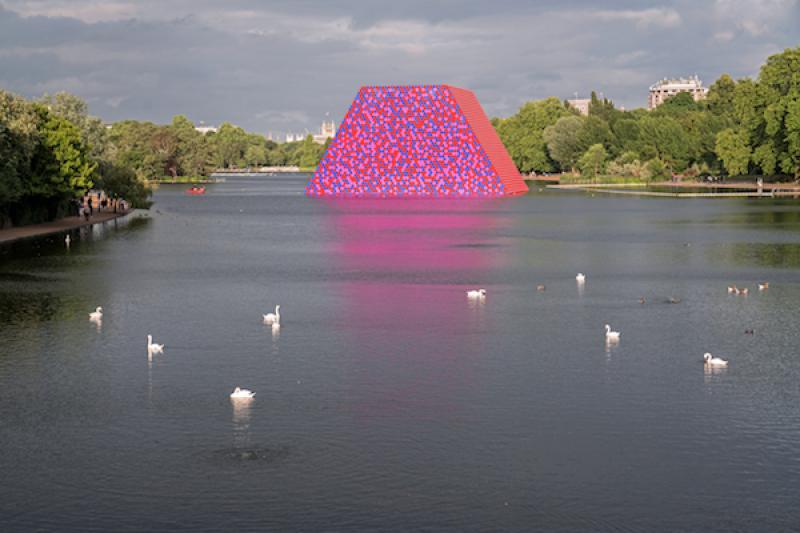 Christo and Jeanne-Claude, The London Mastaba, Serpentine Lake, Hyde Park, 2016-18
It's not as immersive as New York's The Gates, 2005, nor as magnificent as Floating Piers, 2016, in Italy's Lake Iseo – it has also, according to Hyde Park regular Kay, "scared away the ducks," – but superstar artist Christo's The London Mastaba looks quite absurdly unreal and is totally free for the public.
Constructed with 7,506 brightly painted oil barrels, the 600 tonne sculpture – which is shaped as and named by the bench found outside ancient Mesopotamian houses – floats like a serene 3D gif between bridge, lido and island. The Serpentine Gallery's synchronous exhibition on Christo and Jean-Claude's work (also free) tracks how the initial use of tin cans became the larger oil drums and how early projects such as Wall of Barrels – The Iron Curtain, 1962, which barricaded the rue Visconti in Paris a year after the Berlin Wall went up, and the never-realised Ten Million Oil Barrel Wall, 1967, which was intended to link both sides of the Suez Crisis following the Six-Day War, were overtly political architectural-artistic interventions intended for the public space.
It also shows how the London Mastaba emerged from an unrealised million-barrel mastaba project for Houston, Texas, and may be a precursor for a 150m high one at the edge of Liwa Oasis, Abu Dhabi. In this light, it suffers the littleness of being a less committed version of these other megaliths – because thousands of stacked oil drums shimmering with Texan heat or towering over a road-scarred desert have a different kind of resonance to when they are floating on top of the Serpentine. But under the changeable London sky the ruffled lake surface trembles with the reflections of the painted barrels, yoking together river bed, water, art work and sky into a slick perpetual dance. The intended effect isn't always apparent but when it is, the very strangeness of the installation is powerful enough, the assimilation of disparate parts alluring, and its mass and colour irrefutable.
Around the park, people aged from six to grandparent remark how much it looks like a slide ("It makes me feel fun," says Noah (7) tucking into chicken nuggets) and while the penny-sweet colours fizz gently against greenery they also definitively block out the few buildings which peek above the canopy surrounding the park. How restful that Westminster disappears behind pink and blue dots! How easeful that the towers of Kensington and Hyde Park Corner are erased. London's summer park culture is gloriously louche, mixed and frequently semi-naked, and the Mastaba becomes the Serpentine's very own carnivalesque navel. The ancient Mesopotamian bench was intended as a place for visitors to rest a while – a built metaphor betokening hospitality. To walk the lake's perimeter then, is to encounter this inscrutable floating mass at every step and to entertain its playfulness, perhaps thoughtfully.
But public art is arranged by individuals and a photograph of Hans Ulrich Obrist pasted onto one of the collaged London Mastaba plans in the exhibition provokes a ripple of unease for its coterie in-joke chumminess. Is this art genuinely in service of the public or merely servicing the institutions involved? The answer, of course, is a mix of both – but while Serpentine Galleries Chairman (and ex New York Mayor) Michael Bloomberg is clear that "the benefits that art brings to cities aren't always recognised," he is equally clear that quantitative benchmarks on the civic worth of art (how much extra revenue the Mastaba brings to the already tourist-saturated businesses round the park) outweigh the platitudinous qualitative catch-all about "bringing diverse communities together." Yet most artworks can do that – it's merely a matter of curatorial effort.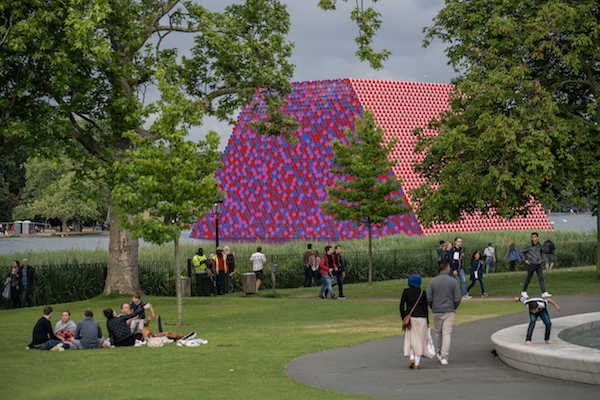 That said, there is genuine effort behind this installation. As with all his other projects, the £3m cost is borne by Christo and defrayed through selling artworks, and attention has been paid to the afterlife of the piece: once the sculpture is dismantled its unrented components will be recycled and the lake will receive ecological improvements to encourage biodiversity and prevent algal bloom (good news for the ducks). And while the (now obligatory) mobile app explaining the work is touted as a way of connecting people, it's actually the jolly gallery staff cannily stationed round the park who really get visitors talking.
Should public art find its main justification in not coming out of public budgets? It's great when it happens, but absolutely not. Should there be active efforts to engage all kinds of people who might otherwise not? For sure. Should you pay attention to my judgment of the London Mastaba? Up to you. The exhibition is cleanly curated, informative and gloriously free; the sculpture is magnificently weird and very definitely there. Both are worth a look. But it's public art and the true measure of its success is its reception. "Any interpretation is important," Christo remarked at its unveiling – but Instagram post or talking point? Skin or substance? It makes a big difference.
London's summer park culture is gloriously louche, and the Mastaba becomes the Serpentine's very own carnivalesque navel
rating
Share this article
Subscribe to theartsdesk.com
Thank you for continuing to read our work on theartsdesk.com. For unlimited access to every article in its entirety, including our archive of more than 10,000 pieces, we're asking for £3.95 per month or £30 per year. We feel it's a very good deal, and hope you do too.
To take an annual subscription now simply click here.
And if you're looking for that extra gift for a friend or family member, why not treat them to a theartsdesk.com gift subscription?