Magdalena Abakanowicz, Tate Modern review - a forest of huge and imposing presences |

reviews, news & interviews
Magdalena Abakanowicz, Tate Modern review - a forest of huge and imposing presences
Magdalena Abakanowicz, Tate Modern review - a forest of huge and imposing presences
Smell the sisal and feel small in the company of giant hangings
Installation shot of 'Abakans' by Magdalena Abakanowicz
First off, I must confess that fibre or textile art makes me queasy. I don't know why, but all that threading, knotting, twisting, coiling and winding gives me the creeps. So it's all the more extraordinary that I was blown away by Magdalena Abakanowicz's huge woven sculptures.
Scale is the key; the Polish artist did nothing by halves. Dominating the central space of her exhibition are ten magnificent forms (main picture) that hang from the ceiling to create a forest of darkly intriguing presences. Made from rope, sisal and horsehair died black or rich brown, they are reminiscent of hollowed out tree trunks, gargantuan cloaks or underwater creatures such as giant stingrays.
Named Abakans after the artist's surname, these ambiguous forms are steeped in memories of the forest that surrounded the seventeenth century ancestral home where she grew up. The family was hiding both from the Second World War and the Communist regime that sought to destroy the aristocracy to which her family belonged.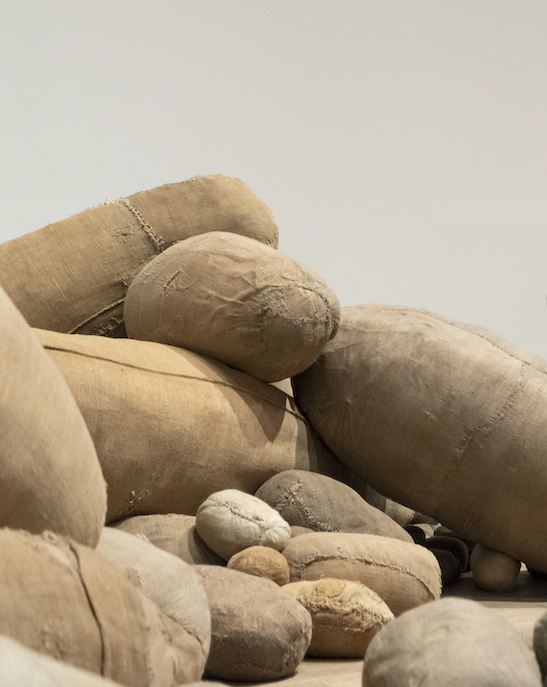 Trailing coils of rope across the floor, Abakan Situation Variable 1971 towers over you like an enormous, predatory bird. Yet its black folds are as inviting as they are threatening; like a dense forest, they welcome you in and warn you off in equal measure. "Strange powers dwelled in the woods and the lakes that belonged to my parents", recalls Abakanowicz. "Apparitions and inexplicable forces had their laws and their spaces." It's the realm of fairy tales and superstitions as well as of actual enemies.
I first encountered Abakanowicz's work in the Polish pavilion at the Venice Biennale, in 1980. I recall a room filled with hunched figures seated on the floor in rows, like monks at prayer or political prisoners awaiting their fate. Made of burlap sacking, these Backs were headless, which made their anonymity the more disturbing. Another room was filled with 800 bundles of burlap stuffed to resemble stones, pods, eggs or even bombs; a hint of possible danger added a frisson to these seemingly harmless objects. At Tate Modern, a pile of them indicates how her work was to develop over the next few years. (Pictured above right: Embryology 1978-80 (detail) photograph by Madeline Buddo)
Before abandoning the Abakans, though, Abakanowicz began dying the material gorgeous colours, especially ochres and rust reds, and suspending the hangings in more open configurations (pictured below: detail of installation shot by Madeline Buddo). This makes them extremely seductive and their fleshy folds more suggestive of human bodies and other living organisms. Opened out like a double cape, for instance, Abakan January-February 1972 resembles a pair of giant lungs joined by a tangled array of bronchial tubes.
In the late 1980s, Abakanowicz began working in steel and bronze. On view in the last room are photographs of the large public installations she was commissioned to make in Italy, Israel and America, as well as her native Poland, up until her death in 2017. But the exhibition focuses on her early years and the glorious hangings that gained her an international reputation from the 1970s onwards.
These ambiguous forms are steeped in memories of the forest that surrounded the 17th century ancestral home where she grew up
rating
Explore topics
Share this article