Michelangelo & Sebastiano, National Gallery |

reviews, news & interviews
Michelangelo & Sebastiano, National Gallery
Michelangelo & Sebastiano, National Gallery
Exceptional loans redeem poor display in a tale of two Renaissance masters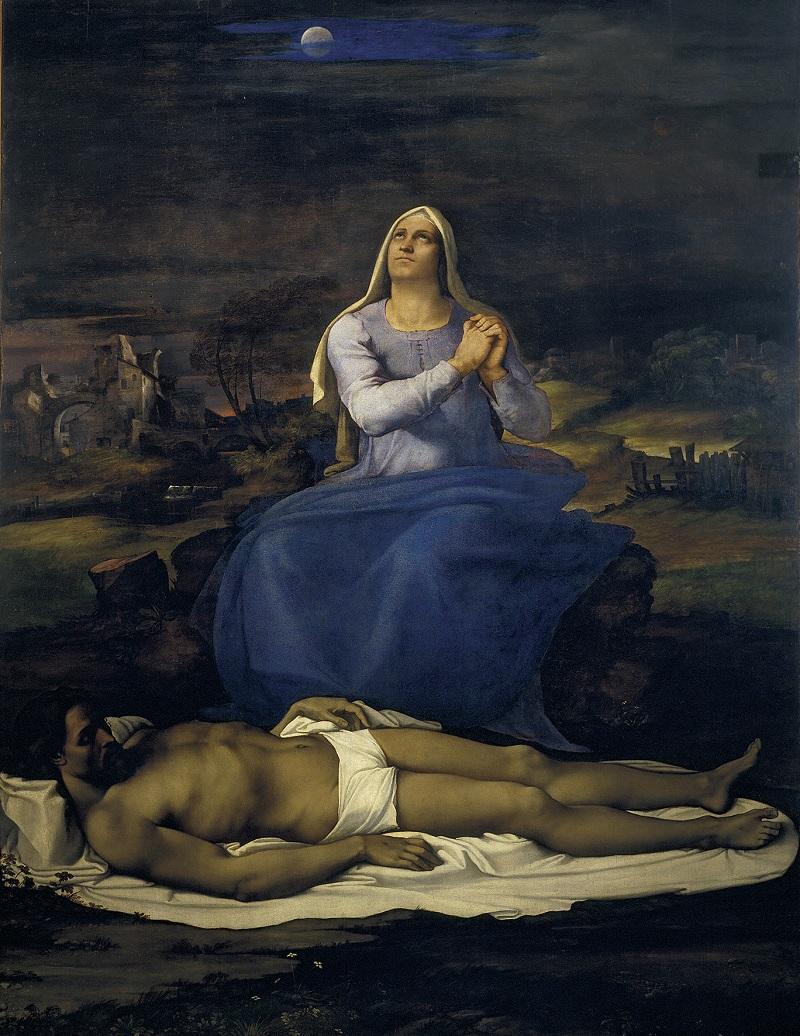 'Lamentation over the Dead Christ' (Pietà), Sebastiano del Piombo, after partial designs by Michelangelo, about 1512-16
The story of two characters whose friendship ended in bitter enmity is juicy enough for a typical spring blockbuster and yet this is an exhibition with a serious and scholarly bent.
While the
National Gallery
is no stranger to academic exhibitions they are usually relatively low-key, occupying the small space of the Sunley Room, for which this exhibition feels as if it might originally have been conceived. Scaled up, it has lost some of the vigour and focus that often characterises the gallery's smaller efforts, and the result is a High
Renaissance
exhibition as austere as its chilly grey walls.
The hang is at times oddly incoherent, the walls sometimes cluttered and sometimes bare, with moments of potential dramatic impact neutered by poor positioning. A fine cast of Michelangelo's Pietà, 1497-1500, shipped all the way from the Vatican Museums sits awkwardly near a doorway and the Taddei Tondo, c.1504-5, usually badly served by poor lighting and a tucked-away location at the Royal Academy, finds itself on something of a busman's holiday here. The lighting is undoubtedly better, but it loses impact at the end of a long gallery, swamped by an inelegant grey frame.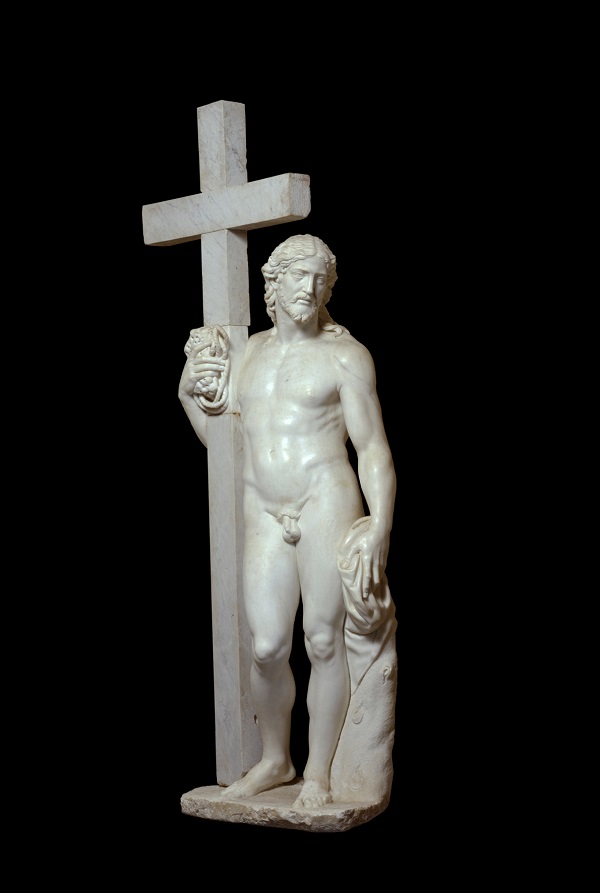 The most visually impressive room is also the most incisive, encapsulating in Michelangelo's two versions of The Risen Christ what it was that set him apart from his younger colleague, Sebastiano. If the grey walls are an error elsewhere in the show, here they provide a foil to snow white marble. The first version of the sculpture, featuring a rather languorous Christ (pictured right), was abandoned because of a fault in the marble and a second version, represented here by a 19th century cast, was made some six years later. In place of the overtly classicising and sensual pose of the first version Michelangelo introduces narrative potential, striking a more naturalistic, and ultimately more human note, Christ's gesture towards the cross increasing the sculpture's devotional power. And yet what has he done? In the tilt of the head, the placing of a foot, the positioning of an arm, a transformation is achieved.
Michelangelo's ability to harness the significance of gesture, however slight or fleeting, must have impressed Sebastiano when the two met in Rome in 1511 while Michelangelo was at work on the Sistine ceiling. Michelangelo's influence on his younger counterpart is a theme that runs through the exhibition and Sebastiano's later work imbues the body with an expressive power and monumental physical presence that is unmistakably Michelangelesque.
But this is not an exhibition that simply pitches the genius Michelangelo against the plodding mortal Sebastiano. For all Michelangelo's facility with line, whether drawn or sculpted, he was at a disadvantage when it came to the new medium of oil paint, and in Sebastiano he recognised someone who not only understood painting in oil, but was good enough to rival Raphael.
While Michelangelo was a product of the Florentine tradition of disegno, Sebastiano had been taught in Venice by the quasi-mythical figure Giorgione. Schooled in the use of painterly glazes and the sfumato technique developed by Leonardo, he could render the body with tender sensuality, and landscapes with a poetic naturalism. While Michelangelo's paintings were carefully planned in advance, Sebastiano took a freer approach, often making quite significant compositional changes once a painting was underway.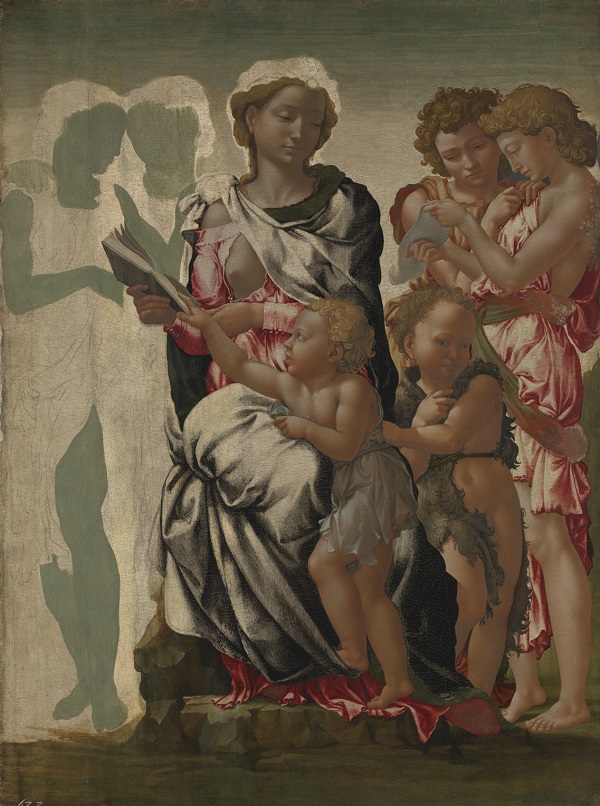 The examples of Michelangelo's painting on display here give a sense of his dilemma: he was stuck in the era of egg tempera, a problem that really started to bite when Raphael arrived in Rome (pictured left: Michelangelo, The Manchester Madonna, c.1497). Ever the schemer, Michelangelo realised that an alliance with Sebastiano would allow him to compete successfully with Raphael, who was enjoying the high point of his career, lauded as the most accomplished and versatile artist in Rome.
Their first collaboration combines the best of both artists in an innovative Pietà, about 1512-16 (main picture), commissioned for a family chapel in the church of San Francesco in Viterbo and based on a drawing by Michelangelo. While conventional representations of the Lamentation place Christ in his mother's arms, here they are separated, adding a strange intensity to the Virgin's grief, and emphasising its Eucharistic significance by positioning Christ's body so that it would have seemed to rest on the church's altar.
Sebastiano's sensual depiction of Christ's body against a desolate nocturnal landscape, itself an innovation from Venice, adds a stirring emotional depth that seems actively to gain power from Michelangelo's restrained composition. Unusually, the back of this wonderful painting is open to view, charcoal drawings by both Michelangelo and Sebastiano offering a beguiling glimpse of these two men working side by side.
Born out of pragmatism, theirs was a highly successful collaboration that grew into a long-lasting friendship. Their relationship was forged in oil paint, and there is a certain symmetry in their eventual falling out, apparently over whether oil or fresco should be used for the Sistine Chapel Last Judgement. According to Vasari, Michelangelo said that oil painting was "for women and for idle and lazy people like Sebastiano", and he remained hostile even after Sebastiano's death in 1547.
For all Michelangelo's facility with line, he was at a disadvantage when it came to the new medium of oil paint
rating
Share this article