Natalia Goncharova, Tate Modern review - a prodigious talent |

reviews, news & interviews
Natalia Goncharova, Tate Modern review - a prodigious talent
Natalia Goncharova, Tate Modern review - a prodigious talent
Russian painter is overwhelming in her range and diversity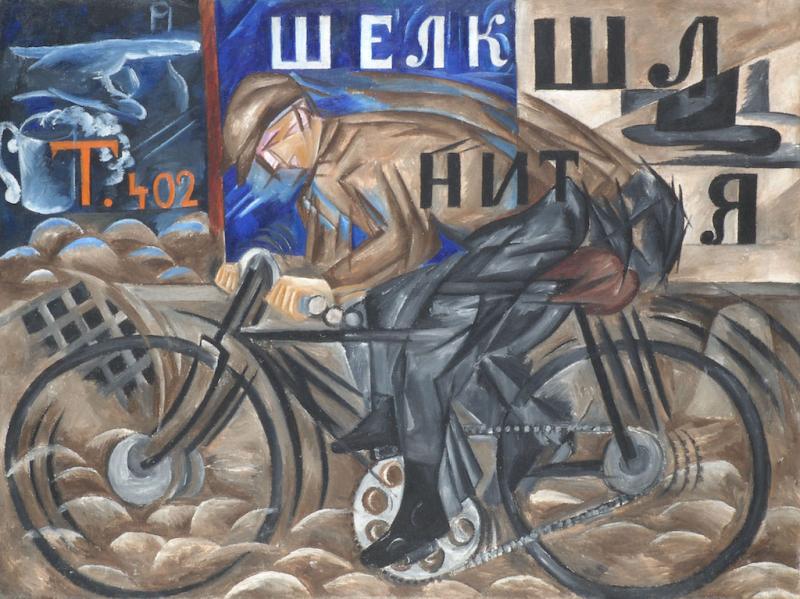 The Cyclist,1913 by Natalia Goncharova
The times they are a-changin'. On show at the Barbican is a retrospective of Lee Krasner's stunning paintings and, for the first time ever, Tate Modern is hosting two major shows of women artists. At last, the achievements of great women are being acknowledged and celebrated.
Russian artist Natalia Goncharova was both a trailblazer and a powerhouse of creative energy. 1913 was the year she took Moscow by storm. The first avant-garde artist to be given a retrospective at the Mikhailova Art Salon, she was determined to make a big impression. The exhibition was hugely ambitious – nearly 800 paintings, prints, drawings and designs were on show – and it was a great success.
From the start, it was a media sensation. A street parade of artists, their faces painted by Goncharova in zigzag Futurist patterns, got the ball rolling. Then came the scandal; several paintings of female nudes were seized by police on the grounds of indecency, and the inclusion of religious imagery painted by a woman in a modernist style was equally controversial. Later, when the exhibition toured to St Petersburg, the religious pictures were also impounded by the censors. Meanwhile, though, an amazing 12,000 Muscovites visited the exhibition and the catalogue had to be reprinted twice.
Tate Modern has not been able to recapture any of the razzmatazz – no photos or footage of Goncharova's performance are included – but they have reunited a good cross-section of the paintings that were on display. The artists was 32 at the time, and saw the exhibition as a chance to emphasise the diversity of her output. On show were paintings in Impressionist, Post-Impressionist, Expressionist and Cubo-Futurist styles, but all with a distinctly Russian flavour (pictured above right: Self-Portait with Yellow Lilies, 1908)
Goncharova's unique talent was to absorb the influences of artists such as Cézanne, Picasso, Derain and Gauguin, whose work she saw in the collections of rich industrialists like Ivan Morozov and Sergei Shchukin, but make them her own. Also in those collections were traditional arts and crafts – Russian icons, embroideries, popular prints or luboks, tin tray paintings and painted furniture and farm implements. They informed Goncharova's artistic language as much as recent European art, since they were familiar to her from childhood.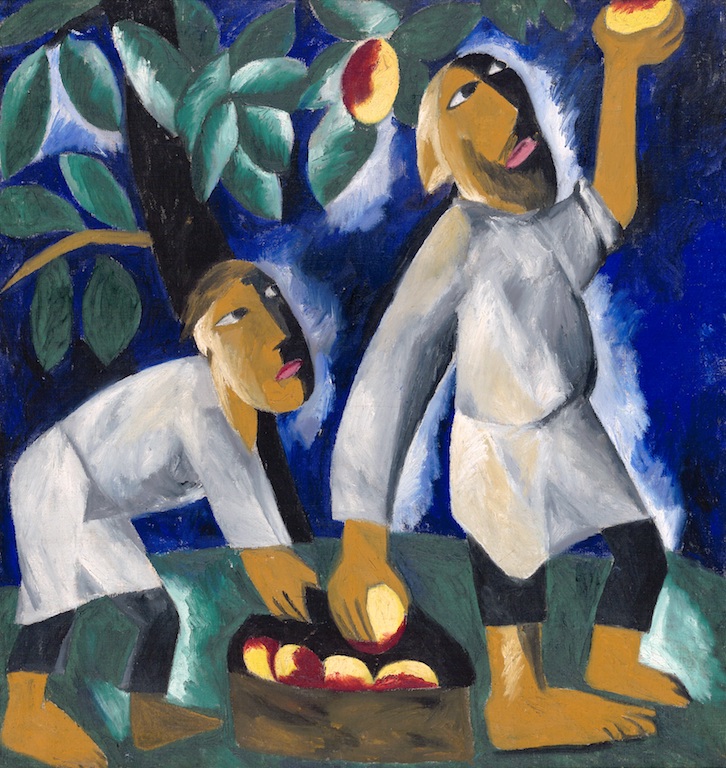 She was born into a family of aristocrats whose wealth came from the textiles produced on the estate. But hard times hit and the family moved to Moscow when Goncharova was 11. As an art student, she often returned to their estate in Tula Province and was reminded once more of the colourful artefacts which filled the peasants' houses. She painted a woman in peasant dress and, in 1907, portrayed herself in traditional costume. She painted the workers cutting hay, harvesting apples and grapes, doing laundry and washing textiles in the estate pond.
And just as Picasso borrowed the angular forms of African masks, so Goncharova took inspiration from the stone carvings of the Scythians, nomads who wandered the steps of southern Siberia in pre-Christian times. The mask-like faces and simplified shapes of Peasants Picking Apples, 1911 (pictured above left), are an amalgam of ancient and modern, of Cubist and Scythian influences. The combination led to the near-abstraction of Peasants Gathering Grapes, 1913. The harsh angularity of the figures is reminiscent of the Vorticism of David Bomberg, who was to dedicate a series of paintings to the Ballet Russes for whom Goncharova designed many sets and costumes.
She was one of the first to embrace abstraction. Bathers, 1922, is a triumphant series of bone-like forms – part organic, part industrial – which interlock like jigsaw pieces. The overlapping shapes and patterns of Void, 1913, and Electric Ornament, 1914, are an evocation of the energy fields invoked by Italian Futurists to encapsulate the dynamism of modern life. But the Italians stopped short of pure abstraction and shied away from the organic forms she employed so, once again, she made the idea her own.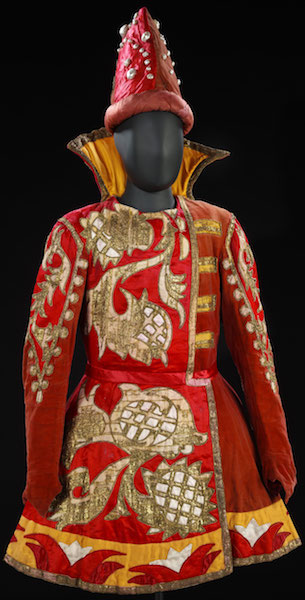 Goncharova was a magpie taking ideas from anywhere and everywhere. She made paintings inspired by the decorations on tin trays, the needlework of folk embroideries and the biblical imagery featured in luboks. And she painted religious icons, a genre traditionally reserved for men. The four Evangelists, 1911, combine the simplified forms of Scythian carvings with the slender elongation of the figures in icon paintings. Her combination of ancient and modern languages reaches its apogee in a series of designs made in 1915 for Liturgy, a religious drama choreographed by Léonide Massine with music by Igor Stravinsky. The production was never realised, but Goncharova published her designs as a set of prints that brilliantly fuse the angularity of Byzantine iconography with the shafts of energy associated both with Futurism and Rayonism, a style developed by Goncharova and her partner, Mikhail Larionov.
She didn't restrict herself to Rayonism any more than to the other styles she borrowed from, though. Her restless shifts in style and embrace of so many different media and genres makes it hard to get a handle on her prodigious output. Alongside painting, she designed books and posters for fellow artists and poets and clothing, embroideries and textiles for fashion houses in Moscow and Paris. Most importantly, she worked for Diaghilev designing sets and costumes for the Ballet Russes. The first commission, for Le Coq d'or in 1914, came in response to her 1913 exhibition. The production travelled to London and won international acclaim. In 1915, she and Larionov went on tour with the Ballet Russes and, unable to return to Russia because of the Revolution, the couple settled in Paris where Goncharova remained until her death in 1962, painting and designing until the very end (pictured above right: costume design for the Prince in Rimsky-Korsakov's opera Sadko, 1916).
Tate Modern has made a heroic stab at encompassing her vast output, but Natalia Goncharova still seems elusive. Her paintings never quite fit the boxes one tries to put them in; one minute she looks like an Impressionist, the next a Futurist (main picture: Cyclist 1913), an abstract painter or a religious mystic (pictured above: Harvest Angels Throwing Stones on the City, 1911) yet her work always feels rather exotic and very Russian. Everything she did was fully realised and extremely powerful, yet because she was such a chameleon, the artist somehow evades one's grasp and remains slippery and enigmatic to the last.
Goncharova was a magpie taking ideas from anywhere and everywhere and making them her own
rating
Share this article