The new V&A Photography Centre review - a new museum to make us proud |

reviews, news & interviews
The new V&A Photography Centre review - a new museum to make us proud
The new V&A Photography Centre review - a new museum to make us proud
'Collecting Photography: From Daguerreotype to Digital' launches the V&A's latest project
Thomas Ruff, 'Tripe_01 (Amerapoora. Mohdee Kyoung)', C-type print, 2018
Prints of all kinds; the first small wooden camera invented by Fox Talbot that made the negative positive process possible; Box Brownies and hundreds of other cameras from then until now. All that is just for starters in the V&A's new, fully-fledged, mini museum of photography.
From the late 1820s when the fixing of an image observed through a lens on a light sensitive surface was invented, through evolving cameras, lenses, and chemical processes to now, when digital – not to mention the iphone and the selfie – is seemingly dominating the agenda.
Thus the small, meditative final gallery shows us Penelope Umbrico's 56-minute, delicately beautiful video projected onto the Light Wall, a new space for digital and screen-based photography. Her images, appearing and dissolving, show us 171 clouds from paintings by over 50 artists from the V&A's holdings. Here too is Hiroshi Sugimoto's 2009 cameraless photograph (Pictured below right), where in his studio he rather dangerously generated electricity sparking onto a metal table, creating a visual capture of a fearsome streak of manipulated lightning.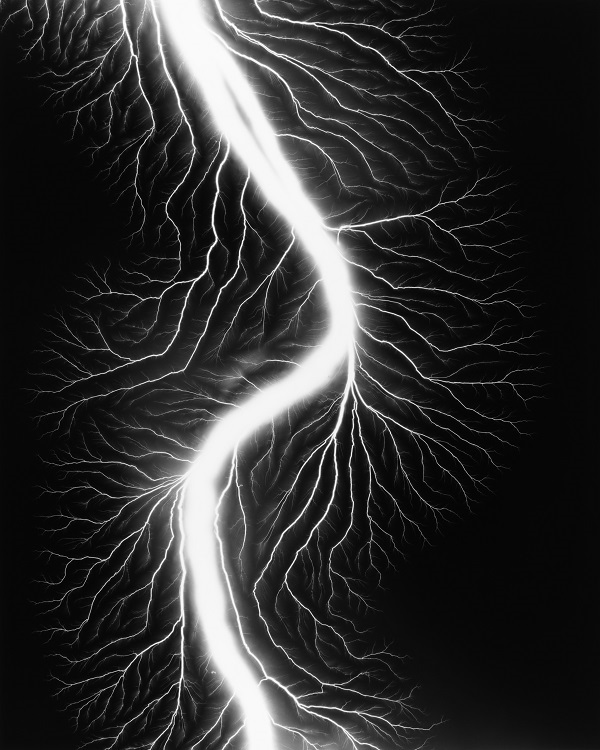 The main galleries show us a huge array not only of photographs, but in strangely surreal arrays, hundreds of cameras themselves, not to mention Victorian stereoscopes allowing photographs to be seen in three dimensions (precursors of virtual reality headsets), and photomagazines and publications.
On view is a roll call of the familiar and the unfamiliar, united only by interest and quality. Here is Eugène Atget (1857-1927), whose superb photographs of Paris, its architecture, its shops and decorated buildings, were acquired in the early 20th century as documentation but are now considered art, showing too how attitudes to photography and photographers have changed. And next a cluster of Thirties photographs of staff and visitors in the V&A by Emil Otto Hoppé (1878-1972): fur-coated ladies bringing in ceramics for assessment, a warder with a feather duster attending to a huge 16th century statue of the Greek hero Jason. Walker Evans (1903-1975), the photographer of the American Depression, was commissioned by New York's Museum of Modern Art to photograph its display of – as they called it then – African Negro Art.
There are those often classified as artists rather than photographers (and what is the difference?), like Cindy Sherman and Cornelia Parker and Nan Goldin's mesmerising studies of colourful outliers, unconventional drag artists and the like. These are just some of the 600 or so works and objects on view, chosen from the 800,000 at the V&A. It is an historic sweep few can emulate. Five specialist curators now look after what is one of the two or three greatest photography collections anywhere, and these new galleries form a fitting public framework.
To make the point of how the past may influence the present, the contemporary German photographer Thomas Ruff, commissioned by the V&A, has reimagined digitally the superb and large scale photographs – paper negatives - of India and Burma made by Captain Linnaeus Tripe in the mid 19th century, commissioned by the British East India Company (Main picture).
It has taken a while to get to this, though. The V&A was the first museum anywhere to collect photography, and In its early days had the equivalent of a photographer in residence, that eminent Victorian, Julia Margaret Cameron, who gifted some of her own work to the fledgling museum (Pictured left: Julia Margaret Cameron, Pomona, 1872). Thomas Cole, inventor among other things of the Penny Post, was the first head of the new museum, and a photographer himself. Yet, astonishingly, the V&A did not have a dedicated space to show photography until a rather meanly proportioned corridor was remodelled for the purpose in 1983, before digital was hardly a gleam in anyone's eye, and confirmed its first specialist, Mark Haworth Booth. To put this into context, New York's Museum of Modern Art founded in 1929 started collecting in 1933 and created its photography department in 1940 – and also created, curated by Edward Steichen in 1955, perhaps the best known photography exhibition ever, The Family of Man, which appropriately toured worldwide. Our own Tate started really late, its first specialist appointed in 2009 but with a lot of private financial backing is playing catch up in the contemporary, about 4000 photographs so far and Tate has also having just acquired Martin Parr's specialist collection of 12,000 photobooks. New York's Metropolitan Museum, founded in 1870, initiated a photography department only in 1992.
And now this Centre, really a new museum within a museum to make us proud, has opened, housed in the beautifully detailed and magnificently restored first floor 19th century galleries, home more than a century ago to student competitions with ceiling high murals portraying in high minded fashion various artistic scenes. Now the walls are painted a deep blue or mustardy yellow backgrounds which in practice work brilliantly to enhance the photographs on view. Vitrines in the centre of the galleries show off other aspects of the collections and there are shelves and shelves of cameras, oddly surreal in appearance like an avant garde installation. Daniel Kohn Architects have made a space which is both awesome and comfortable; newly designed benches, themselves fine design objects and also comfortable, are thankfully ubiquitous, so it is also easy to take a pause to digest this feast. Evidently this is only Phase I: Phase II is scheduled for 2020. So stick around…
Five specialist curators now look after what is one of the two or three greatest photography collections anywhere
rating
Explore topics
Share this article