Points of Departure, Brighton Festival 2021 review - Ray Lee's harbour-based sound art impresses |

reviews, news & interviews
Points of Departure, Brighton Festival 2021 review - Ray Lee's harbour-based sound art impresses
Points of Departure, Brighton Festival 2021 review - Ray Lee's harbour-based sound art impresses
At Shoreham's working port, something strangely wonderful is happening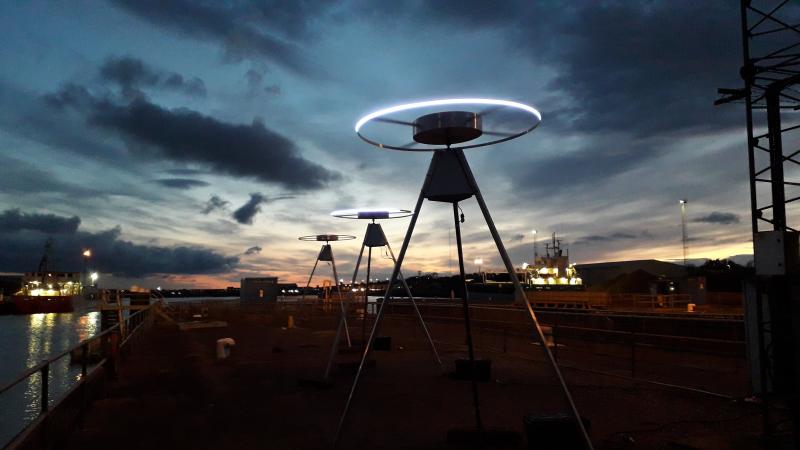 Flying saucer attack
They stand in a row, nine of them, in a long, strange corridor between rows of stacked, palleted, planked wood and the red brick wall of an endless warehouse. Nine tripods, each two humans high, with a spinning helicopter head, double-ended by conical horns that emanate a gentle angelic howling or lower end drone-hums.
Eyes closed
–
and being music-geeky about it
–
this carefully calibrated tonal concerto assails the ears somewhere between US mystic Laraaji's processed gong experiments and the final ethereal works of Spacemen 3.
But this is about the experience. Artist Ray Lee specialises in large-scale outdoor work that bridges installation art and bizarre musical gathering. All around, the public wanders, finally gathered, in itself a small miracle. The combination of alien strangeness and milling, masked people, amid Shoreham Harbour's industrial landscape, also recalls the cheap juxtapositions of old Doctor Who episodes.
Lee, an award-winning sound artist and a professor at Oxford Brookes University, makes work outside traditional venues because he says that then, "We stop being so governed by the protocols of these spaces, from the hushed silence of the concert hall to the studious reverence of the art gallery."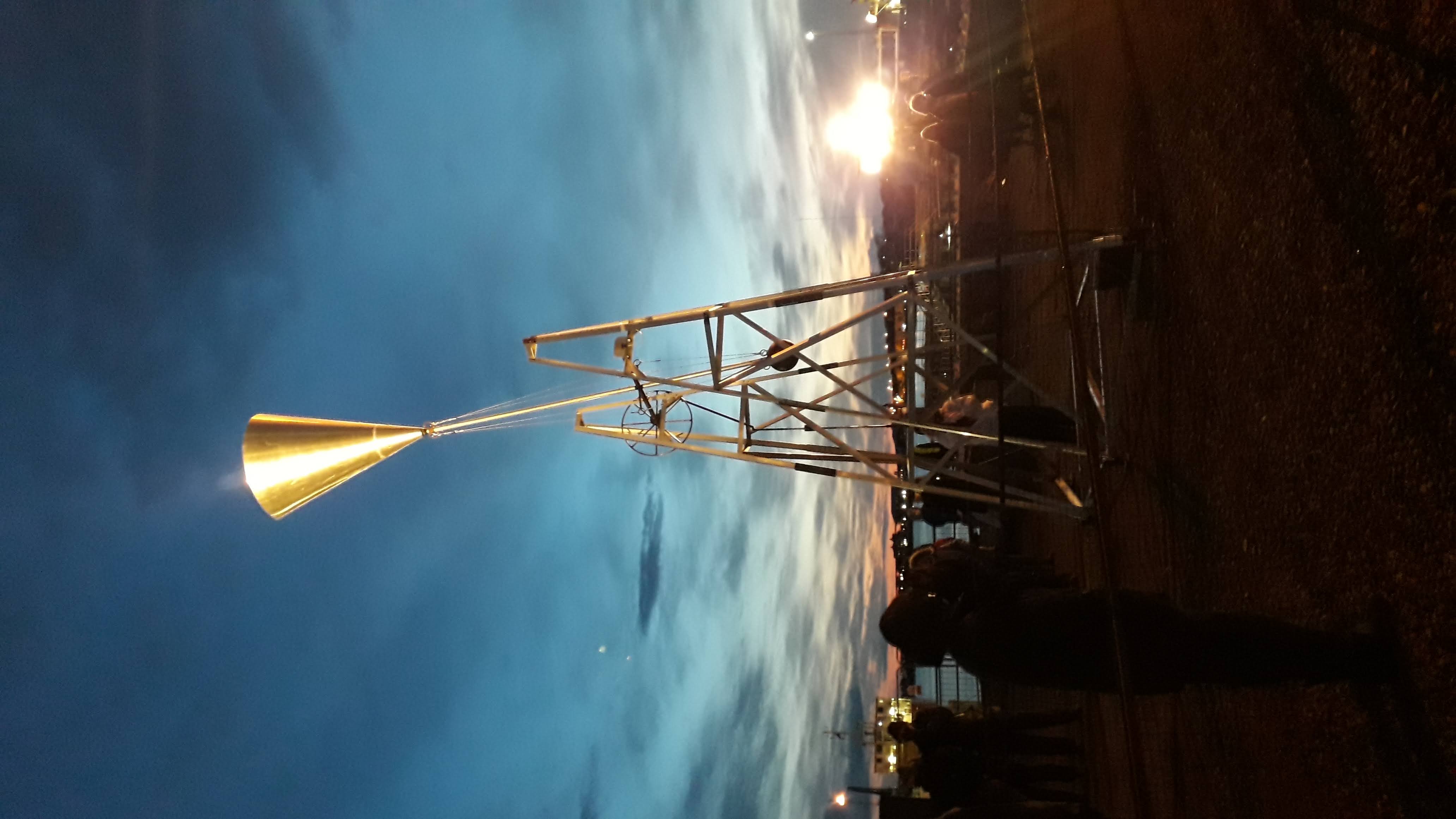 Points of Departure, here for the next couple of weeks, is a case in point. The experience begins before it begins as we make our way to its starting point, negotiating the labyrinthine paths across this working port. Caged in beside one lockway footbridge, we await as a giant scarlet-painted container ship, incongruously called Fast Herman, slowly slides along Southwick Shipping Canal, towering above us. A man in a fluorescent coat wanders its length with a sledgehammer, bodily whacking and clanking something-or-other. All very Einstürzende Neubauten.
The actual show takes place every half hour, after going through the usual dull COVID protocols. Led parties begin at the aforementioned tripod-copters, overseen by a shadowy team of flat-capped Fred Dibnahs, then we trail past a couple of golden-brown cabinets being jerkily tickled by the wiry arms of cuboid robots with LED antenna eyes. They make a noise that's part theremin, part keening whale.
Next up are five mechanised silver ducts, upended like cyclops-eyed periscope-snakes, heads swivelling as if to balefully view us, making sounds redolent of a minimalist demo for Mike Oldfield's Tubular Bells. The experience is novel and, especially after so long locked away at home, genuinely thrilling. Past a series of 2001: A Space Odyssey-style large silver monoliths we go, each with circular-revolving white lights patterning their sides, then two industrial edifices making gargling horror film alien noises.
The set-up feels like the tripod-copters are an opening suite, followed by a journey of thought-provoking snippets prior to a climactic send-off. And so it is. We pass one final canapé installation; scenically positioned spinning-plate flying saucers that you can see in the main picture at the top of this review, their sonic accompaniment akin to rubbed glass. Then we are shepherded into a larger area.
Six large pendulums are erected here, looking a little like Texas jack-pump oil "donkeys". Each has a silver conical horn at the end of its swinger (pictured left), operated by white-jacketed assistants via a hand-held pulley system. They are weirdly magnificent, their shadows cast on a nearby red brick wall, the dusk above a post-shower pink-yellow-grey. They give us a concert of whooshing 1950s sci-fi film noises smudged together into something more, eventually segueing, as they start looping the loop rather than simply swinging, into a bell-like Aphex Twin-ian suite.
Looking around, Pretentious-Me notes that this whole experience is the living dream of Italian futurist Luigi Russolo, who, at the start of the 20th century, fantasised – and even built – noise machines to create music for the violent new industrial age. Yet Points of Departure is heady and thoughtful rather than aggressive, and Less-Pretentious-Me is most overwhelmed when, at the end, everyone applauds. Applause! Human beings gathered together doing that! It's been a long time. Here's to much more of it! Brighton Festival are to be applauded for putting this year's events together against almost impossible odds.
The experience is novel and, especially after so long locked away at home, genuinely thrilling
rating
Explore topics
Share this article