Prunella Clough, Annely Juda |

reviews, news & interviews
Prunella Clough, Annely Juda
Prunella Clough, Annely Juda
A strange, elusive and haunting overview of an underappreciated postwar original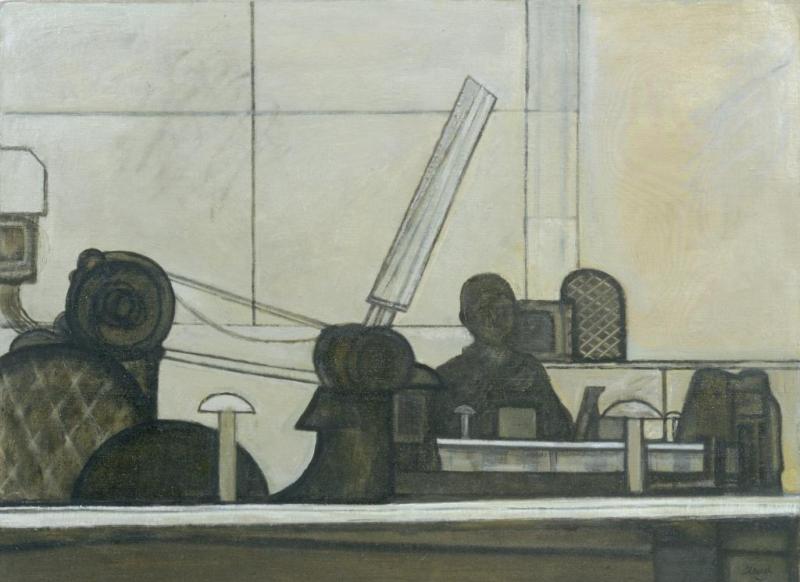 'Man With Printing Press' (1953)
Prunella Clough, 1919–1999, was one of the most idiosyncratic and original British artists of the postwar period. Her art is reticent, shy, subtle - yet in both life and aesthetics she was a free and generous spirit. Now there is a fine selection of works large and small, but all domestic in size, on view in the West End, marking the publication of a magisterial new biography by Frances Spalding.
Although Clough has been widely exhibited her art remains curiously unknown and unappreciated on a wider scale. Her peer group, including the postwar Neo-Romantics, have been positively scrutinised both critically and commercially. Yet she has remained a footnote, which makes this gentle show of modest works particularly important.

Her paintings here are strange, elusive and haunting. Scraps of forms that are recognisable as landscape, sky, architectural details and plants of all kinds are set free to float in textured fields of dappled, textured colour. They are creative echoes of her more straightforward early work, which were meditations on recognisable if generalised cityscapes and industrial constructions. There are a few from that period in the show, including Man with a Printing Press, and Factory Interior (Wool Carding Shop) in which a range of greys suggest a host of mechanical shapes acting out their own narratives with human help.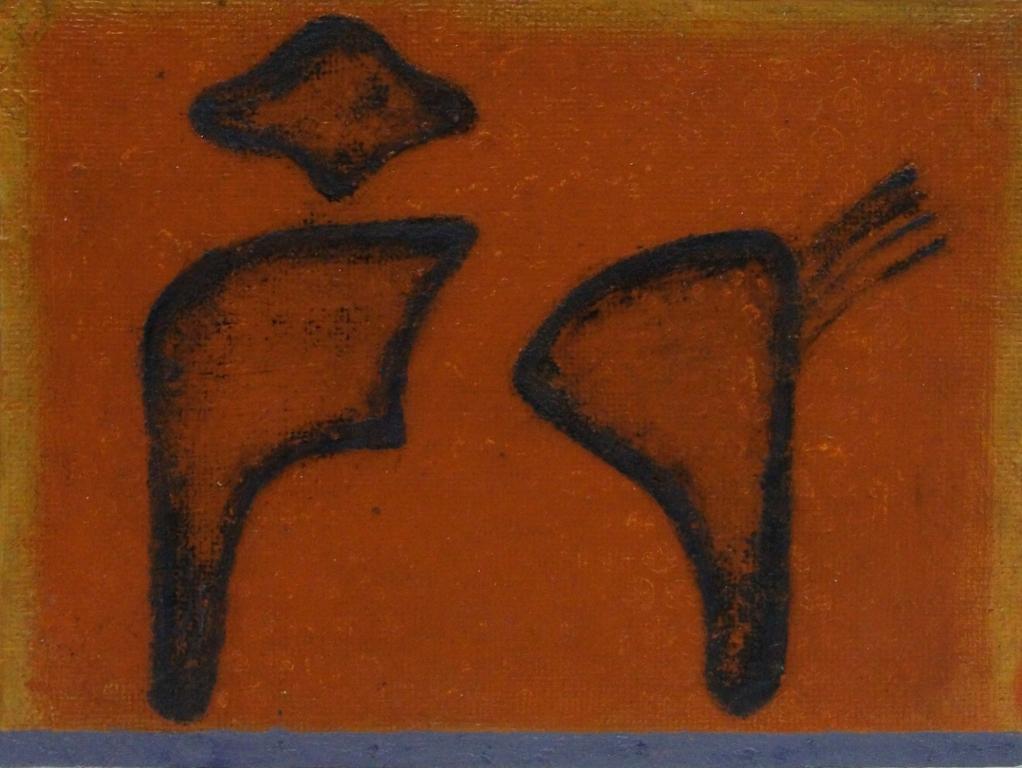 Mostly, though, what is on view is a sequence of paintings, reliefs, drawings and collages dating from the 1970s on when remnants of the recognisable interweave with dream-like gossamer shapes or the solidity of architectural fragments. As her various titles often suggest, her unusual imagination fastened on observed details: leaves, skulls, gateways to cloud formations, mechanical scraps. Widget, oil on board (pictured above), outlines in greys two disparate characters, setting them against subtle oranges to make up a whole whose purpose remains tantalisingly mysterious.

Windswept is a flow of red dots scurrying over denser reds, suggestive of a landscape tossed about by invisible winds. Artificial Flower is an exuberant spray of stems against a gridded background; Succulent, mixed media and collage, is a plump, smug and possibly preening plant shape, an entity that is very well nourished. Her imagery is apparently benign, though with many there is a little frisson of unease. She disarms us to tease us.
Flight Path (pictured left) is typically Clough: quite a grand little composition in which the blue outline of a plane flies under heaped up cloud banks, mysteriously irradiated by horizontal streaks of yellow, echoing somehow the improbable feeling of being up there in the sky with things that are never visible from below. It contains a hint of exhilaration - and, yes, unease - and of motion and movement paradoxically transfixed.
Reproductions of Cloughs make everything seem a little flat; in reality the layering of paint, the unexpected collage, the hardly visible texturing of surfaces makes each piece endlessly fascinating, even oddly hypnotic. Each piece seems to contain even more than you see, somehow very politely but firmly insisting that appropriate attention be paid. It is a peculiarly gratifying exhibition, these small and strangely beautiful abstracts packing quite a terrific emotional punch.
Her imagery is apparently benign, though with many there is a little frisson of unease. She disarms us to tease us
rating
Explore topics
Share this article