Rachel Whiteread: Internal Objects, Gagosian Gallery review - apocalyptic sheds |

reviews, news & interviews
Rachel Whiteread: Internal Objects, Gagosian Gallery review - apocalyptic sheds
Rachel Whiteread: Internal Objects, Gagosian Gallery review - apocalyptic sheds
A triumphant change of direction from the queen of casting
'Poltergeist' by Rachel Whiteread
Sheds have flourished in lockdown: they've always been places to escape to and in the past year, when spruced up as home offices, even more so. They're also emblems of isolation.
Poltergeist
(
main picture
) and
Doppelganger
, the works that dominate
Internal Objects
,
Rachel Whiteread
's powerful and moving new show at the Gagosian Gallery, imply isolation and are a vision of sheds destroyed, broken apart
–
structures that speak of a post-apocalyptic, unpeopled world. No home offices there.
These are not her typical inside-out interiors cast in concrete, resin or steel, negative spaces such as Detached 1, 2 and 3, the three concrete garden sheds that were shown at the Gagosian in 2013. There she "mummified the air" as she did in Ghost, 1990, a cast of a living-room in a Victorian House in Archway Road; in House, the famously controversial concrete cast of a whole terraced house in Bow for which she won the 1993 Turner prize; and in the Judenplatz Holocaust Memorial in Vienna, 2000. These new sheds are open to the elements, constructed, not cast. Quite a departure.
She started building Poltergeist before the pandemic, using rotten wood which she covered in resin, rusted corrugated iron, metal, vegetation; Doppelganger (pictured below) followed. Some of the materials came from two old sheds in Norfolk, some – Whiteread has always been a scavenger – from skips and bags of lathe thrown out by housing associations. Everything is unified by 15 layers of white household paint, giving the works an unearthly, dazzling quality, as if frozen in time – a bit like our lives in the pandemic.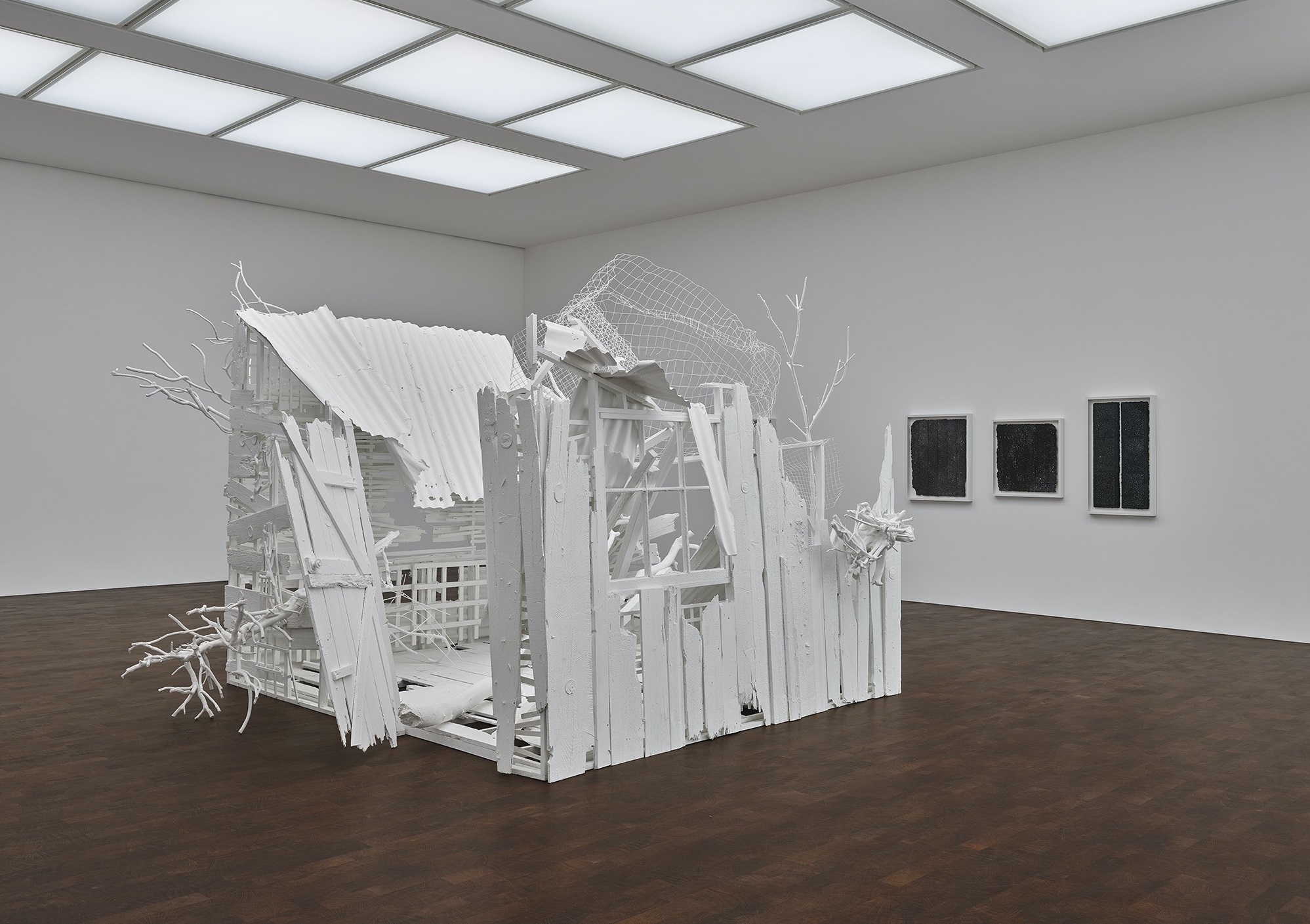 Poltergeist, which stands in the centre of the first room, has a partly intact roof and a ruined doorway with a board across, its latch-hook hanging uselessly. Doppelganger is a more of a blasted heath, though the door is whole, jutting off the side at a crazy angle, its knob a reminder of civilisation. Wire mesh floats above and below. Branches have fallen through, as if after a tornado or some catastrophic event perhaps brought about by climate change, and reach out at the viewer. The structures speak of a world that's been tilted, as ours has been.
There's a feeling of trauma, perhaps comparable to the Smithson's post-war Patio and Pavilion in This is Tomorrow, the Whitechapel exhibition of 1956, which was itself a reaction to the trauma of war and the nuclear bomb and which had an end-of-days, fragile, Beckettian feel. And Géricault's Raft of the Medusa, Whiteread says, is up on her studio wall as a touchstone.
You're reminded of her series of "shy sculptures", as she calls them, which include cast cabins in remote locations – she's said that the journey to visit the work is as important as the sculptures themselves – in Norfolk, Norway, the Mojave desert and Governors Island, New York, where a sealed, pale grey concrete cabin, constructed in 2016, looks out over the New York harbour to where the Twin Towers stood.
Poltergeist and Doppelganger dominate the show, but the works on the walls have an austere, minimal beauty. At the entrance, two coloured pieces – the brightest you'll find here – point the way: Untitled (Corrugated blue), 2017, and its red counterpart, made of silver lead and papier-mache, are almost flag-like, the blue ripped at its corner. In the first room, what look like flattened cardboard boxes are in fact bronzes, some hand-painted a pale pink, some yellow, faintly embossed with patterns that have an Agnes Martin-esque, grid-like subtlety. And on a wall that leads into the second room are a series of eight haunting black and white works featuring what look like tangles of wire: fences, walls, enclosures come to mind. Untitled (Pinboard), 2019, is cast from a bulletin board in which, when you look closely, you see that blank pieces of paper are pinned to it: a negation again.
Whiteread has said that when casting she needs to be clear in her mind, right from the start, about what the end result is going to be, while construction is much more flexible. Happily, she has both languages at her disposal.
These new sheds are open to the elements, constructed, not cast. Quite a departure
rating
Explore topics
Share this article