Space Shifters, Hayward Gallery review - seeing is not always believing |

reviews, news & interviews
Space Shifters, Hayward Gallery review - seeing is not always believing
Space Shifters, Hayward Gallery review - seeing is not always believing
Sculptures that trick the eye and gladden the heart
Friday, 28 September 2018
Sky Mirror, Blue, 2016 by Anish Kapoor
There are some wonderful things in Space Shifters, the Hayward Gallery's autumn exhibition. The selection of work plays with one's perceptions of space and everything in it.
You look through, round or over these
sculptures
and
installations
rather than at them, since they direct attention more to the act of seeing than to the work itself. Some date back many years and are as inspiring as the day they were made, but others have been eclipsed by their many offspring.
Richard Wilson's 20:50 was on display in London almost continuously from 1991, when it was installed at Charles Saatchi's Gallery in St John's Wood, until 2015 when it was finally dismantled in his Chelsea gallery. That's 24 years; surely we've seen enough of it, then? Not a bit of it. The lake of black oil mirrors its environment to magical effect, but in Chelsea visitors were not allowed to enter the walkway that takes you to the heart of the installation and were deprived of the full dizzying experience.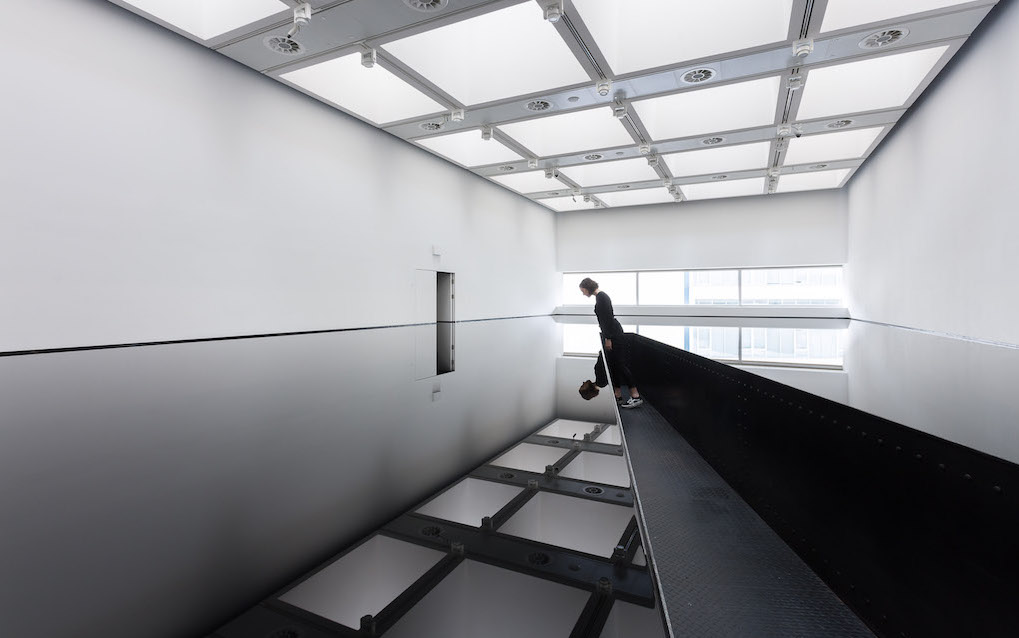 Here you can venture out into what feels like infinite space (Pictured above). Those who suffer from vertigo be warned; you look down into a perfect reflection of the skylights overhead and feel as alone as if you were standing on an Olympic diving board metres up in the air. These are some of the most exhilarating moments you are likely to spend in the presence of contemporary art, so grit your teeth and queue.
Other pieces have lasted less well. Its hard to remember why the work of American minimalists like Robert Irwin, John McCracken and Fred Eversley once seemed so refreshing. Larry Bell's large scale installation, Standing Walls has also been recreated. Walking between the elegant grey and clear glass panels is still a poetic experience, but since it was first shown in 1969, so many artists have built installations inspired by it that the idea now feels decidedly jaded.
To avoid that sense of déja vu you have to be as good as Polish artist, Alicja Kwade. Finding your way around her installation WeltenLinie (pictured below) makes you feel like a child negotiating its first steps. Rocks and tree trunks are arranged in interconnecting rooms as elegantly as if this were a zen garden. Black frames delineate the spaces, but while some are empty and allow you to step through them, others are filled with mirrors. The objects are often doubled, but while some of these twins are reflections, others are facsimiles. And to confuse one's sense of reality even further, some of the rocks are stone and the tree trunks wood, but others are made from bronze, aluminium, rusted iron or fossilised wood. Reality is played off against its virtual and artificial counterparts In a sophisticated game that is pure pleasure to encounter.
Yayoi Kusama's Narcissus Garden, 1966 (Pictured above right) could have been equally inspiring had it been properly installed. Arranged in a walk-through space divided by a pathway, her glistening steel balls become little more than decorative asides. To achieve the full, mesmerising effect described by the artist as "infinity, self-obliteration and compulsive repetition", they need to fill the space completely and thereby rob one of any sense of scale or dimension. De Wain Valentine's Gray Column has also been compromised. A slender wedge of dark grey resin that rises out of the floor, it is surrounded by rope barriers that produce banal reflections and kill the mystery of its misty surface.
Nothing could destroy the beauty of Ann Veronica Janssens' Magic Mirrors. Two sheets of shattered safety glass rest against the wall, sandwiched between clear glass and a polythene film that filters out certain colours. Most pleasing is the discrepancy between their physical simplicity and their visual complexity. The surfaces glow with an opalescent shimmer that, in reflecting the rest of the room, constantly shifts between green and magenta or bronze and turquoise and casts yellow and purple shadows on the wall behind. Meanwhile, looping across the nearby wall is a red plastic bannister by Polish artist Monika Sosnowska. Having crept up the stairs by entwining itself round the brass handrail, it explodes into the upper gallery to resemble a scalextric track seriously scrambled in an earthquake.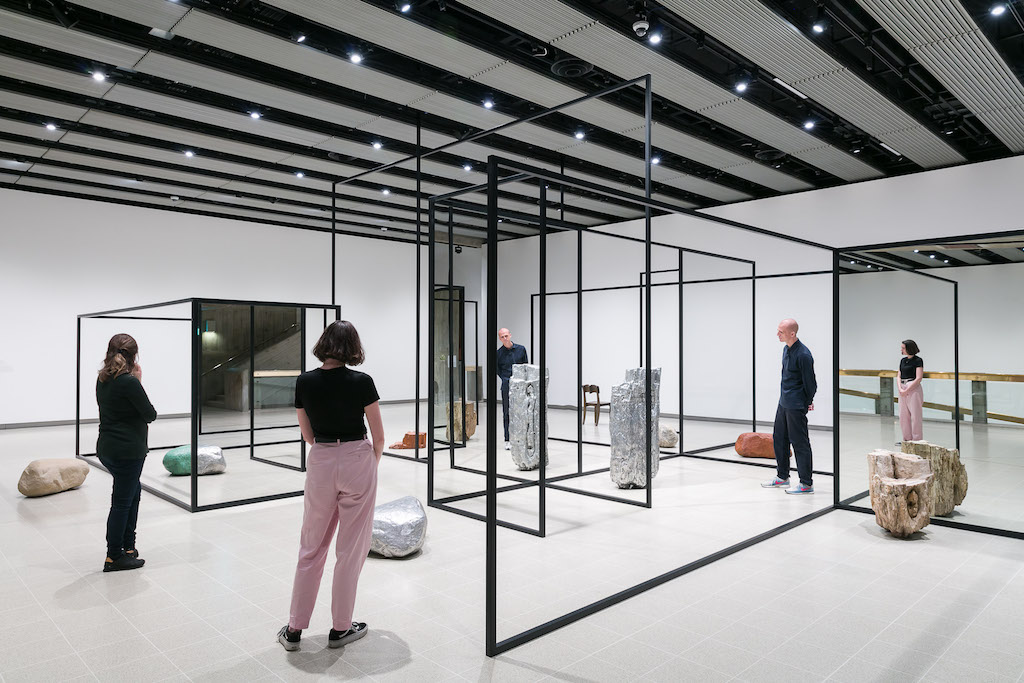 I've never much liked Anish Kapoor's mirror sculptures; they distort the space around them in much the same way as fairground mirrors and, to me, this has always seemed like a cheap trick; but at the Hayward I had a conversion. Installed on the terrace overlooking Waterloo Bridge, Sky Mirror, 2016 (main picture) transforms the view. Against the dull monochrome of the concrete National Theatre and the rigid geometry of the glass and steel office blocks behind, the bright blue bowl appears like a glowing alien being. Its vivid colour makes even a blue sky look unhealthily pale. Reversing everything it reflects, the convex disc brings the sky down to earth and elevates the gallery roof so the skylights are silhoutted like a row of jagged teeth above the orb of the sun. And such is its intensity that the sculpture casts a blue light onto the interior walls of the gallery, bringing the outside in, as it were. Marvellous!
These are some of the most exhilarating moments you are likely to spend in the presence of contemporary art
rating
Explore topics
Share this article