Wilhelmina Barns-Graham: Paths to Abstraction, Hatton Gallery, Newcastle review - secret worlds revealed |

reviews, news & interviews
Wilhelmina Barns-Graham: Paths to Abstraction, Hatton Gallery, Newcastle review - secret worlds revealed
Wilhelmina Barns-Graham: Paths to Abstraction, Hatton Gallery, Newcastle review - secret worlds revealed
A journey of artistic and personal discovery like no other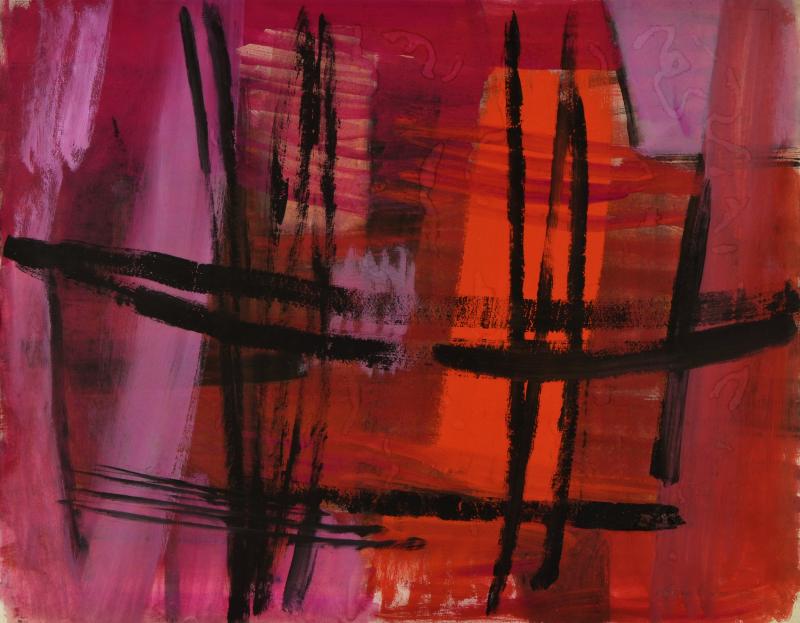 Wilhelmina Barns-Graham, 'Pink and Flame', 1958
A small cottage vanishes into a surrounding bay, its walls apparitional against pale waters. In the background, a pier juts out into the ocean, equidistant to sea-green hills and a brown strip of land. The tide gently meets the shoreline, white on blue-grey wash. All is quiet, all is still, as nature slowly erodes every last trace of man.
This is Wilhelmina Barns-Graham's White Cottage, Cornwall, 1944, one of the earliest works from her residence in St Ives. Though representational and naturalistic in style, White Cottage, Cornwall, captures Barns-Graham's gradual turn towards a more abstract vocabulary, one that prioritised the forms, shapes and structures of the natural landscape over any realist depiction or scene. It is this transition into abstraction and a more intuitive employment of colour, that the latest exhibition, Wilhelmina Barns-Graham: Paths to Abstraction, charts. Moving from the late 1930s to the early 1970s, the Hatton Gallery takes us on a journey of artistic and personal discovery like no other.
And actual journeys play no small part in Barns-Graham's evolving style and approach to painting. From Scotland to Cornwall, Switzerland to Italy, France to Spain, travel and all the experiences (meetings with Giacometti, Brancusi and Arp) it afforded during the post-war years opened up new internal and external vistas from which Barns-Graham could range and explore her artistic practise. Departing from the flat planes of brown, teal and green in White Cottage, Cornwall, Barns-Graham went on to capture the sublime inner caverns of ice-blue glaciers in Switzerland. Initially drawing the striations of these icy sheets with the exactitude of an architect and the poetry of a romantic writer, Barns-Graham began to figure the enormity, grandeur and grand sensibility of the Grindelwald Glacier in impressionistic sweeps of gouache and oil. In End of the Glacier Upper Grindelwald, c.1950 (pictured below) , she gives us a sense of enclosure, rather than surface; of hidden depths and recesses rather than glittering light-strewn strands of snow. Taking us into glacial cliffs, rock faces and mountainous regions, she opens up their secret interior and ulterior worlds for all to see.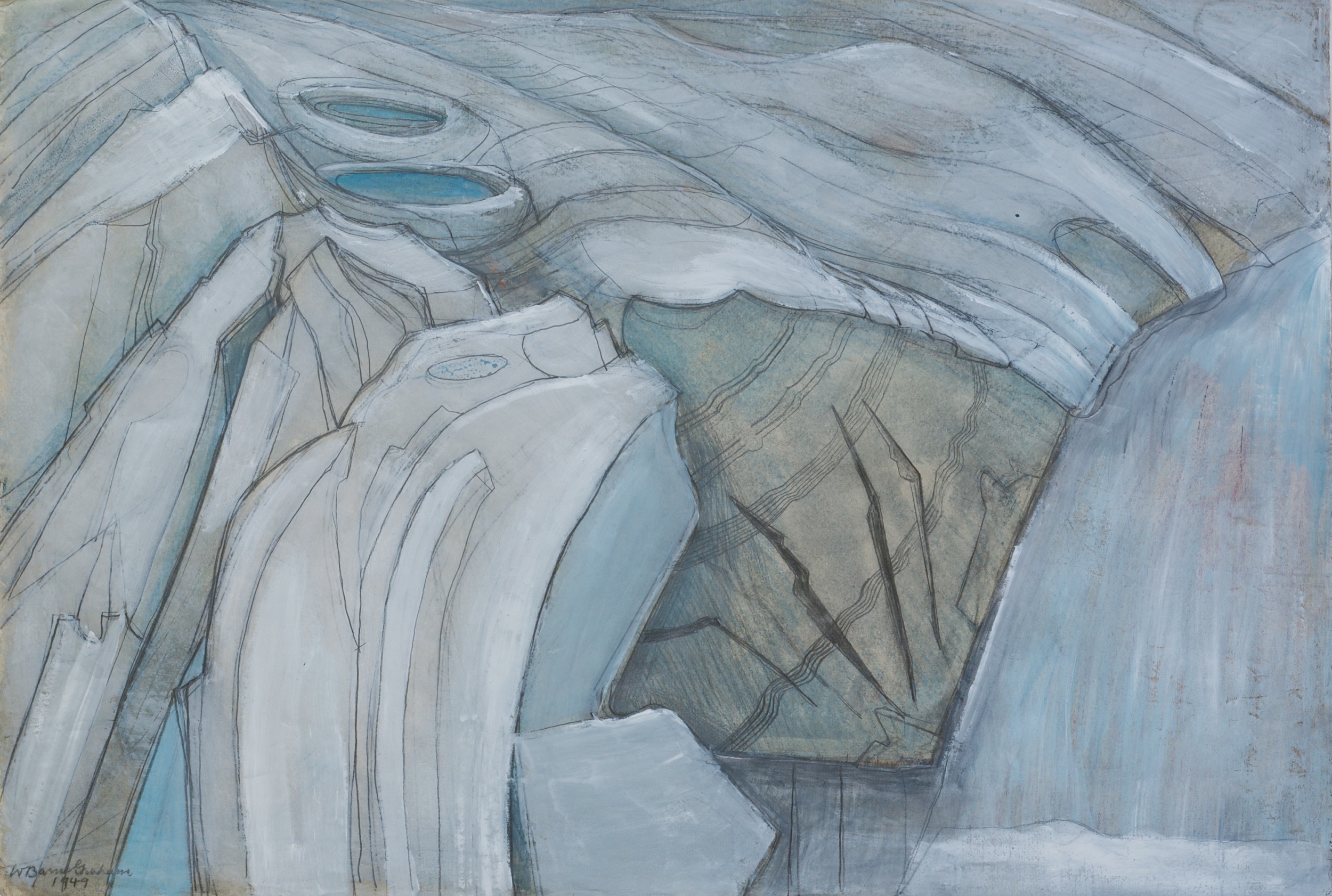 Making the invisible visible, the unseen seen, wasn't only restricted to abstract depictions of nature. In the beautifully curated third room, "Seeing Red", we see how this fertile period of freedom, independence and immersion in nature enabled Barns-Graham to forge a new language with which to explore her own interiority. Thus in "Seeing Red", diminutive studies of domestic interiors, such as Red Table, 1952 (pictured below), with hexagonal forms of vermillion imitative of the former rock paintings, hang adjacent to emotive works like Pink and Flame, 1958 (main picture), and the monumentally moving Red Painting, 1957. Here, the passionate brushwork and dramatic mark-making in these abstract works evince signs of Barns-Graham using painting to process complex emotions brought about by life at this time (the breakdown of her marriage, being a woman in a male-dominated art world), and show the possibilities that working with a more vibrant palette offered.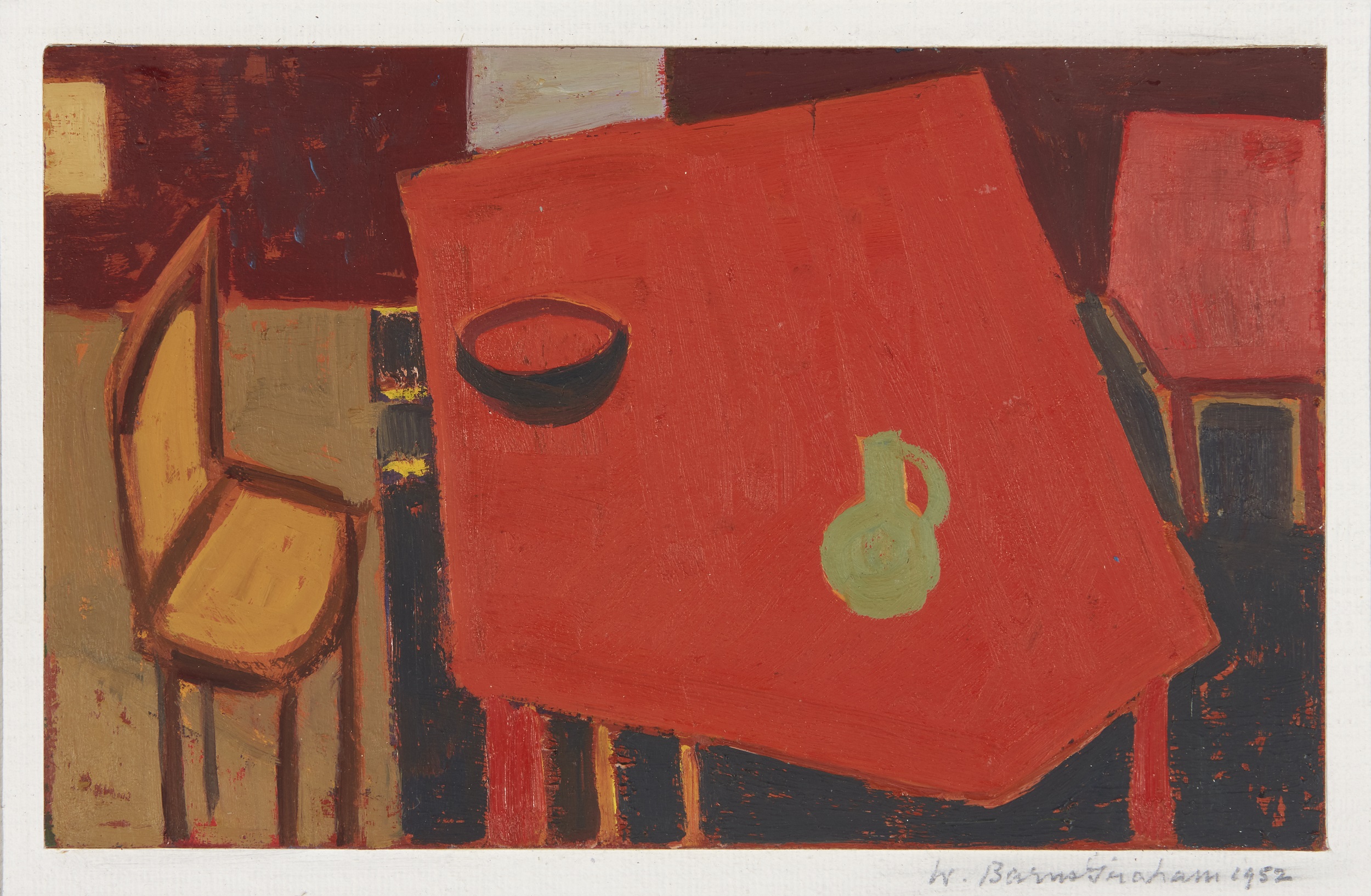 It is colour, therefore, that reigns supreme in the final room, where large canvases explode in shades and squares of red, blue, yellow and orange. Embracing her synaesthesia and continuing to find inspiration in the processes and formations of nature, Barns-Graham painted works bursting with feeling as much as the mathematical and philosophical thought that underpinned some of her compositions. In Cinders, 1964, squares of burnished black, orange and red blaze against a cadmium background. Sizzling hot in shades of red, the painting hums with a raw emotion beyond the chaos theory that partly inspired her Things of a Kind in Order and Disorder Series, 1960s. That same depth of feeling expressed through a synesthetic sense of colour is seen in Dance of the Thermals, 1964, where black squares mesh within a deep abyss of blue. Washing over the viewer, Dance of the Thermals entrances as much as it subdues and soothes. Just as travelling had granted Barns-Graham a certain levity and liberty with forms she'd not enjoyed in her earlier residency in St Ives, the colour-strewn circle and square paintings of the Sixties and Seventies marked a new beginning in the artist's practice, one that would usher in the equally stunning abstract works of her later years.
Wilhelmina Barns-Graham: Paths to Abstraction is at the Hatton Gallery, Newcastle from 11 February to 20 May 2023
Taking us into glacial cliffs, rock faces and mountainous regions, she opens up their secret interior and ulterior worlds for all to see
rating
Explore topics
Share this article