Michael Caine: Blowing the Bloody Doors Off review - an actor's handbook, annotated by experience |

reviews, news & interviews
Michael Caine: Blowing the Bloody Doors Off review - an actor's handbook, annotated by experience
Michael Caine: Blowing the Bloody Doors Off review - an actor's handbook, annotated by experience
'And Other Lessons in Life' from the Grand Old Man of the British screen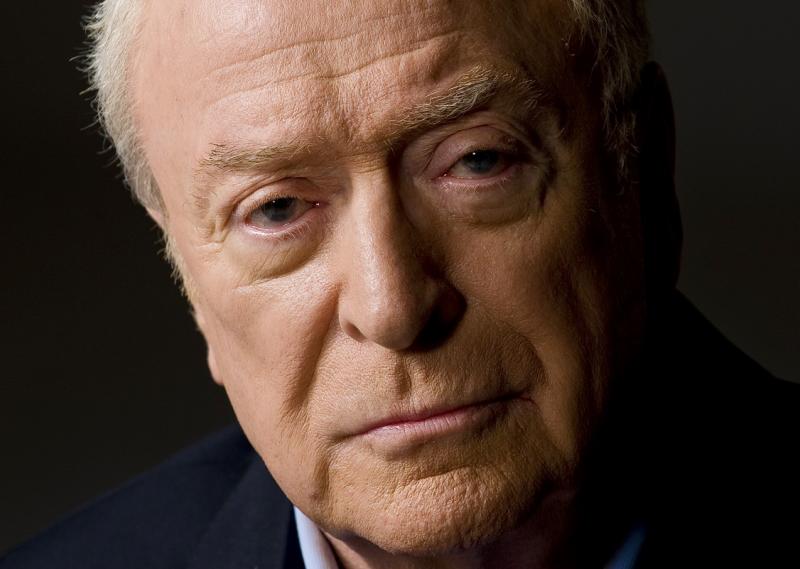 'Success meant obsessively buying absurd amounts of aftershave'
What a charmer! An irresistible combination of diffidence and confidence, Michael Caine is so much more than Alfie, and this surprising book, his second after a delightful autobiography, is multi-layered, filled with tips for acting, on stage and screen. The title comes, of course, from the memorable cock-up in The Italian Job: as the little white van explodes totally, Caine with impeccable timing – and a delightful scowl – reminds his hapless colleague that, "You're only supposed to blow the bloody doors off."
Subtly it reminds the reader that too much can be, well, too much. That is, in some ways, the theme of this how-to book: immense preparation for roles in life as well as art meant only using what you have to get the job done. As this Cockney has been acting for 65 years and often refers to the bedrock of his family life, a self-confessed stable and loving multi-cultural marriage – his wife is Muslim – since 1973, he has a lot of material on which to draw.
Embedded here is the actor's handbook of various techniques and methods for doing his job as he sees it, alongside many an encounter… Just after his success with Alfie, on his very first visit to the United States, he was in the lobby of the Beverley Hills Hotel, when a helicopter landed (illegally) on the lawn. Who stepped out, calm as anything? John Wayne, of course, who greeted the awestruck Caine with words of advice and encouragement. The superstar told the newbie that he is "gonna be a star, kid. But if you want to stay on, remember this: talk low, talk slow, and don't say too much." Great advice, thought Caine – for a cowboy star, but not for one who had all sorts of different roles coming up, wanted to stay with feet firmly planted on the ground, and had (as we learn later) a very problematic relationship with horses. Years later he visited Wayne, then in hospital dying from cancer, and he did take the final advice from that impeccably brave man: get the hell out of here, and go and have a bloody good time.
When starting out, Caine did ask older actors for advice, and they all told him just to give up. Caine's top mentor, though, turns out to have be Jack Nicholson, who persuaded him not to retire, but turn himself from a movie star to a character actor: the star changes the script to suit himself, the actor changes himself to suit the script. In the course of this absorbing narrative, he lays out for the reader many a success and many of what, in his view, have been disastrous failures, but which have been just as valuable in many ways.
He acknowledges with pleasure the inescapable role of luck, but also points out the crucially important corollary, of proper preparation. Whilst luck is essential, the landscape of being a success in acting is not so different from any other area – personal and professional balance, dealing with difficult people, and the ways in which life is always some kind of audition, putting yourself out there for what you want.
You are, Caine reminds us, always performing - yet he can say this as a basic rule without the reader ever doubting his sincerity and authenticity
But this is not a self-help book, rather a trip through Caine's personal landscape, including coming up from the working classes, when that was staggeringly exceptional. His mother was a charlady, and as a boy his nutrition was so bad he had rickets, but he was saved by the paradox of mandatory improved nutrition during the war. Finally after the war, when he was 12, came prefab housing with an indoor toilet, a first for the family (and all this within living memory!). Caine, self-confessedly terrible with money unabashedly did love success, and reminds us that being horribly poor also meant never having enough money to keep yourself and your clothes clean. When finances began to come right, success meant obsessively buying absurd amounts of aftershave, as well as houses for all his family.
He left school at 16; menial jobs followed, then National Service and deployment to Korea where he saw active service. But he had already found the professional love of his life, acting, through a youth club, and the teaching he needed from the cinema and the local library. By the age of 30 he had acted all around the country, and auditioned some 800 times.
He recommends thinking of all of daily life as an audition – a kind of "bread on the waters" from being civil to the receptionist, the cashier, the barista, the crew, whoever you come in contact with. He quotes his much-admired mother, who treated all alike and refused to be introduced to a world-famous actress because at one of her son's star-studded parties, she noticed this particular celeb ignoring all those she regarded as of no importance. Such consideration – although never spelled out – is enlightened self-interest.
His painstaking working methods are quite staggering; learning all the script before he turns up – and not learning what the other actors are going to say, so he can react freshly as though having a conversation. On location he does not like to stay in his trailer but is out and about. He gives tips on how to look at the camera, and techniques to neatly upstage others (if desired). You are, Caine reminds us, always performing – yet he can say this as a basic rule without the reader ever doubting his sincerity and authenticity.
This is a romp of a read, like Caine himself entertaining yet serious and truthful, as unpretentious as a star can be. He is hilarious about the upsides of stardom: he managed to pass his driving test in Los Angeles because the inspector was a fan. About the downsides, too: he has avoided buying a yacht (advice from David Bowie), having an entourage, and living too much in a bubble, because his success came relatively late, after a long apprenticeship. We are entertained all the way on his journey to a working philosophy of just getting on with it, while making sure you are as meticulously prepared as you can be. The book needs an index, though, to trace all the tricks of the trade, and those who revealed them.
Blow the Bloody Doors Off by Michael Caine (Hodder and Stoughton, £20)