Francis Spufford: Light Perpetual review - time regained |

reviews, news & interviews
Francis Spufford: Light Perpetual review - time regained
Francis Spufford: Light Perpetual review - time regained
A visionary novel of postwar London restores life to the victims of war
Tuesday, 02 February 2021
Our back pages: Francis Spufford
On 25 November 1944, a German V2 rocket struck the Woolworths store in New Cross at Saturday lunchtime. It killed 168 people. Francis Spufford's second novel begins with this "hairline crack" in existence; a mere nanosecond of high-explosive combustion, "measurably tiny, immeasurably vast". In a matter-dissolving flash, it closes the book of time for five of the small children in the shop.
What, Light Perpetual asks, if that particular V2 had not fallen there and then; if "some other version of the reel of time" had played, and that handful of kids had lived into "All the would-be's, might-be's, could-be's of the decades to come"? Set largely in the lightly fictionalised borough of "Bexford", a south-east London mash-up of sprawling estates, leafy suburban hills and teeming markets, the novel hands their time back to these children and watches closely what they do with it – and what it does with them.
Other recent fictions have summoned "the nagging ghosts of what might have been", whether the forking paths of a single character in Kate Atkinson's Life After Life or the parallel tracks of Paul Auster's quartet of New Jersey alter egos in 4321. Such high concepts need firm blueprints. Spufford's solution is to revisit his Valerie, Jo, Vernon, Alec and Ben at 15-year intervals, from primary-school days in 1949 up to their age of septuagenarian struggle or serenity (or both) in 2009. He composes his montage of moments via close-ups, freeze-frames and spotlit tableaux; a succession of episodes carved out from the flux of days, just like the lofted football arcing over The Den during a late-1940s Millwall match "like it has all the time in the world"; or the sudden sunrise that, half a century later, hits the topmost floors of a sparkling Docklands skyscraper, "a roar of brilliance pushing in over the gunmetal flats of the estuary".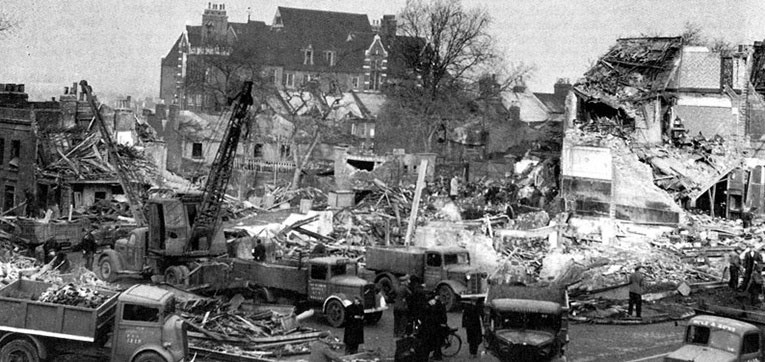 Spufford points to the elasticity of time behind our "rickety scaffolding of hours and minutes", and avoids a chronological trudge through these five connected lives. This lends Light Perpetual its element of streamlined Modernist architecture. However, within each scene his "arrangement of fragments" feels solidly traditional in its styling and furnishing. We get to know each character in action, through smartly choreographed and beautifully observed set-pieces – classrooms, parties, weddings, sermons, discos, fights. We follow the movements, private and public, that transform the people and their city while leaving much untouched in the messy aftermath of war (pictured above: the site of the New Cross V2 strike; The Woolworths Museum). We see how the "jumbled collage" of London mutates as old crafts die, new people arrive, fortunes rise and fall, with gentrification, immigration, deindustrialisation and every other postwar shift inscribed as part of the "shallow lithography" of change that succeeding decades score into the ancient clay. This is only an average-sized novel, but it casts an epic shadow.
As in real life, we periodically lose touch with Spufford's un-famous five, then meet again after a long gap. If these 15-year leaps present problems of continuity for an ensemble piece like this, they also let us grasp that the rhythms of time rap out syncopations and discontinuities as often as regular beats. People, like times, can change, and fast.
Alec, most thoughtful of the group, feels even the idea of home to be "a contrivance that only lasts a while". As cheekily whip-smart as his name, he becomes a Fleet Street compositor and union activist. But he loses his trade after the 1979 Times dispute heralds the advent of new media technology, retrains as a primary-school teacher, and thrives as a conscientious and enterprising head. Big, brash and dodgy Vernon goes into property development: he makes several packets (especially as posh, Saab-driving incomers upgrade run-down Georgian gems in "the wilderness of Bexford") but loses them again as booms and busts revolve. A secret, guilty passion for opera lets him float, on Maria Callas's or Joan Sutherland's voice, out of the diurnal round of time.
In a book richly filled with time-freezing, time-defying music of all genres, Jo graduates from backing singer in the Beat clubs of 1960s Soho to frustrated singer-songwriter in California, even a semi-celebrity as the Hollywood Hills muse of glam-rock megastar Ricky – another exiled Londoner. But she returns to Bexford, and to satisfaction (mingled with regret) in a music-teacher's job. Light Perpetual, from first to last, salutes both music and teaching as modes of everyday transcendence that may lift us out of time – like the high notes that shine in "rays of scarlet and gold" when Miss Turnbull coaxes Class 5 through the National Songbook in the war-battered Bexford of 1949.
The two other kids from Spufford's handful of imagined survivors find their paths through time strewn with deeper craters. Val, Jo's twin sister, sees her early bloom of Sixties glamour turn into a curse. She marries the gorgeous (and narcissistic) mod Mike but sees him age into a neo-Nazi skinhead godfather who will commit the book's worst act – and it is truly horrible. In this London, however, all tribes and patches eventually intersect ("the parts do mix"). Even the racist thuggery Mike instigates rests uneasily on a soundtrack of Jamaican ska – Black culture "on the quiet being loved". Later, Val overcomes her self-inflicted guilt as a sharp, savvy Samaritans volunteer.
Slight, scared Ben, meanwhile, loses half the life that chance has given him to psychological distress. Diagnosed as schizophrenic, first he endures the drug-induced "congealed" time of a 1960s asylum before working as a bus conductor prey to periodic spells of panic. Seized by unnameable terrors, he tramps "the house of himself". Then comes Marsha, a cafe-owning Nigerian widow, to redeem his time with a loving grace that lights up ordinary days, just as the pastor of her church – in a virtuoso sermon – sees the scruffy London pavements "shine like diamonds" under the divine gaze. Light Perpetual asks us to feel Marsha and Ben's gravity-defying love, sexual and spiritual, as a reality not just equal to, but greater than, the hate-filled – and self-hating – abyss where Mike and his sad gang dwell. Spufford takes a risk here, but he brings it off: a South London garden packed with a quarrelsome Nigerian-British family can become part of "a machine of bliss" that suspends time's deadly arrow for a while. Funnily enough, the clock in this moment stands at ten to three. And there is crispy spiced chicken still for tea.
Light Perpetual, with a title borrowed from a requiem prayer, has its metaphysical, or theological, overtones – it even closes with a sort of metropolitan psalm ("Praise him at Poundland: praise him at Harvey Nichols… Praise him at Pride: praise him at Carnival"). The dying Ben glimpses that the "accidental mass" of days and years granted him may settle, from some angle, into a "momentary order". Sometimes, Spufford brings us close not just to the William Blake who imagined throngs of angels dancing on the heights of Hampstead or Sydenham but to the mystic, elder TS Eliot (a Londoner by adoption) who saw "Time past and time future/ What might have been and what has been/ Point to one end, which is always present".
Mostly, though, this novel simply excels in the stop-time rapture of noticing, in detail, ordinary-extraordinary people and the things they make and do: Alec at his Linotype machine, directing a printer's ballet out of "noisy Victorian clockwork"; Vernon in his gluttonous prime at a country-house opera, wolfing down the "light/heavy mixture of the story" in The Marriage of Figaro along with the interval grub yet feeling a "mysterious alarm" of misery in his solitude; tortured, heroic Ben, collecting fares on the 36 bus (back in the conductor's day…) while his inner demons snarl and wait to pounce.
Here, as Marsha's pastor might put it, we have no abiding city. Light Perpetual deliberately leaves potholes and bomb-sites in its London landscape. As in life, some plot strands hang. A late crisis that grips Alec's granddaughter Vicky tears a hole "in the fabric of things", opening onto "a void of waste and disaster". The novel, life-like, refuses to close that gap. "Why this life and not the other?" asks Jo in 2009, still dreaming of "the music never recorded, the fame not gained". This life, though, is the only one the little shoppers in the New Cross Woolies in 1944 had – in this fiction, not outside it. So Spufford seeks to adorn it with beauty, and meaning, and shape. He does all that, and more. Light Perpetual gives back what history stole: the time of their lives.
Light Perpetual by Francis Spufford (Faber & Faber, £16.99)
Boyd Tonkin has been awarded the 2020 Benson Medal of the Royal Society of Literature
This is only an average-sized novel, but it casts an epic shadow
rating
Explore topics
Share this article