William Blake, Tate Britain - sympathy for the rebel |

reviews, news & interviews
William Blake, Tate Britain - sympathy for the rebel
William Blake, Tate Britain - sympathy for the rebel
Vast and satisfying show for a visionary and iconic artist
Sunday, 29 September 2019
Newton 1795-c. 1805
Poor Satan. Adam and Eve are loved-up, snogging on a flowery hillock and all he's got for company is a snake — an extension of himself no less, and where's the fun in monologues? Poor, poor Satan. He's a hunk too, if you don't mind blue. Coiffed hair and toned arms with a sexy sky slouch. Ever seen such a lovely lounger? Ever seen such a mournful moue? He's angel worthy of our pity, even if he is fallen.
But maybe Adam and Eve's bliss isn't all its cracked up to be. Isn't Adam's posture a touch douchy? Doesn't Eve look a bit uncomfortable stretching up to meet his lips? Why are their eyes open mid-kiss? Her expression is slightly fearful and his, positively hungry — an odd combination. And are they not about to slip off their bower?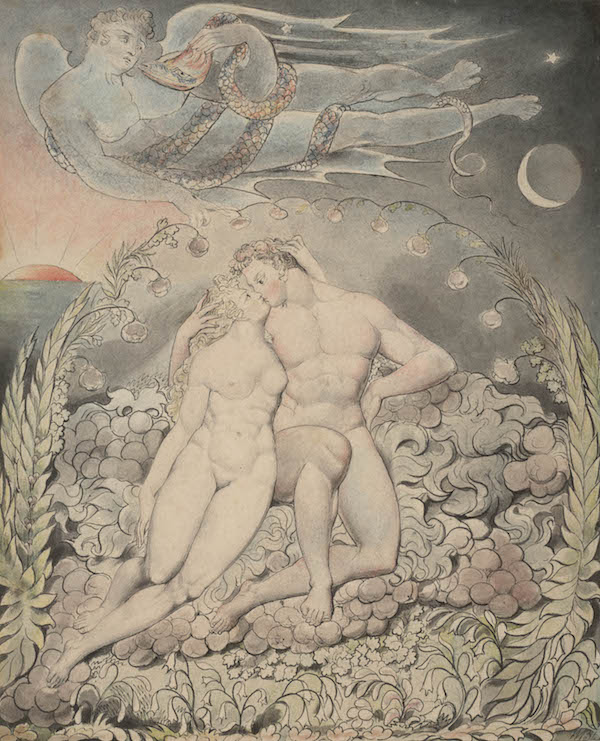 Much of the pleasure of William Blake's art derives from seeing things turned on their heads. Inverse, perverse or in verse, his unconventional images and writings were largely unrecognised for much of his lifetime. Now, his work's iconic. The Tate Britain's magnificent show of over 300 pieces manages a delicate balance. It celebrates his rebellious vision but firmly emphasises the context in which he was working. As a professional engraver, Blake relied on an inconstant stream of commissions which in turn funded the artistic endeavours for which he is best known. Like many artists, his oeuvre is split between what he did for money and what he did out of fervour (there is of course, much overlap too). He found recognition among a small number of influential people but he never attained the wild successes of his peers, such as sculptor John Flaxman. Consequently he depended upon formal and informal patronage for much of his life. That such a ferocious autodidact should have relied upon so many other people's good will and aesthetic preferences to fund and otherwise sustain both his professional and his artistic works remains an interesting quasi-paradox.
The vast exhibition, curated by Martin Myrone and Amy Concannon, treats Blake as "primarily a visual artist". But even those who find his poetry obscurantist or naïve must admit him to be profoundly literary. On show, separated into long sequences of individual pages, are Blake's illustrations for Dante's Divine Comedy, Edmund Spenser's The Faerie Queene, John Bunyan's The Pilgrim's Progress, and of course, Milton's Paradise Lost. Here, as elsewhere in the exhibition, a patient trail of visitors snakes along each series, their average pace implying looking rather than reading.
Yet without knowing these works, how would Blake have illustrated them — let alone dared fence with Milton's God? Text and image in his works take on similar aesthetic and procedural properties. The "infernal" printing method he invented in 1788 — which he called "illuminated printing" and now known as relief etching — allowed him to create words and images at the same time rather than by etching images and laying type separately. Visually, words and images bear striking resemblances to each other: the title of America, A Prophecy, 1793, sprouts leaves and vines, while the hand-written text of A Cradle Song, 1789, is almost indistinguishable from its marginal decoration. The page at which the lavishly decorated Night Thoughts, 1795, is opened shows how Blake's illustrations used space to convey sense; the images mirror the flow of words. The top of the page is shadowed with a darkly winged presence and begins "Where darkness, brooding o'er unfinished fates / With raven wing incumbent"; at the bottom, "Each friend by fate snatch'd from us," is tugged away by a swiftly flowing channel of water.
Arguably the most splendid example of this interaction between images and text are his illustrations for The Book of Job, 1828. Three of his 22 engravings are on display in the penultimate room of the enormous exhibition. The lines are crisp, the central illustrations compositionally daring, and the outer borders — which according to painter John Linnell were conceived and executed as a afterthought, directly onto the copper and without prior drafting — fluid. One plate, which illustrates God's rebuke to Job, is encircled with roundels and snatches of Genesis, as if annotating the subtext of God's argument. Another plate depicting Satan's ignominious dismissal is surrounded with twining snakes. In a third, the primary forces of land and sea, Leviathan and Behemoth, are depicted as variously comatose or in gasping pain, or spaced and clumpy — hardly the fearsome harbingers of the Apocalypse. Of course, this follows standard Biblical exegesis, but what doesn't is that Blake makes us feel sorry for these yoked beasts. As an apparently persecuted outsider, Blake identified strongly with Job. Given his depiction of these beasts, perhaps his sympathies lay with them too. They, like him, couldn't help what they are.
even those who find his poetry obscurantist or naïve must admit him to be profoundly literary
rating
Explore topics
Share this article