Batiashvili, Philadelphia Orchestra, Nézet-Séguin, Edinburgh International Festival 2022 review - classy playing, mismatched programme |

reviews, news & interviews
Batiashvili, Philadelphia Orchestra, Nézet-Séguin, Edinburgh International Festival 2022 review - classy playing, mismatched programme
Batiashvili, Philadelphia Orchestra, Nézet-Séguin, Edinburgh International Festival 2022 review - classy playing, mismatched programme
The magic of Karol Szymanowski casts two American composers in the shade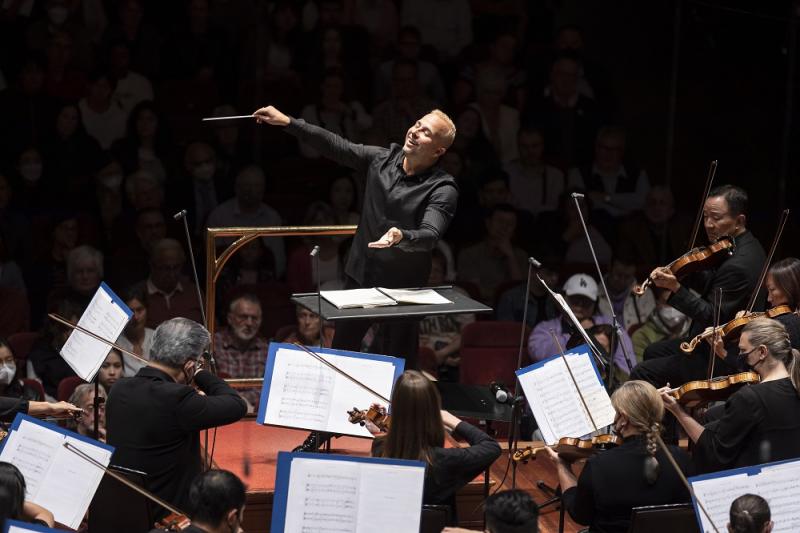 Yannick Nézet-Séguin conducting the Philadelphia Orchestra in the Usher Hall
For the penultimate concert in the Philadelphia Orchestra's residency at the Edinburgh Festival, the chosen repertoire was evidently considered so obscure that the box office managers didn't even try to sell any tickets in the Usher Hall's cavernous upper circle. To shut off nearly half the concert hall for a world class orchestra that has crossed the Atlantic shows either a healthy disregard for the fickleness of audience taste, or a near suicidal disinterest in box office revenue.
That, you could say, is what festivals are all about, an approach that might have found some justification in a more focused, albeit uncompromising programme. As it was, we witnessed the folksy populism of Gabriela Lena Frank and Florence Price being seriously outclassed by the European sophistication of Karol Szymanowski.
The concert opened with three movements from Leyendas: An Andean Walkabout by California-born Frank. This was written for string quartet in 2001 and arranged for string orchestra two years later. The programme notes explain how the writing is designed to evoke other instruments, specifically the giant toyo panpipe, the lightweight bamboo quena flute, and the high-pitched guitar-like charango. But a tight-knit body of 45 top class string players sound first and foremost like a string orchestra. True, you could pick out the breathy clicks and open harmonies of the toyo, in particular, from the rich string sound, but these three short pieces conveyed a sense of Andean exoticism comfortably enough without trying to be something else. The real question, though, was why chief conductor Yannick Nézet-Séguin chose to play only three movements of the original six – a decision that smacks of tokenism.
An abrupt change of gear, then, for Szymanowski's First Violin Concerto, composed in 1916. Dressed in a delicate fuchsia pink, soloist Lisa Batiashvili (pictured above with conductor and players) drifted onto a stage that had filled up reassuringly with piano, celesta, harps, banks of percussion and triple woodwind. This is a concerto of astonishing richness and complexity, a riot of exquisite harmony and piercing orchestration topped by a violin solo that swoops, swoons and slides over the orchestral backcloth with apparent ease. The cerebral introspection of Szymanowski's kaleidoscopic music is a world apart from Frank's picturesque Andean walkabout, and we finally heard this fabulous orchestra pushed by Nézet-Séguin to the limits of expression. Batiashvili made the most fiendishly unpredictable music sound relatively straightforward – against a full-blown tutti she never seemed either loud or harsh, but always perfectly audible, even when playing the most delicate harmonics at the upper end of the human audible spectrum. Even she needed a copy of the music to hand for the cadenza, just in case, as Szymanowski wrote a lot of notes, not always in the most comfortable order.
This orchestra has made something of a champion of Florence Price, a composer who fought to overcome the prejudices of race and gender. You could not expect to find a better or more committed performance of her Symphony No. 1, composed in 1932, than that we heard last night, but for all its Dvořákian amiability this is music that frequently sinks to the mundane and the repetitive. There are moments of pure unalloyed joy, such as the famous, and much-extracted, third movement "Juba Dance", but in the two opening movements the inspiration is thinly spread and the moments of sudden radiance all too often smothered by an inclination to bombast. But clearly the orchestra love this piece, and it was impossible in the end not to share some of their enthusiasm, even the work paled in contrast to what had gone before.
It was a concert of many encores – four to be precise – which were greeted with gradually increasing enthusiasm by a determined audience. A rapid stage reset after the Szymanowski allowed Batiashvili to play a wistful solo accompanied at the piano by Yannick Nézet-Séguin, followed by what sounded like a rumbustious Georgian dance for unaccompanied violin. After the symphony, the orchestra played a wistful string piece called Adoration, also by Florence Price, a gorgeous miniature which sounded as if it had started life as a piano solo. Finally, they dashed off a Brahms Hungarian Dance which was brilliant but only went to demonstrate what a good orchestrator Brahms was when he set his mind to it.
For all its Dvořákian amiability, Price's is music that frequently sinks to the mundane and the repetitive
rating
Share this article