Beatrice Rana, Wigmore Hall review - fantasy and sonority writ large |

reviews, news & interviews
Beatrice Rana, Wigmore Hall review - fantasy and sonority writ large
Beatrice Rana, Wigmore Hall review - fantasy and sonority writ large
Supremely imaginative pianism, though you sometimes wanted to turn the volume down
Saturday, 08 February 2020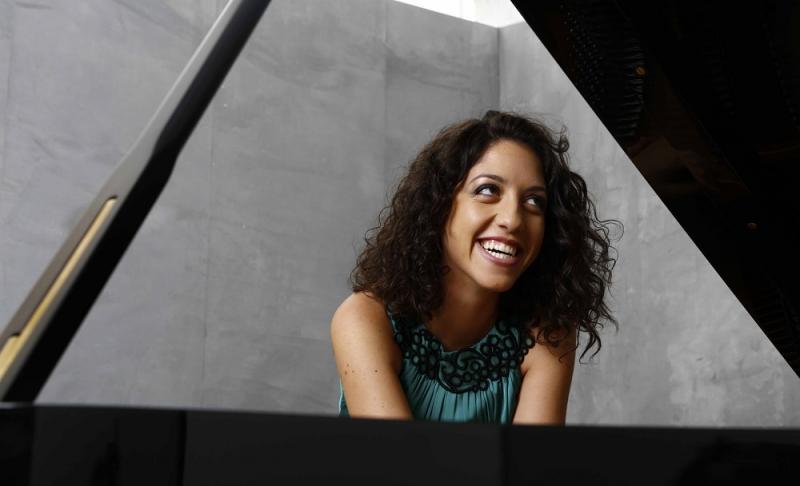 Beatrice Rana: calm posture at the keyboard belies the intensity of the sound
Not even the unengaged or terminally weary could have dozed through this. Pianists have often commented how the Wigmore Steinway is too big for the hall, and most adjust accordingly. Not 27-year-old Italian Beatrice Rana, but not in the bad way of interpreters who simply bash (there was a young Ukrainian here recently who did just that). If she needs to convey sonority at full pitch, she won't compromise; and her soft playing is equally compelling. The certainty of means to ends is unwavering, the calm upright posture at the keyboard somehow at odds with the massiveness she can convey.
Her Bach is proof that the composer is game for any instrument if the core musicality is there; grand-piano approach like this is as far from the harpsichord as it's possible to get. But like her stunning Goldberg Variations on CD, which for me has superseded Gould and stands alongside Jeremy Denk's, this "Italian" Concerto went straight to the meditative essence even in its brilliant start. Rana makes you listen more carefully to delayed endings like the seemingly infinite one at the end of the Andante.
There was a parallel in the troubled Quasi Variazioni: Andantino di Clara Wieck at the centre of Schumann's 1836-version F minor Sonata: a dying fall seemingly into infinity, a jolt - I physically jumped in my seat - with the loud start of the final repeated chords. Schumann's seemingly improvisatory fantasy was more startling than ever - you just don't expect to find the jaunty sequences minutes into the turbulent opening movement. Peace was not to come until the encore, the ultimate anchoring of his F sharp major Romance, Op. 28 No.2.
Just how cubist this was came across in stunningly articulated scene-paintingWe needed after the lurid discombobulations of the second half proper, best heard from the gallery to which I removed myself after the interval. Debussy's observation of Albéniz's "El Albaicin" in Iberia Book III, that "it's as if your eyes close because you are seeing too many images," might be taken as a motto of Rana's coruscating but still considered impact, though these pieces still feel a bit over-extended for their dance-inspirations; Albéniz and Rana sprung an especially delectable surprise in "Lavapiés", but the composer needs to wind it up sooner.
Give me the depth of Granados any day; his greatest numbers will be found in Roman Rabinovitch's Queen Elizabeth Hall recital next Tuesday, which coincidentally also ends with Stravinsky's Three Movements from Petrushka. A canny pairing with the urban sounds of the Spanish composers; this is St Petersburg street music in cubist style, with a psychotic interlude ("Petrushka's Room," the piano-oriented seed of the entire ballet). Just how cubist, and what a seminal work of unique piano writing in the 20th century, this was came across in stunningly articulated scene-painting on Rana's part, nothing in the swirling-crowd dances of the final Shrovetide Fair sequence unclear or lost in the melee. Phenomenal, and this time properly overwhelming.
Grand-piano approach to Bach like this is as far from the harpsichord as it's possible to get
rating
Explore topics
Share this article