Bevan, Padmore, Foster-Williams, LPO, Jurowski, RFH review - rural bliss |

reviews, news & interviews
Bevan, Padmore, Foster-Williams, LPO, Jurowski, RFH review - rural bliss
Bevan, Padmore, Foster-Williams, LPO, Jurowski, RFH review - rural bliss
A delightful escape to the country with Haydn's Seasons
Bucolic bounce: Vladimir Jurowski
Just as our brief, premature spring collapsed into the bluster of Storm Freya, the Enlightenment certainties of Haydn's more dependable cycle of nature blew into the Royal Festival Hall.
Perhaps because its lovely but (for the most part) serene music tends to occupy the sunlit uplands,
The Seasons
has never quite secured the automatic respect accorded to the cosmic and human drama of its immediate forerunner,
The Creation
. Sprinkled from first to last with imitative bird calls, hunting horns, babbling brooks, croaking frogs and an entire meteorology of weather-effects, the second great oratorio of Haydn's late-career swansong – premiered in 1801 – piles on the rustic charm in industrial proportions. No less an authority than Charles Rosen, however, rated it even above
The Creation
. Under the bright and (literally) bouncing direction of Vladimir Jurowski, the
London Philharmonic Orchestra
and Chorus made a hugely enjoyable and seductive case for
The Seasons
as part of their "Isle of Noises" series of works that owe their inspiration to the British Isles.
Marked from rustling spring to glacial winter by verve, crispness and clarity, Jurowski's conducting brought out the sparkling inventiveness of Haydn's music. His large forces never swamped the wit and cunning on display in every bar. Although not strictly a "period" version, neither did this reading drown Haydn's dexterity and geniality in a Victorian pea-souper of sound.
Jurowski had the huge advantage of a stellar trio of soloists: Sophie Bevan (pictured below), Mark Padmore and Andrew Foster-Williams. Pretty much vibrato-free, they sang Haydn's cast of archetypal peasants, who guide us through the changing phases of the year, with the sort of uncluttered candour and directness that the piece deserves. Padmore in particular absolutely shone (what a surprise!), sculpting his tenor countryman "Lucas" with subtle vocal emphases and variations into a character almost richer than the one that Haydn – or rather his librettist – penned. Jurowski opted for the English text – back-translated, notoriously clumsily, from Baron Gottfried van Swieten's German adaptation of a popular pastoral epic by then-fashionable Scottish poet James Thomson. This clod-hopping blank verse gives little help to the singers. Yet Bevan, as "Jane", and Foster-Williams's grizzled bass-baritone "Simon", also found true feeling in the music even when their texts subsided into corny platitudes.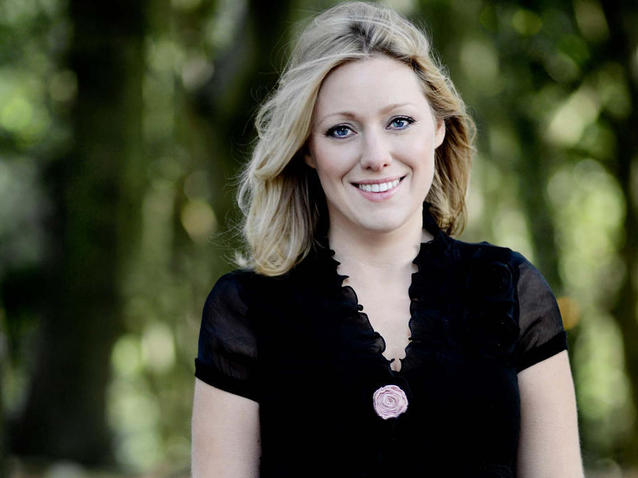 Conducted with unflagging alertness by Jurowski, the 90-strong LPO singers contributed a big-boned choral backdrop to Haydn's seasonal landscapes without ever forfeiting lucidity and cohesion. As in The Creation, the choruses here bear witness to the impact of Handel during Haydn's sojourns in London. They delivered some properly exhilarating coups: the "wonderful, powerful, merciful God" hymned as spring comes to a close; the ferociously-paced tipsy onrush of the autumnal drinking song ("Yo-ho, yo-ho! The wine is here..") or the magnificently full-bodied finale. It banishes winter as the choir divide and, from either side of the stage, together praise their creator in a stupendous, antiphonal farewell proving that Haydn could out-Messiah Messiah itself.
As for the orchestra, they extracted every drop of fun and colour to be had from the endless descriptive and atmospheric turns that punctuate the score. Jurowski retained enough clarity and balance throughout for every little instrumental skit to make its mark. From the outset, a first-rate trio of trombones (led by Mark Templeton) made their flavoursome presence felt. Three natural trumpets (with Paul Beniston as principal) matched them blow for blow. In the autumnal hunting scenes, the quartet of horns divided. Mark Vines led them through the accelerando excitement of the chase with bracing, not-too-refined flair. Haydn furnishes the woodwinds with enough cute birdsongs to tempt out an army of binocular-draped twitchers. Such moments call for delicacy as well as drollery; Sue Thomas's flute, Stewart McIlwham's piccolo and Ian Hardwick's oboe all kept adroitly on their perches.
The singers too grasped that Haydn in these mercurial moods requires a careful blend of naivety and sophistication – after all, the ploughboy in spring whistles a snatch of the composer's own "Surprise" symphony. The banalities of the text, though perfectly articulated throughout, can drag them down and make the whole work sag. Yet this trio must somehow incarnate both idealised Meissen figurines and flesh-and-blood rustics who till soil, pick fruit, milk beasts and get drunk. There's no denying that Haydn's drawn-out paeans to bucolic routine do lack the dramatic intensity of The Creation and so risk getting mired in an (albeit ravishing) prettiness; even the summer storm is a fairly decorous affair. But Padmore above all (pictured above by Marco Borggreve) enriched his phrasing with shades of colour that counteracted this sweetly becalmed mood: in the eerie mystery of his summer's dawn, for instance, or the way that his heatwave cavatina spun the "outstretch'd" cattle on a scorching windless day into sun-struck eternity. As the veteran rustic Simon, Foster-Williams added fewer "character" touches to his performance; but he sung with totally convincing warmth and focus, never better than in the wintry admonition to "misguided man" to set frivolity aside since "only virtue lasts".
Bevan, for her part, took each chance as they arose to make her Jane much more than a maidenly cipher. Her winter spinning song ("pure within and fair without") hints at a Schubertian darkness and melancholy; she nailed it with precision and sensitivity. It's a sign of Haydn's restless ingenuity that we then shift back into pastiche folk-song mode, almost Beggar's Opera-style, with her saucy tale a clever maid who turns the tables on a lustful squire, Again, as in the thunderstorm, real peril fails to break the spell of natural beauty and innate virtue. As feelgood pastoral jaunts go, however, The Seasons outshines all other escapes to the country. In summer, before those pizzicato raindrops start to patter, Bevan sang of "refreshment to the senses" and "comfort to the heart". Jurowski, his singers and the LPO harvested both kinds of pleasure in bulging sheaves.
Bevan's winter spinning song hints at a Schubertian darkness and melancholy
rating
Explore topics
Share this article