Bocheng Wang, Wigmore Hall review - extraordinary agility and technical fluidity |

reviews, news & interviews
Bocheng Wang, Wigmore Hall review - extraordinary agility and technical fluidity
Bocheng Wang, Wigmore Hall review - extraordinary agility and technical fluidity
A pianist who prides discipline over flashiness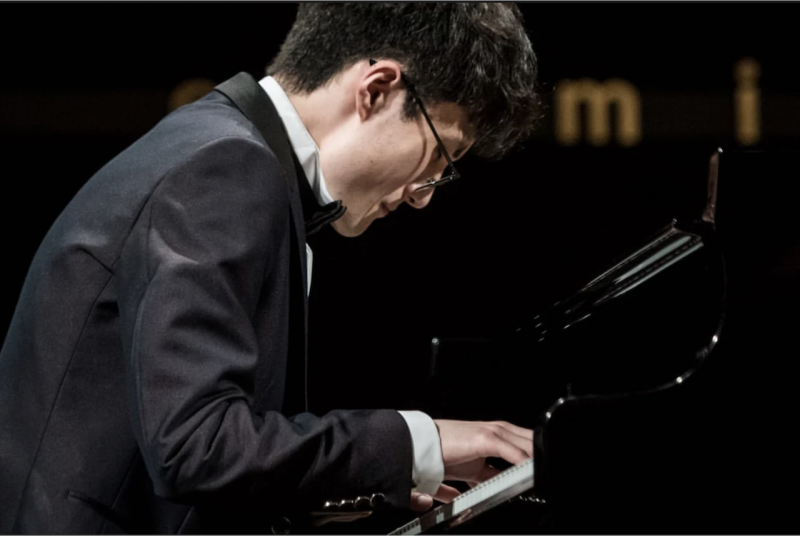 Rachmaninov had his doubts about his Variations on a Theme of Corelli. He confided to Medtner that when he performed them, "I was guided by the coughing of the audience. Whenever the coughing increased, I would skip the next variation. Whenever there was no coughing, I would play them in proper order."
There was no coughing during Bocheng Wang's technically fluid delivery of the variations at the Wigmore Hall. Each shift in mood was clearly delineated – from the sombre to the mischievous, from the gossamer light to the thunderous. Creatively the work may not have attained the heights that Rachmaninoff's Rhapsody on a Theme of Paganini would go on to do. Yet technically they are among the Russian's more demanding compositions and Wang – who is currently studying for his Advanced Diploma at the Royal Academy, promoting this series – dispatched them with deceptive ease.
He played the opening theme – which in fact was not by Corelli but was deployed in his Violin Sonata no. 12 – as slowly and deliberately as if he were trying to imprint each note onto the audience's brains. Then he shifted into the more animated first variation with a restraint that belied the fireworks that were to come. The impressiveness of what he was going to pull off became clear in the second variation, in which at points each hand has to sustain a tune along with an elaborate chromaticised accompaniment. It's the pianistic equivalent of a tongue-twister and – technically if not tonally – he made it sound like a walk in the park.
Wang is clearly a force to be reckoned with yet equally still has room to growThe thunder came quickly in the third variation, with a sonorous bass that was offset by more whimsical passages played in the piano's upper register. Wang really started to come into his own in Variations Four and Five – the latter, with its alternating big chords and staccato triplets is particularly demanding – and we started to get a sense of the true range of this exacting performer.
There are 20 variations in all – plus the statement of theme and the coda – and whatever Rachmaninov's reservations, you can feel the excitement of a composer exploring an intriguing range of voices. He composed them in 1931, when he was dividing his time between the US and Switzerland: sometimes it feels as if we're listening in on a haunting, at others to the jaunty accompaniment of a Laurel and Hardy movie.
Occasionally Wang's playing felt too restrained, but then he would play a passage with such mastery and drama that you could sense the stillness that comes when audience members have almost stopped breathing they're listening so closely. One of those moments came in the restatement of the theme in D flat major, which simultaneously brought everything back into focus and ushered in a more mellow section of the variations.
It's very clear that Wang is a pianist who prides discipline over flashiness, and this made the more tricky passages all the more impressive. In the enchanting 17th Variation in D minor, an agile left-hand accompaniment punctuated by triplets is augmented by a right-hand theme steeped in Russian melancholy, and he pulled this off with aplomb. In the 18th Variation we were on a galloping horse, then we were whirled into the wild tornado of the 19th. At the end of the 20th Variation he brought everything to a standstill with a Richter-scale-ranking deployment of Ds in the bass before dissolving into the exquisite melancholy of the coda.
It was a fantastic centrepiece to a concert that began with Bach's Italian Concerto, which – like his French Overture and Goldberg Variations - was initially composed specifically for a harpsichord with two manuals. This well-known piece presents an interesting challenge: it tips between passages that a Grade 6 piano student could easily master and passages that prefigure some of the more demanding Goldbergs. For Wang it was an opportunity to demonstrate his extraordinary agility and articulacy as a pianist. But the emotion felt underplayed: some of the cadences in the first movement lacked drama and in the final movement the woosh of joy that comes with the opening statement was too muted.
Any doubts, however, about this technically remarkable pianist were blasted away by his performance of three movements from Igor Stravinsky's Firebird Suite arranged by Guido Agosti. Agosti arranged them as a tribute to Busoni; they are simultaneously diabolic and a journey towards the outer limits of pianistic technique. At the outset if felt as if we were on a high-speed car chase – then suddenly there were metallic raindrops followed by thunder and lightning. Wang's performance of the short funereal movement – ironically titled Lullaby – was eventually eclipsed by a joyous ringing out of bells in the sunshine.
This was one of the Academy Piano Series at Wigmore Hall, a thrilling demonstration of the calibre of the next generation of pianists. Wang is clearly a force to be reckoned with yet equally still has room to grow. He gave not one but two encores and there was a happy sense he could have gone on for the next couple of hours had we let him.
In the 18th Variation we were on a galloping horse, then we were whirled into the wild tornado of the 19th
rating
Explore topics
Share this article