Chiaroscuro Quartet, Kings Place review – antique melancholy |

reviews, news & interviews
Chiaroscuro Quartet, Kings Place review – antique melancholy
Chiaroscuro Quartet, Kings Place review – antique melancholy
Bach, Beethoven, Schubert, each granted the luxury of their own place in time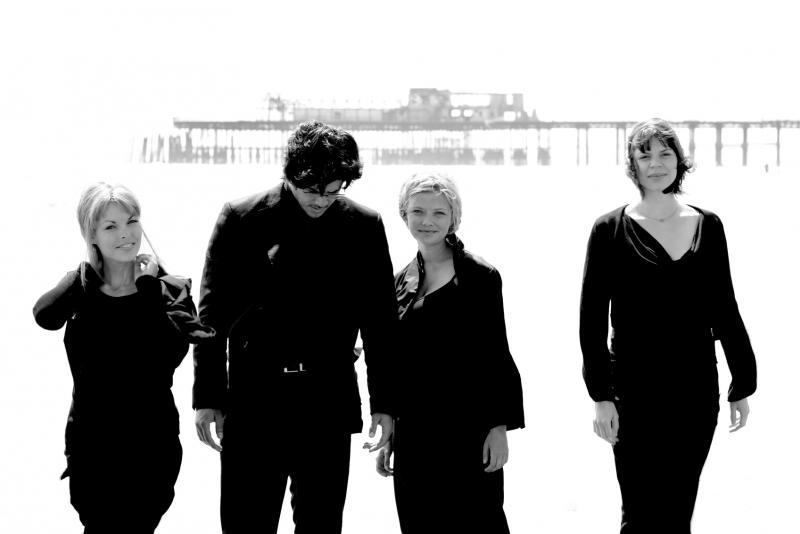 Artists of chiaroscuro: from left, Emilie Hörnlund, Pablo Hernán Benedi, Alina Ibragimova and Clare Thirion
When a "historically informed" performance leaves a lasting imprint on the memory, it does so like a good historical novel, by bringing to bear not only a wealth of period detail but the unarguable flavour of a time that is not our own. This was a particular strength of the Chiaroscuro Quartet's recital at Kings Place on Sunday.
It began with three excerpts from The Art of Fugue, often prized as some of the most "abstract" music ever written, whatever that might mean. The measured tread of the Chiaroscuro's account, however, built in the mind's ear and eye a mahogany chamber and an entertainment for serious listeners such as Frederick II, the "Iron Duke" of Prussia for whom Bach had composed A Musical Offering before turning back to his private contrapuntal project in the late 1740s. Contrapunctus No 1 arrived at its point of rest untroubled by romantically elongated pauses over its closing bars. Lateness was writ large over the chromatic workings of No 4. The dusty melancholy of a language antique even in Bach's own era still pervaded the Italianate cut and thrust of No 9, which is usually deployed to blow life and vigour through a complete performance.
Clare Thirion's cello lays the foundation of the ensemble's particular gift for quiet playing
"Pure tone" is a term often heard in appreciation of gut-stringed, vibrato-light performance of classical-era music, yet there was nothing pure about the Chiaroscuro's carefully weighted attack upon the brusque discontinuities of Beethoven's Quartet Op. 18 No 4. This is the composer's first C minor masterpiece in a key that came to yield works as significant to him yet as diverse from each other as the Fifth Symphony and the last piano sonata, but in their continence of phrasing the Chiaroscuros caught exactly the tension between a young composer struggling to fit into clothes inherited from Haydn, and at the same time wrestling with the temptation to rip up forms that don't quite fit. Moderate tempi and smiling charm of tone still admitted grinding dissonance and phrases that could slam shut at any moment. In a piece that often evokes the nightmare of attempting to flee from a house of locked doors and no lights, the gentility of the second movement's Andante scherzoso, and the relaxed commonplaces of the Minuet's Trio abruptly opened on to a tea party straight out of Austen, full of conspiratorial whispers and two-faced put-downs: composed first of the Op. 18 set, the C minor quartet is exactly contemporary with Northanger Abbey.
If the "Rosamunde" Quartet of Schubert never quite established a place in time so vividly, it remained an impressively assured account, less dynamically constricted than the ensemble's recording of seven years ago and rhythmically liberated. From my seat to the extreme right of Kings Place, the physically and texturally embedded contributions of Emilie Hörnlund's viola often had to be inferred. The Chiaroscuro really is a leader-led quartet in the manner of Beethoven-era ensembles, such is Alina Ibragimova's strength of personality, which would become overpowering but for the rougher answering grain of Pablo Hernán Benedi's by-no-means second fiddle. It's Clare Thirion's cello that lays the foundation of the ensemble's particular gift for quiet playing: by setting a floor of dynamic expression much lower than many other quartets, even gut-stringed ones, they need not dig so deep into their instruments in search of contrast or high drama. Ibragimova and Thirion conjured up a rustic fiddle and squeezebox in the Scherzo, and the finale was haunted by an exquisite, authentically Schubertian aroma of good times remembered, all without recourse to shopworn pathos.
The relaxed commonplaces of Beethoven's Trio abruptly opened on to a tea party straight out of Austen
rating
Explore topics
Share this article