Classical CDs: Sonnets, wolves and creation myths |

reviews, news & interviews
Classical CDs: Sonnets, wolves and creation myths
Classical CDs: Sonnets, wolves and creation myths
20th and 21st century piano music, plus Finnish rarities and a pair of downsized symphonies
Rich resonance and musical pleasure from Jean-Pierre Armengaud
Beethoven for Three – Symphonies 2 and 5 Emanuel Ax, Leonidas Kavakos, Yo Yo Ma (Sony)
I'm all for small-scale Beethoven. Liszt's piano transcriptions hit the spot for me, and the composer's anniversary year welcomed several superb discs containing chamber performances of the symphonies. Boxwood & Brass's abridged wind octet version of Symphony No. 7 was my favourite. Now rivalled by this starrily-cast Sony pairing of Symphonies 2 and 5, played by Emanuel Ax, Leonadis Kavakos and Yo Yo Ma. No. 2 comes in the piano trio arrangement attributed to Beethoven's friend and pupil Ferdinand Ries, supposedly made under the composer's supervision. It's joyous stuff, the first movement's fast section a delicious eruption of energy, the coda's shadows quickly banished. Ax plays the slow movement's opening with winning understatement, Kavakos and Ma never hogging the limelight. The scherzo's giddiness prepares us for an uncompromising, witty finale, Beethoven's sharp edges all the more apparent when played by just three musicians.
Symphony No. 5 comes in a new transcription by Colin Matthews. There are plenty of striking details – listen to the piano's soft, bell-like response to Kavakos's brusque opening, and how the smaller forces up the emotional ante, the music rawer and more punchy. Ma and Ax turn the second movement's main theme into an unpretentious folk song. Ax's timpani impersonation in the lead-in to the finale is terrific, the pedal notes just audible enough, and the exuberance never sounds strident. The closing bars are witty rather than pompous and overblown. A lovely disc, and how refreshing to hear three stellar soloists listening to one another with such intensity and affection. Can we have a sequel please?
Dutilleux: Piano Works Jean-Pierre Armengaud (Grand Piano)
Most of Henri Dutilleux's piano music can be squeezed onto a single CD. There's an excellent disc by Anne Queffélec in an Erato box set, and a new anthology from Vittoria Quartararo has just appeared. Both deserve to be heard, but this collection, played by Dutilleux's friend and collaborator Jean-Pierre Armengaud makes for an ideal starting point. Armengaud includes the rarely heard piano version of the ballet Le Loup (recently recorded in its orchestral form by John Wilson). One of the great 20th century ballet scores, it sounds terrific here, and Armengaud's performance always sounds like a finished work, not a keyboard reduction. Numbers like the slow waltz in the second Tableau are wonderfully vivid, the ensuing vivace full of spite. Le Loup's penultimate number, depicting the titular wolf's dying dance, begins in stuttering anger and moves to a mood of bittersweet resignation. Wonderful.
Dutilleux's Piano Sonata and Three Preludes are better known. Armengaud's timings in both works are broader than other recorded performances, but the gains are huge: this music benefits from space and air. A mutual friend contacted Armengaud on my behalf to ask about his relationship with Dutilleux - he recalled the composer complaining that modern pianists treated the Sonata as a display piece and played it too quickly, explaining that "Dutilleux gave in this time the priority at a harmonic and spectral listening of his works - in this type of sound construction, the most important is the richness of the resonance." This reading amply conveys what Armengaud describes as "musical pleasure". There's no loss of momentum, the spare passage just first movement exposition full of solemn beauty. The engineering adds to the pleasure, Armengaud's Steinway captured in rich, warm detail. I love the poise and elegance he brings to the central movement's opening phrases. The Three Preludes are engaging studies in sonority. Armengaud knows exactly how long to sustain the silences in No. 1. No. 2's exploration of the possibilities of a single chord is gripping here, and No. 3's coda is desolate but beautiful. These performances are as authoritative as we're likely to find, wonderfully played and recorded.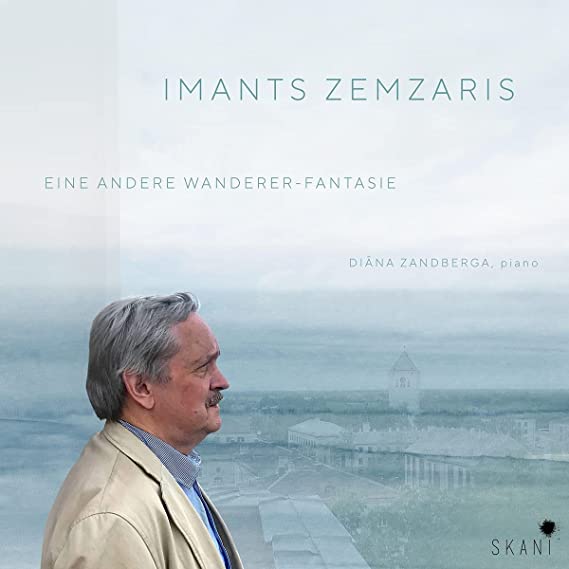 Imants Zemzaris: Kāda cita ceļiniekfantāzija/Eine Andere Wanderer-Fantasie Diāna Zandberga (piano) (Skani)
This collection of piano music by the contemporary Latvian composer Imants Zemzaris's also comes with official approval, pianist Diāna Zandberga having known Zemzaris since the mid 1990s. If you're not won over by the album's opener, the disarmingly beautiful "Early in the Morning" from 1975, you've no soul. The Prelude and Fugue on a Theme of William Shakespeare's Sonnets is similarly appealing, its simple theme repeated and transformed into a fugue subject in a little over five minutes. More verse underlies Motives of Rainis Poetry, four miniatures taking inspiration from love poetry by the Latvian writer Rainis. Five Preludes of Indian Summer sound in places like Bartok folk transcriptions, Zandberga's wordless vocalise in the final number perfectly realised.
Zemzaris's compact Piano Sonata No. 2 has an engaging, propulsive first movement, the energy dissipating completely by the time we get to the funereal finale. And the title track, Eine andere Wanderer-Fantasie, quotes from a Beethoven song and a Brazilian jazz standard, the two worlds never quite reaching an accord. An understated delight, well annotated and beautifully performed.
Scenes from the Kalevala – music by Klami, Sibelius, Madetoja and Pylkkänen Lahti Symphony Orchestra/Dima Slobodeniouk (BIS)
Finland's national epic, the Kalevala, became known in the mid 19th century thanks to Elias Lönnrot, a one-time medical doctor, botanist and philologist who published his definitive volume in 1849. Kullervo and Lemminkäinen are familiar names thanks to Sibelius, but a whole raft of Finnish musicians, writers and artists took inspiration from Lönnrot's work. Four composers are represented here. Sibelius's Lemminkäinen Suite is a symphony in all but name, and a work which only reached its definitive shape when the composer published his final revision in 1939. What ended up as the third movement, Lemminkäinen in Tuonela is heard here in its 1897 second version. The differences aren't huge; Sibelius later cut twenty bars and lightened the scoring. Dima Slobodeniouk's Lahti Symphony Orchestra have this music in their bones, and this performance broods and glowers, with some exquisite solo wind playing. It serves to remind one of how original Sibelius's language was, even early in his career. Tauno Pylkkänen's 1942 Kullervo Goes to War is enjoyable but less distinctive, brassy, noisy and ending in a mood of muscular defiance. Leevi Madetoja's 1913 symphonic poem Kullervo is more memorable, opening with Sibelian horn calls and stronger on atmosphere. Try Madetoja's sublime Symphony No. 2 if your interest is piqued.
The best thing here is Uuno Klami's Kalevala Suite, completed in 1943, its five movements showcasing an appealing and striking voice. "The Creation of the Earth" is all snarling muted brass and pounding timpani, and the third section. "Terhenniemi" is a jubilant depiction of the coming together of land, water, air, ending with an exhilarating scherzando section which I can't stop listening to. Klami's clear, bright orchestral writing is beguiling, and he writes some brilliantly catchy tunes. I'm now in search of more Klami. Buy this disc and you'll be doing the same.
Julia den Boer - Kermès (New Focus Recordings)
Kermès? The practice of grinding up the bodies of the female Dactylopius coccus insect to produce the red pigment cochineal became widespread from the 15th century, superceding a similar process involving the Kermes vermillio, a scaly parasite found on the Mediterranean Kermes Oak. A brilliant and durable crimson colour, kermes dye was used as a currency in the Middle Ages. I'm telling you this because pianist Julia Den Boer's solo album is "a quest for deeper, richer, subtler, stable sources of colour". Déserts, by Giulia Lorusso is a sequence of five miniatures, each one evoking a different desert landscape. The sections aren't individually banded, but you can sense the shift from a desolate Bolivian salt plain to Atacama, a desert between Peru and Chile which fills with flowers every five years. Linda Catlin Smith's The Underfolding exploit's the piano's ability to sustain notes, the overlapping compared to an artist superimposing different colours to create new ones. The longest work here, it's enthralling.
Anna Thorvaldsdottir's Reminiscence has Den Boer duetting with herself, intermittently plucking and scraping the piano's strings. Crimson, by Rebecca Saunders, is more strident and percussive, Den Boer required to repeatedly tap the instrument's body just before the nine-minute mark, a brilliantly theatrical effect. Offbeat repertoire, but Den Boer's performances are compelling, each work feeling as if it's been recorded in a single take.

This music benefits from space and air
Explore topics
Share this article