Classical CDs: Suits, serenades and flared trousers |

reviews, news & interviews
Classical CDs: Suits, serenades and flared trousers
Classical CDs: Suits, serenades and flared trousers
Baroque keyboard variations, contemporary orchestral music and songs by a maverick miniaturist
Pianist Cordelia Williams
Bach: Goldberg Variations Víkingur Ólafsson (piano) (DG)
Bach Goldberg Variations Reimagined Rachel Podger/Brecon Baroque (Channel Classics)
It feels like ages since I've listened to Bach's Goldberg Variations. I'm more team piano than team harpsichord, so my current favourites include recordings by Glenn Gould (both of them), Murray Perahia and Igor Levit. Víkingur Ólafsson's lucid sleeve note is entertaining, particularly when he follows his florid comparison of the work to "…a grand oak tree… living and vibrant, its forms both responsive and regenerative…" with Bach's punchier summary, describing the Goldbergs as a work "composed for music-lovers, to refresh their spirits." The best moments in Ólafsson's reading are the entertaining ones. His Aria is disarmingly straight-faced, followed by a helter-skelter take on Variation 1 and a light-footed Variation 2 with a witty, strutting bass line. Variation 4 also dazzles; it's like Gould without the humming. Ólafsson's pyrotechnics make his Variation 15 all the more moving. There's something for everyone in this performance, the Aria's reprise sweet and understated, with an appealing slowdown in the final bars. I'd not heard Ólafsson live or on disc previously and I was deeply impressed. Plus, DG's engineering is marvellous. Zero marks for the artsy photos in the booklet though, the nattily clad Ólafsson snapped in various dramatic locations that no sensible person would visit while wearing a tailored white suit.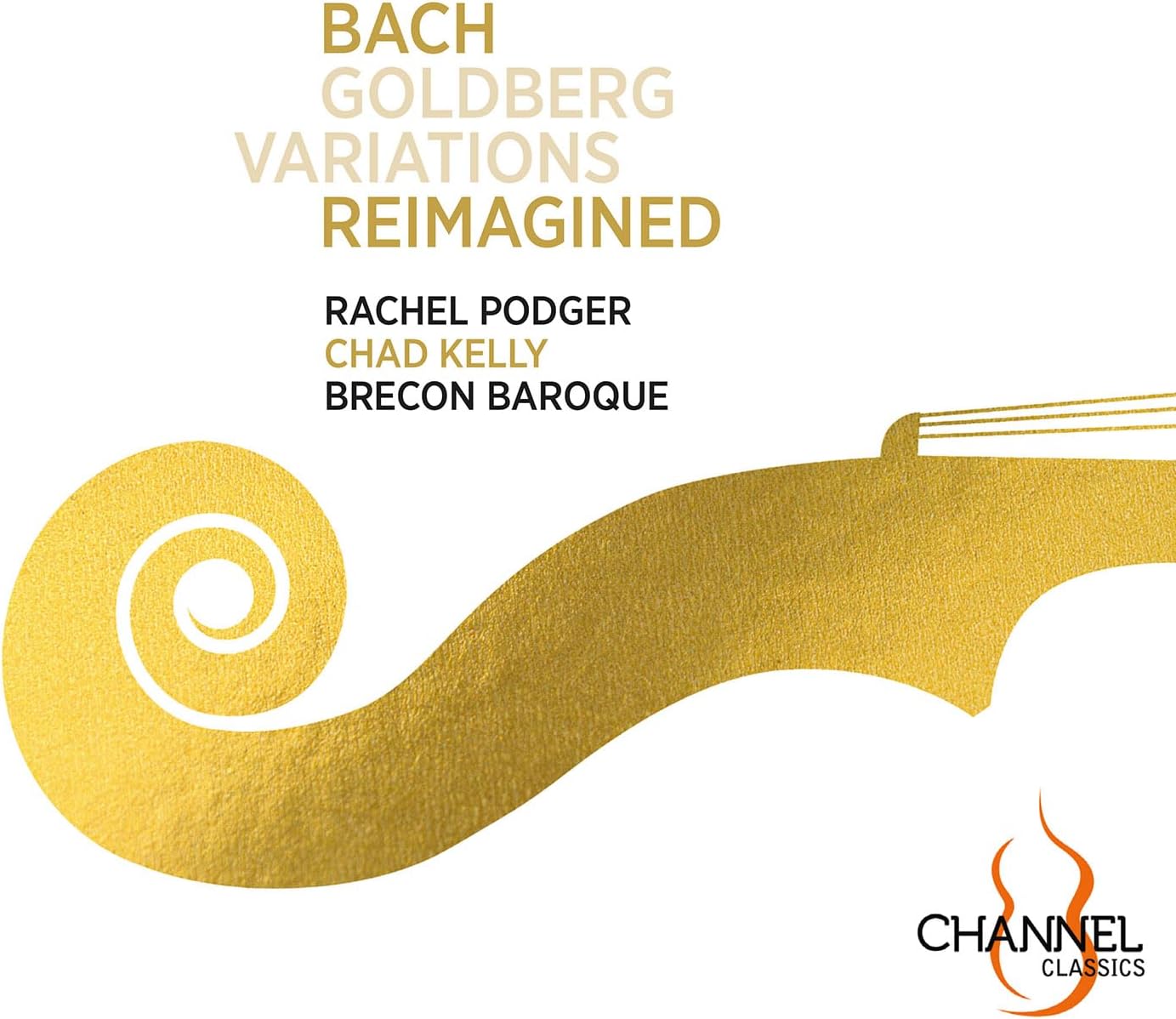 Baroque violinist Rachel Podger plays the work in Chad Kelly's 'reimagining', an attempt "to be idiomatic to the historical instruments used in its performance and to the individual styles and genres referenced in the work." I'm fond of Dmitry Sitkovetsky's arrangement for string trio, but Kelly's version has Podger leading with flute, oboes and bassoon and four strings as accompanists, plus Kelly on harpsichord. The results are beguiling and hugely entertaining, this Bach outward-looking and approachable. It's difficult not to grin when you hear the winds chuntering away in Variation 2, bassoonist Inga Klaucke's bass lines tossed off with insouciant ease. Podger instinctively knows when to step back and let the other voices speak. It's fascinating to compare the disc with Ólafsson's – Podger's tempi are by necessity more relaxed in the faster variations and the ornaments often differ. Flautist Katy Bircher charms in Variation 13. Several numbers sound like missing movements from the Brandenburgs (try Variations 14 and 19). And when the mood darkens, Kelly knows what colours to deploy, Variation 21 rich in fruity wind sonorities. Podger's solo in No. 25 is heart stopping, and an almost orchestral-sounding "Quodlibet" segues straight into the aria's reprise. A fabulous disc, beautifully recorded.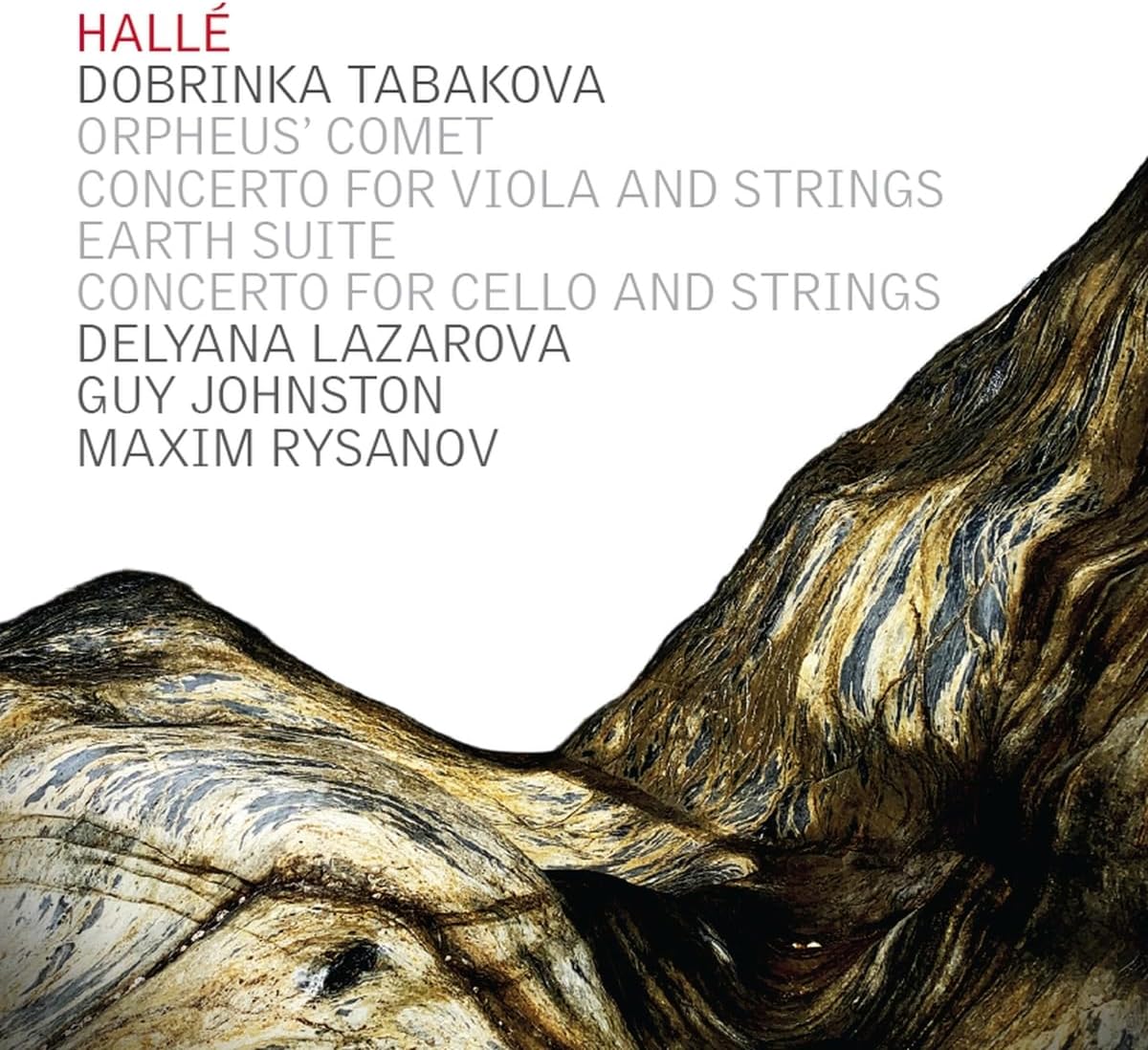 Dobrinka Tabakova: Orpheus' Comet, Viola Concerto, Earth Suite, Cello Concerto Hallé Orchestra/Delyana Lazarova, with Guy Johnston (cello) and Maxim Rysanov (viola) (Hallé)
Orpheus' Comet begins with insectile buzzing and finishes with a brassy Monteverdi quote. It's a hugely engaging concert opener, Dobrinka Tabakova's five-minute showpiece commissioned jointly by the BBC and the European Broadcasting Union in 2017. If you've ever switched on BBC R3 and enjoyed a concert from a group based outside the UK, thank the EBU's Music Exchange scheme. The opening of Monteverdi's L'Orfeo, also heard in his Vespers, is Euroradio's theme tune, and its eventual appearance near the close is a brilliant coup de théâtre. Tabakova's penchant for big, sweeping gestures and squelchy tonal harmonies made me think of Anna Clyne, and this well-filled anthology is an engaging, accessible listen. A 2004 Concerto for Viola and Strings was commissioned by Maxim Rysanov; again, it's instantly appealing music. Dense, dissonant chords near the opening magically resolve under Rysanov's questioning solo line, and the two inner movements are lyrical and playful by turns. A lively finale ties up the loose ends, with a radiant closing chord.
Tabakova's Earth Suite collects three separate orchestral pieces written between 2018 and 2020. Tectonic's themes begin unfolding over stuttering low brass, and the final punchy explosion could be from a 1970s TV soundtrack. Pacific is all spareness and contemplation, while Timber & Steel's chugging marimbas pay tribute to Sir Henry Wood (nicknamed 'Timber') and his fondness for carpentry. All three are brilliantly played, Delyana Lazarova securing punchy, polished playing from the Hallé. Guy Johnston is excellent in Tabakova's 2008 Concerto for Cello and Strings, revelling in the slow movement's long lines. Excellent performances in good sound, and an ideal introduction to an interesting voice.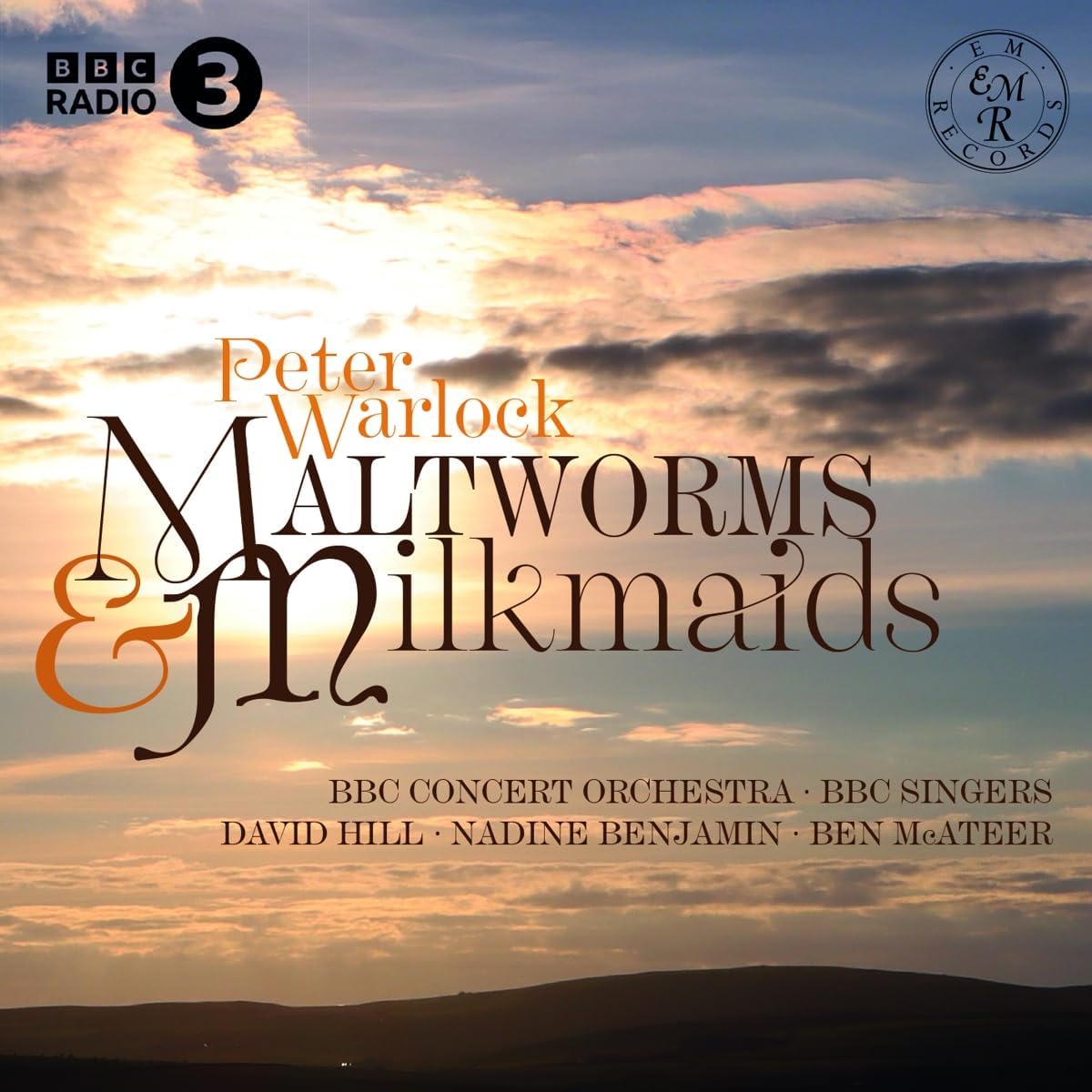 Maltworms and Milkmaids: Warlock and the Orchestra BBC Concert Orchestra, BBC Singers/David Hill, with Benjamin McAteer (baritone) (EM Records)
There is suddenly a lot more Warlock around. Earlier this year I reviewed a collection of 21 of his songs for voice and piano, some getting their first recording. Now we see the orchestral side of Warlock's small output, mostly pieces orchestrated by other hands, mostly unpublished and some anonymous, on an album boasting 16 world premiere recordings (out of 24 tracks). Despite the depressive contours of Warlock's short life, much of the music is bright and breezy, with roister-doister songs alternating with dreamy evocations of a (by then) lost England. "Mr Belloc''s Fancy" is an example of the former, in an irresistible orchestration by Frederick Bye and dispatched with the requisite "lusty lungs" by Ben McAteer. The latter is typified by the Serenade for string orchestra, which has a languorous, Delian drift. The songs for soprano are somewhat darker in tone, and gorgeously sung by Nadine Benjamin. "A Sad Song" does what it says on the tin, while "The First Mercy" disappears down delicious harmonic byways (and is also heard in a alternative orchestration, with choir instead of solo voice).
There are four choral carols, better known either as solo-and-piano or a cappella choral pieces, but here sounding well with the BBC Singers in relaxed form accompanied by unobtrusive BBC Concert Orchestra. "Fill the Cup" and "The Cricketers of Hambledon" are curios: premiered at a New Year's Day cricket game in 1929, they pit the gents of the BBC Singers against a brass band. There is also the fascination of hearing the Capriol Suite, originally a piano duet but best known in its string orchestra arrangement, here in Warlock's own version for full orchestra. It's not a premiere recording, but I've not heard it before and it deserves more outings. Credit must go to the Peter Warlock Society for their diligent research and editing, making these recordings possible. The spirited performances under David Hill serve the music well, and the CD booklet is so generously proportioned that, once extracted, it barely fits back in the jewel case. Bernard Hughes
The King's Singers: Wonderland (Signum)
Through their 55 years the King's Singers have commissioned over a hundred pieces. Perhaps the most famous is György Ligeti's set of Nonsense Madrigals, premiered between 1988 and 1993, and which forms the backbone of this new collection. Wonderland focuses on commissions which relate to fairytales or fantastical stories, with 1972 proving a particularly rich year, providing works by Judith Bingham, Paul Patterson and Malcolm Williamson. Throughout the running order, the King's Singers demonstrate their usual technical facility and stylistic eclecticism. There are two pieces by Japanese composers, the album opener by Makiko Kinoshita a rich and warm chocolate bath, while Joe Hisaishi's I Was There has an austere beauty, and it is extraordinary that this is the composer's first a cappella choral piece. Young British composer Francesca Amewudah-Rivers's Alive has a directness that is well-served by the singers' undemonstrative reading.
Of the bigger pieces, Malcolm Williamson's The Musicians of Bremen has a sense of fun but feels a bit 70s: this is the King's Singers in flares, with plenty of doo-bee-doo-bee-doo. More to my taste was Paul Patterson's Time Piece, which feels a bit more grown up, even as it plays with the story of Adam and Eve, building to a chaotic "mechanical fugue". But the heart of the album is clearly the Ligeti. He makes great demands on the singers – the first song is basically three separate songs sung at the same time – and the delicious The Alphabet has cluster harmonies that transposes Ligeti's orchestral "micropolyphony" into the choral sphere. But it feels like the performers relish the challenge, revelling in the astringency of the harmonic language and nailing Ligeti's wry humour by avoiding silliness or pantomime. Ligeti rules. Bernard Hughes
Sybarite5: Collective Wisdom (Bright Shiny Things)
Collective Wisdom's opener, "Movement and Location", should draw you in within seconds. This ingenious arrangement of a track by avant-garde bluegrass outfit Punch Brothers is scintillating, uplifting stuff, the rhythms taut and springy, a solo violin singing over the top. Sybarite5 is a New York-based string quintet, their extra voice being Louis Levitt's double bass instead of the usual viola or cello. Some chamber groups attempt to let their hair down and fall flat - what's striking about this disc is how fearlessly, how naturally Sybarite5 own and inhabit what they play. Violinist Sami Merdinian's Armenian heritage is referenced in arrangements of folk songs transcribed over a century ago by Komitas Vardapet. "The Red Shawl" is all limpid grace, while "Spring" is hesitant and questioning, a three-minute musical awakening. "Con un Nudo en la Garganta" by Pedro Giraudo is a sublime slice of contemporary tango. You'll swear you're listening to a bandoneon at several points, the five musicians speaking with a single voice.
The other works are new commissions. Jessica Meyer's "Slow Burn" is four minutes of tremulous intensity, the percussive effects really ringing out. Curtis Stewart's "Mangas" is a lot of fun, the reggae ostinati never sounding self-conscious. Michael Gilbertson's title track makes superb use of col legno effects, the aggression and energy tempered with sheer joy. The longest item, Jackson Greenberg's "Apartments" adds electronics to the mix, the constant sound of an AM radio broadcast and heavy rainfall occasionally joined by distorted speech. Ideas drift in and out of focus. A terrific collection, superbly played.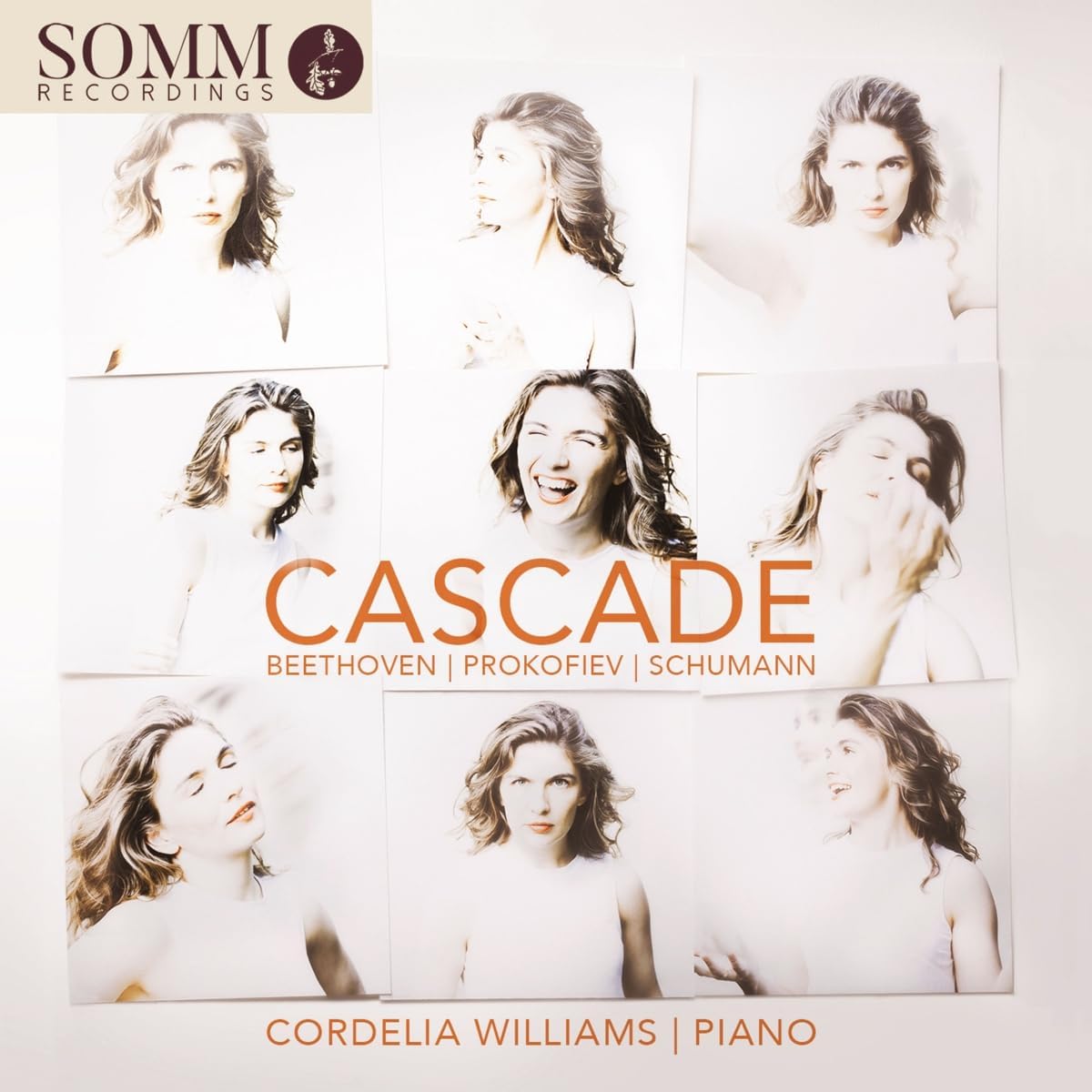 Cascade – music by Beethoven, Prokofiev and Schumann Cordelia Williams (piano) (Somm)
Cascade is an exploration of hidden depths, of the things lying unseen beneath the surface. The disc is bookended by Beethoven miniatures, pianist Cordelia Williams revelling in the gawkiness of the little C major Bagatelle, unpublished until 1888 but composed in 1804. The Op. 126 Six Bagatelles were among Beethoven's final solo piano works, gnomic utterances which mystify and charm. You wonder occasionally whether Williams is too brusque, her accents too sharp in the faster numbers, but she's simply playing what's written. The little "Andante, Cantabile e grazioso" really sings here, a condensed symphonic slow movement, followed by an incredibly punchy "Presto" as scary as it's funny. Prokofiev's Visions Fugitives were written between 1915 and 1917, a collection of 20 tiny pieces which were never intended to form a continuous cycle. These 'fleeting visions' are fascinating, giving us a hint as to where the composer might have ended up stylistically had he not returned to Moscow in the mid-1930s.
Williams's taut, colourful playing is compelling. She makes the faster numbers glitter, then wrongfoots us with a piece like the "Pittoresco" (at 2'14", the longest in the set), here a delectable romantic reverie. I like No.10, subtitled "Ridicolosamente", a tiny march which couldn't have been composed by anyone else. And the final "Lento" is deliciously unsettling, fading away uneasily into silence. After which, the first of Schumann's nine Waldszenen feels like a return to normality, though the warmth is undercut by the second piece's hunting scene. Williams revels in the strangeness of "Verufene Stelle", and makes "Vogel als Prophet" sound improvised, in a good way. The closing "Abscheid" is mellowness incarnate. A scintillating collection, fabulously played and well-annotated. Somm's huge dynamic range is mostly a plus, though we do catch the creak of Williams' piano stool a little too often.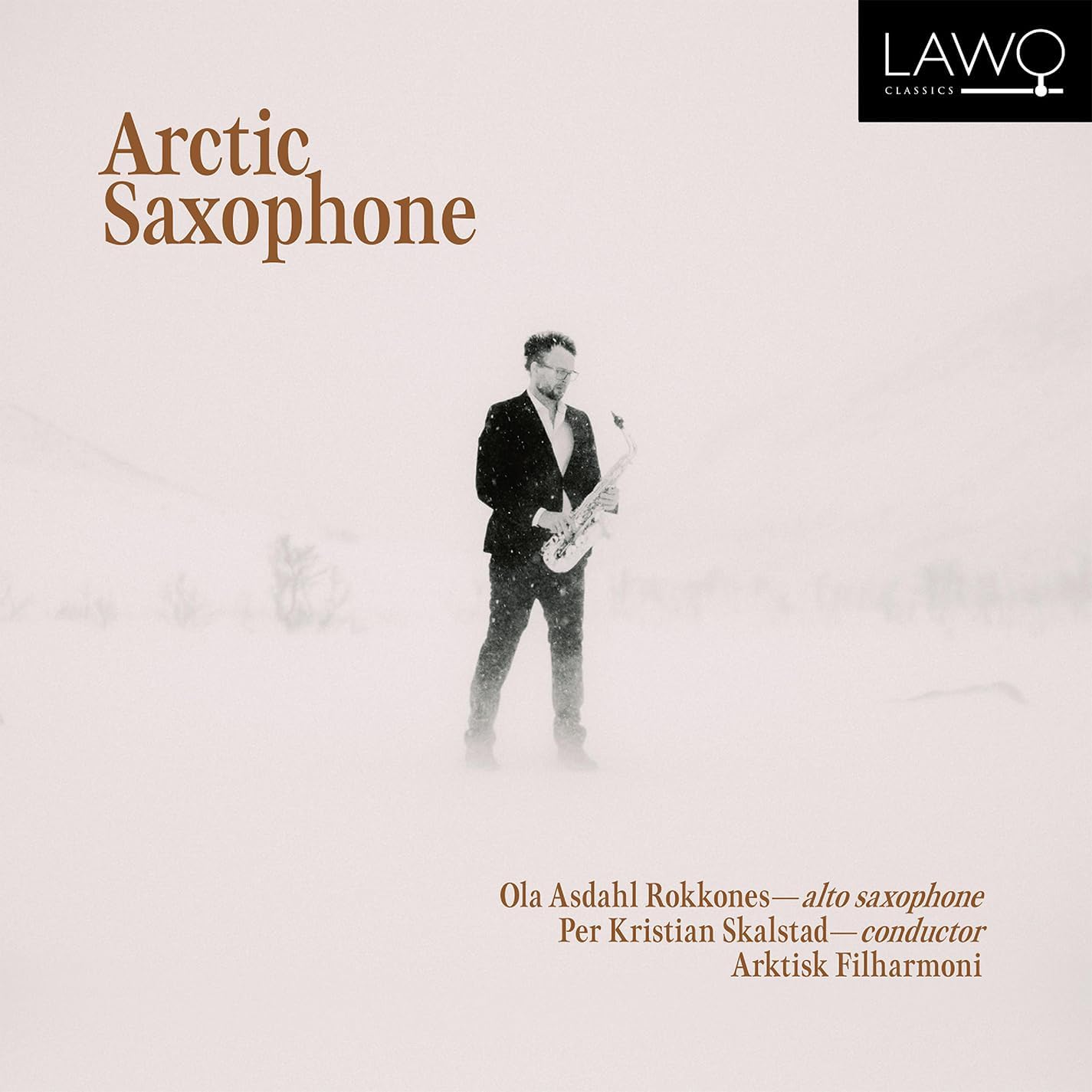 Arctic Saxophone - works by Alexander Aaroen, Alexander Manotskov and Terje Bjorklund Ola Asdahl Rokkones (alto saxophone), Arktisk Filharmoni/Per Kristian Skalstad (Lawo)
Saxophonist Ola Asdahl Rokkones, who lives in Tromsø, some 350km north of the Arctic Circle, started commissioning new works for saxophone when he was just 18. He turned 40 earlier this year, and the flow of works continues. In 2018 Lawo released his album "Norwegian Saxophone", with three newly commissioned concertos with a chamber orchestra, the St. Petersburg Northern Sinfonia. For his new album "Arctic Saxophone", he has used a string orchestra and commissioned another three concertos. This time he has stayed closer to home: the Arktisk Filharmoni is based in Tromsø (and also in Bodø). The results are far better than on the first album, not least because these string players play with such superb energy and commitment. It was recorded in lockdown when the orchestral players, whose schedules are normally fixed a few years in advance, were suddenly available. All three concertos consist of easily accessible, tonal music; there's nothing to frighten the elks or the terns. Both of the Norwegian composers clearly know their Grieg Holberg Suite, and listeners who know and like the clarinet concertos from the twentieth century with string orchestra - those of Copland or Finzi, for example – will be instantly at ease in the idiom of both of these concertos.
The first piece on the disc, The Heart, It Soars by Alexander Aaroen (b.1993) has its heart on its sleeve, and the lyrical side of Rokkones's playing is to the fore. I just wish I could un-hear one episode in the last movement, when the theme of John Barry's "You Only Live Twice" (also familiar from Robbie Williams' "Millennium") suddenly makes a one-off, confusing, and mercifully brief appearance. Terje Bjorklund (b.1945) in his six-movement Arctic Lines puts the emphasis on simple, hooky melodic ideas, and is irresistibly drawn to turning the string orchestra into a folk band playing reels; he does it twice. The Norwegian orchestra needs no persuasion or encouragement to switch to this idiom, and does so with natural joy. This piece takes Rokkones furthest in the direction of velocity and virtuosity. The most substantial work in every respect is Seven Portraits (2011) by Alexander Manotskov (b.1972), a composer from Saint Petersburg who has lived in Germany since the invasion of Ukraine. Manotskov just goes darker and deeper than the others do. Each "Portrait" has a very different character and he has clearly worked with the saxophonist, allowing him to deploy a range of extended techniques. There are overtones and multiphonics in "Michael". "Jegudiel" is a feast of slap-tonguing, "Barachiel" just gets really sinister. The eeriest saxophone sounds come in "Raphael" where Rokkones uses a trumpet embouchure (presumably directly) on the saxophone's neck joint and plays a truly touching lament which ends up sounding not unlike trumpeter Arve Henriksen. Ola Asdahl Rokkones has done something remarkable in commissioning these works, since there are so few worthwhile saxophone concertos around. It will be fascinating to see if a higher-profile player such as Jess Gillam or Asya Fateyeva will be interested (or indeed permitted) to give them wider currency. Sebastian Scotney
There's nothing here to frighten the elks or the terns
Share this article