Classical CDs Weekly: Artyomov, Mozart, Smith
Classical CDs Weekly: Artyomov, Mozart, Smith
Contemporary music from Denmark and Russia, and a master hornist tackles a favourite composer
Saturday, 23 February 2019
Cheeky Mozart from Radek Baborák
Vyacheslav Artyomov: In Memoriam, Lamentations, Pietà, Tristia I (Divine Art)
Born in 1940, Vyacheslav Artyomov trained as a physicist before switching to music. He joined forces with fellow composers Sofia Gubaidlina and Viktor Suslin in the mid-1970s to form a group specialising in improvisation with unconventional instruments. Like Shostakovich and Prokofiev before him, Artyomov fell foul of the Soviet authorities, his music effectively banned for several years. Though Tikhon Khrennikov, the famously cantankerous chief of the Composers' Union, performed a volte-face a decade later and declared that Artyomov's 1988 Requiem "raised Russian music to a previously unattainable height." Three sections of that work were transcribed by Artyomov to form Lamentations, the choral parts now played on organ. Angst-ridden and ecstatic, it makes for compelling listening, and it's prompted me to seek out the source work.
There's a sameness of tone to the pieces collected on this latest volume in Divine Art's ongoing Artyomov series: this music is slow and sombre, the lightness achieved through transparent scoring. Writing slow, serious music never hindered Pärt or Tavener, composers who share Artyomov's Christian faith. These pieces are worth hearing, and a useful introduction to a figure who deserves wider recognition. In Memoriam began life as a violin concerto written in Artyomov's twenties, later reworked as a single movement symphony. Some of the solo line survives, beautifully played here by Oleh Krysa. Pietà is an extended work for cello, strings and tubular bells, rich in angular melody and full of striking effects. And there's Tristia I, a downbeat concertante piece for piano, strings, trumpet and vibraphone which defies our expectations of what a work written for those forces should sound like. The performances are authoritative and well-engineered, several of them recorded back in the 1980s when Artyomov was officially out of favour.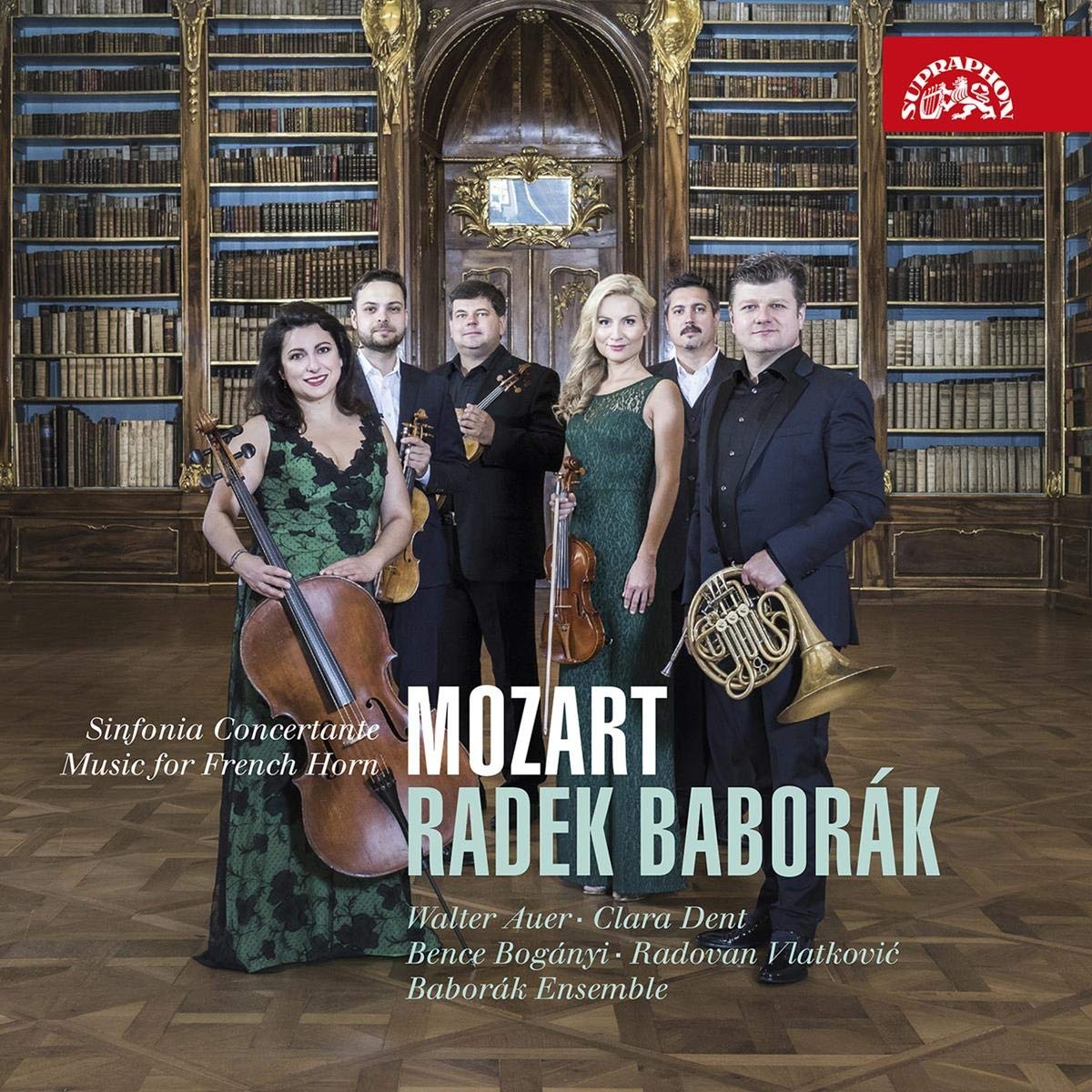 Mozart: Sinfonia Concertante, Music for French Horn Radek Baborák (horn), Baborák Ensemble (Supraphon)
Radek Baborák's Supraphon disc of Mozart horn concerti is a treat, a hand picked group of solo strings deployed instead of a chamber orchestra. This follow up is equally good. Mozart knew instinctively what the horn could and should do, both musically and technically: sample the Twelve Duos for Two Horns, each one allegedly written during breaks in a game of skittles. Baborák tosses out notes way above the stave with minimal effort but never sounds as if he's showing off. Here he's teamed with Radovan Vlatković, another stellar performer. Naysayers have doubted that the great E flat Sinfonia Concertante is actually by Mozart at all. Baborák's own edition substitutes the customary clarinet for the original's flute and attempts to balance the solo parts, "so that each player has the chance to demonstrate his or her virtuosity." We notice the difference especially in the last movement's flamboyant sequence of variations, Baborák teamed with a superb trio of wind soloists and accompanied by a chamber orchestra instead of string quartet.
The rest of the collection is more speculative, Baborák effectively creating two more solo horn concerti by combining fragments and existing pieces. Dominic Nunns' idiomatic realisation of the unfinished E major concerto's first movement is combined with a slow movement and finale taken from Symphonies 19 and 22. Another unfinished E flat concerto is completed by inserting an adagio originally written for clarinet and a trio of basset horns. In Baborák's words, "Mozart is the last person who would have objected to this." An enchanting set, then; I've met several musicians who've argued that Baborák is the greatest living horn player. These performances ooze character, channelling Mozart's cheekiness and his profundity. Good notes too, including an enjoyable interview with Baborák. Volume 3 is hopefully on the way.
Lux: Sacred music by Ståle Kleiberg and Andrew Smith Nidaros Cathedral Girls' Choir, Trondheim Soloists/Anita Brevik, with Trygve Seim (saxophones) (2L)
Andrew Smith's Requiem was written in 2011, several of the traditional texts replaced with biblical references to children. Originally intending to focus upon the cost of conflict on innocent young lives, the shootings at Utøya and Oslo in 2011 gave the work extra poignancy, Smith having lived in Norway since the 1980s. This work isn't maudlin, and there's no empty sentimentality: Smith's accessible, highly singable music is instantly engaging, its contours inspired by Gregorian chant. Saxophonist Trygve Seim's very vocal improvisations also play a key role, his extended solos playing out over imperceptible organ chords. The best bits are magical: the breathy sax solo at the opening is terrific, the choir's first entry blissful. And the duet between saxophone and choir at the start of "Plorans ploravit" begins so quietly, quickly segueing into a huge, irresistible blast of sound. As modern sacred works go, this is up there with the best. Ståle Storløkken's organ accompaniment is deliciously unobtrusive, but it's the singing which really registers. Anita Brevik's Nidaros Cathedral Girls' Choir (who commissioned the work) make a wonderfully clear, bright sound, rendering every syllable audible.
Smith's piece is bookended by two shorter works from Ståle Kleiberg, whose Mass for Modern Man me underwhelmed in 2014. He's on much better form here: if the string writing at the start of his Hymn to Love doesn't floor you, you've no soul. There's more of the same in The Light, its single line of text enunciated with startling clarity. As contemporary choral discs go, this one's a wowzer. It comes with a bonus Blu-ray audio disc, plus several pages of text and diagrams about how to listen to the music properly. Bin those cheap headphones and get a pair of decent speakers, in other words.
Each duet was allegedly written during breaks in a game of skittles
Explore topics
Share this article