Classical CDs Weekly: Guy Johnston, Joyce El-Khoury, Michael Spyres, The Chanteuse |

reviews, news & interviews
Classical CDs Weekly: Guy Johnston, Joyce El-Khoury, Michael Spyres, The Chanteuse
Classical CDs Weekly: Guy Johnston, Joyce El-Khoury, Michael Spyres, The Chanteuse
A cello celebrates its 300th birthday, bel canto arias, and erudite light music from 1960s France
Saturday, 07 October 2017
A feast of bel canto: conductor Carlo Rizzi with Michael Spyres and Joyce El-Khoury
Guy Johnston: Tecchler's Cello - From Cambridge to Rome (King's College Cambridge)
Acquiring a second-hand instrument always leads one to wonder what sort of a life it led before. Did said instrument enjoy a flourishing professional career, or was it abandoned in an attic for decades? Cherished by a master or mistreated by a bumbling amateur? Guy Johnston's enjoyable anthology celebrates his recent acquisition of a 300-year-old cello made by one David Tecchler. He was a Bavarian-born craftsman who pitched up in Rome towards the end of the 17th century, one of his workshops being situated opposite the house where Rossini composed The Barber of Seville. The instrument celebrated its tricentenary in 2014, prompting Johnston to commission three new works and integrate them into a musical journey leading back to the cello's birthplace. It makes a spectacularly rich, warm sound, though you suspect that Johnston could make a dusty tea chest sing like an angel. David Matthews's Ein Celloleben is a mellifluous exploration of the cello's emotional and physical range, throwing in quotes from Beethoven, Corelli and Ravel. It ends neatly, a serene top G answered by an emphatic musical burp. Un Regalo, by Mark Simpson, pits Johnston's singing high register against craggy, low writing. And Charlotte Bray's Perseus has Johnston partnered by pianist Tom Poster. Inspired by a black hole, it's a dizzying, dissonant ride.
Johnston's period as a chorister at King's is reflected in his performance of Serenity (O Magnum Mysterium) by Ola Gjeilo, an Arvo Pärt-esque chunk of woozy choral music with obliggato cello. It's beautiful but curiously unmemorable. Better is a rousing, energetic performance of Beethoven's Piano Trio No. 1, Johnston's violinist brother Magnus completing the trio along with Poster. It's included as a nod to a chamber music festival set up by Johnston in 2012. His student years are represented by a joyous reading of a sonata by the French baroque composer Jean-Baptiste Barrière, where his partner is the brilliant Sheku Kanneh-Mason. He borrowed another Tecchler cello for the sessions, the players swapping parts during repeats so it's difficult to tell who's playing what. Rome is represented by Respighi's Adagio con variazioni, sweetly accompanied by Carlo Rizzari and the Orchestra dell'Accademia Nazionale di Santa Cecilia. All beautifully recorded and handsomely presented: an engaging guide to the cello's musical and technical possibilities.
Joyce El-Khoury: Écho, Michael Spyres: Espoir Hallé Orchestra/Carlo Rizzi (Opera Rara)
This is effectively a double album, though the discs are sold separately. Each one features a talented young singer celebrating a great, neglected voice of the past, in mostly unfamiliar repertoire. Lebanese-Canadian soprano Joyce El-Khoury's volume centres on one Julie Dorus-Gras, whose career took off in 1830s Paris before she retired in 1850. We get arias by the likes of Donizetti, Meyerbeer, Rossini and Berlioz, all delivered with infectious enthusiasm and impeccable technique. Her flexibility is startling, and there's no hint of harshness in her upper register. What really impresses is her ability to inhabit each aria, helped by some exquisite playing from Carlo Rizzi's Hallé Orchestra. Two numbers from Meyerbeer's Robert le diable impress, and there's a pleasingly frothy extract from one Fromental Halévy's La Juive. She's joined for the close of the first act of Donizetti's Lucia di Lammermoor by fresh-voiced American tenor Michael Spyres…
Who occupies the other disc, the favour repaid with El-Khoury joining him in a duet from Halévy's Guido et Ginévra. Spyres gives us music associated with the legendary tenor Gilbert Duprez, renowned for his piercing high Cs and for collaborating with the aforementioned Julie Doris-Gras. Donizetti wrote several key roles with Duprez in mind. Spyres delivers them brilliantly, and numbers like "La maitresses du roi" from La Favorite are quietly marvellous. Like El-Khoury, he has a sharp dramatic sense, with every flourish driven by music and text. The high notes are tossed off with a confidence that's never wearying. Enormously enjoyable. Don't dither about which album to purchase. Buy them both.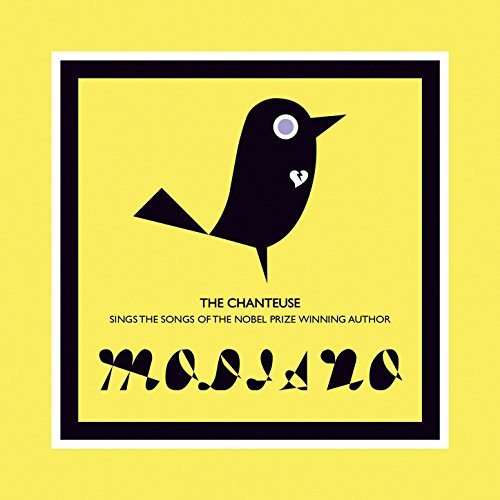 The Chanteuse Sings the Songs of Modiano (Metropolis)

My one major niggle with this album is that it's too short. But better to be left wanting more than feeling overwhelmed. More importantly, does it belong in a classical CD roundup? Absolutely. "The Chanteuse" is the stage name of Manchester-born Lucy Hope. Her vibrant recreations of 1960s French yéyé songs are brilliantly accomplished, and underpinned by some serious scholarship. These numbers all feature words by the erudite French novelist and recent Nobel Prize-winner Patrick Modiano, who wrote lyrics for Françoise Hardy and Régine early in his career. Serge Gainsbourg's collaborator Jean-Claude Vannier was responsible for most of the original string arrangements, here painstakingly transcribed and recreated by Fiona Brice. And the whole thing was recorded non-digitally, straight to tape.
Frustratingly, we're not told who composed each song, or who recorded the original versions. But, hey, listen blind and you're overwhelmed by how delicious the whole thing sounds, Hope's impeccably accented French vocals clearly audible over a very idiomatic chamber backdrop, thanks to Dimitri Tikovoï's superb production. Me, I purr with delight each time I hear Hope belt out the chorus to "L'aspire-à-cœur", and her world-weary delivery of "Étonnez-moi, Benoît" is brilliantly funny. Modiano's subversive, quirky lyrics are pretty accessible, though I'd recommend keeping a dictionary close by as translations aren't provided. Non-francophiles will find plenty to enjoy in the sheer sound made by Hope and her backing band: this music fizzes.
Inspired by a black hole, it's a dizzying, dissonant ride
Share this article