Conlon Nancarrow Weekend, South Bank Centre |

reviews, news & interviews
Conlon Nancarrow Weekend, South Bank Centre
Conlon Nancarrow Weekend, South Bank Centre
Memorable celebration of an American musical maverick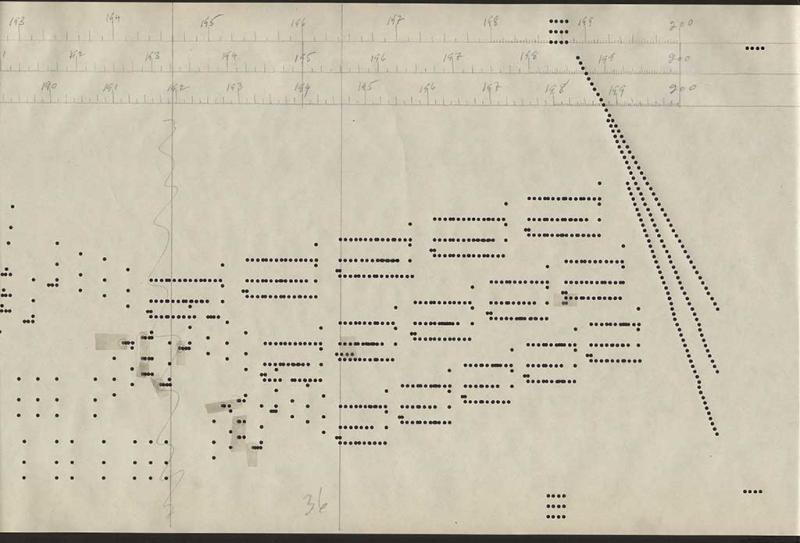 Piano roll for Study No 49c by Conlon Nancarrow
This has to be the only music festival I've ever been to where two vacuum cleaners were on standby in case the star performer conked out. But that's what happens when your star performer is a player piano - they seem to run on Hoover tubes. With 11 concerts and one film in two days, this celebration of American maverick Conlon Nancarrow was London's alternative marathon. One that was no less eccentric, exhausting or adrenalin-generating (though much less running-based).
At the core of the weekend was a nine-concert cycle of the complete studies for player piano. As far as anyone knew, it was the first time all 51 studies had been performed in public in one go. And while the logistics of the process demonstrated exactly why, by the end of the cycle, a part of me wished they came out on annual show, like the Bach Passions. For within the riotous explosion of mechanised music that they offer are some of the most fantastical sounds every imagined by man. Number one most fantastical is undoubtedly the "Nancarrow lick".
The highlight came from a late-night batch of studies that uncovered another side to Nancarrow. The Nancarrow of Latin America
This classic Nancarrow manouever sees a fast-bowled arpeggio zig-zag its way down the full length of a keyboard with mechanical precision and thunderous determination. The result is a lightning strike in piano sound. One that frequently has one's soul diving for cover. There was a whole concert dedicated to the Nancarrow lick, which proved to be one of the most viscerally arresting sections of the weekend. It included the monstrous Study No 25 that - the superb programme notes told us - contained 1,028 notes in the final 12 seconds. There was also the explosively nervy Study No 43, and Studies 40 a and b that pitched two player pianos in a battle that ended in a deafening molten mush.
Fascinatingly, all this energy and excitement was being generated through the most intellectual of means. Virtually every study is built upon a variety of canons, in which different lines of music are juxtaposed in bafflingly complicated tempi relationships. None of the advanced maths gets in the way of the music, however. The musical material remains familiar and broad. The language of boogie-woogie, of Latin music, of the Baroque, of various recognisable 20th-century tongues, form a wide-ranging palette.
The result is a cycle that is overwhelming in its variety. Romantic lushness in 37. Music-hall tom-foolery in 18. An Oriental sunniness in 3c. A Brahmsian melancholy in 13. An acciaccatura-packed 36. Hindemith in 34. Purcell in 47. Serialism fused to pop in 31. And one of the most moving and loving visions of domestic bliss in Para Yoko, the only study with a dedication - to his third wife. The highlight, however, came from a late-night batch of studies that uncovered another side to Nancarrow. The Nancarrow of Latin America: breezy and bright. Here the music sways in a hammock (Study 6) or lies sozzled in the sun (Study 44).
This Latin interjection reminded us how important context was to all this experimentation. A information-rich documentary from Jim Greeson set the scene for Nancarrow's musical journey. Having joined the Lincoln Brigade to fight the Spanish Fascists, and returned to face an America hostile to his card-carrying Communism, Nancarrow was forced into exile in Mexico and virtual compositional seclusion. As with so many artistic break throughs, Nancarrow's experiments with the player piano was the consequence of necessity.
An eccentric life matched by an eccentric set-up. The Purcell Room recitals were compered by yarn-weaver, wizard-lookalike and pianola expert, Rex Lawson, and a German composer and piano roll-maker, Wolfgang Heisig, whose almost complete lack of English didn't stop him from trying to talk to us all day long.
Two fire-cracker works were dispatched with aplomb by Sinfonietta principal Joan Atherton and Rex the Wizard
But for a fully human line-up, you had to visit the Queen Elizabeth Hall. Here we got two beautifully curated concerts (hats off to Dominic Murcott) of non-player-piano work: early pieces for orchestra and several studies that had been transcribed for orchestra. None of these quite matched up to Nancarrow's short Toccata for violin and player piano and Piece for Tape (arranged for a live drummer by Murcott), two fire-cracker works dispatched with aplomb by Sinfonietta principal Joan Atherton and Rex the Wizard, and percussionist David Hockings.
Few would contend that Nancarrow's works for live performers are his best. So it wasn't surprising that his pieces were somewhat upstaged by a performance of John Cage's number piece, Five, by the London Sinfonietta on beguiling form, and a thrilling rendition of James Tenney's Spectral Canon for Conlon Nancarrow by Lawson, which whirled through the overtone series building itself up into an intergalactic lather. The same thing happened in the second QEH concert on Sunday: a stunning rendition of Ligeti's otherworldly Second String Quartet by the Arditti Quartet upstaging Nancarrow's two own attempts. No matter. The player piano had done its job. Nancarrow's fizzy musical world had taken up residency in my bones.
The player piano did its job. Nancarrow's fizzy musical world took up residency in my bones.
Explore topics
Share this article